College Football Handicapping: Can Oregon Recover?
by Trevor Whenham - 9/11/2009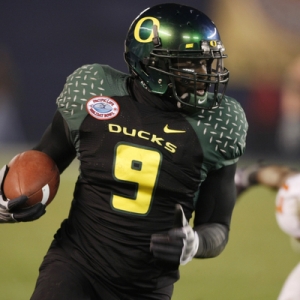 The first game of the Chip Kelly era at Oregon pretty much couldn't have gone worse, could it? Oregon got systematically manhandled by Boise State, the much-praised Oregon offense was nowhere to be seen, and then things really got ugly after the final whistle. The best part of watching the game was seeing long-time Oregon coach and new Athletic Director Mike Bellotti try to maintain his composure and resist what had to be an overwhelming urge to step in and try to salvage the situation as things got worse and worse.

Oregon came into the season with reasonably high expectations. They were ranked 16th, the offense was thought to be very good, quarterback Jeremiah Masoli and running back LeGarrette Blount were getting at least fringe Heisman consideration, and they were viewed by many as a possible threat in the Pac-10 if USC were to falter with a true freshman quarterback and some injury issues. It's hard to think of how one game could change a situation more. Where we once had potential and high hopes now all we are left with is questions. Here's a look at six of the more pressing questions:

Can Chip Kelly turn this situation around? - It could be viewed as totally premature to question whether a coach is in trouble after just one game - regardless of how bad that game is - but the question really does need to be asked here. There are a few reasons to be concerned for Kelly's handle on this team. The Blount situation aside, this was not a disciplined team at all, and it certainly didn't look like one that was well-prepared and ready to play.
There is absolutely no excuse for a team not to be up for their first game - especially when it is as important as this one was - because they have had months to prepare for it. It can be hard for a new coach to build a relationship with a team, but Kelly was previously the offensive coordinator, and it was the offense that was especially bad and that's why it really doesn't make sense.
The other problem Kelly faces is the degree to which the end of the game deteriorated. There are going to be tensions at the end of a bad loss like that one, but Blount's actions and the fight he and some of the other players had reflects very badly on the entire Oregon program. Kelly can absolutely turn things around and save this season, but he's on much thinner ice than a guy in his position should be.

What happens to Masoli?- Last year Masoli played with incredible confidence and boldness. Against Boise State he was tentative, often unsure of himself, and more than once he looked confused and out of sync with his offense. That's a scary sign. As with Kelly, Masoli had months to get ready for this team and their defense.
We should note that Boise State has a solid defense, but it certainly isn't so good that a team should go 37 minutes before getting their first first down. Masoli came from way down the depth chart last year to become the starter, and his teammates won't have forgotten about that. That means that Masoli needs to get his act together even faster than he normally would in this case if he wants to keep his team on side and keep moving forward. That will be a test of his ability to totally forget that that game ever happened.

What happens to Blount? - We won't spend much time dwelling on this one, but it's too fascinating to ignore. Coming into the season, Blount looked like a guy who could end up as high as the second round in the NFL Draft, and there was certainly the possibility that he could play his way even higher. Now with his suspension for the season and the huge black mark in the character column it seems incredibly unlikely that he will get drafted at all. That's an incredibly expensive punch.

How about the running game? - On the plus side, Oregon is a school that produces running backs very well, so you can be reasonably sure that they have depth and talent. The problem is that it's hard to know just what they have - the top two guys on their depth chart are redshirt freshmen. That's another level of uncertainty for a team that badly needs stability right now, and another reason for this team to be less than comfortable offensively. Blount was clearly going to be relied on to do the bulk of the heavy lifting this year.

Can the team recover their confidence? - Yes, but it's certainly not a given that they will. The worst thing they have going for them is their schedule. The good news is that their next four games are at home. The bad news is that the first three of them are very difficult. Purdue isn't a great team, but they can score points, and they played Oregon very close last year. Utah is a very talented team that is off to a good start and is dangerous in many of the same ways that Boise State was. Cal was seen as dominant coming into the season, and their first game gave them no reason to think otherwise. It's not hard to imagine the team at 1-3 or even 0-4 after running that gauntlet.If that happens, or even if they don't come out string this weekend and it starts to look like the slide could be starting, then things could get really ugly.

Are they still a potential Pac-10 threat? - I find it hard to believe, but ask me again in two weeks when they are about to start the conference season. They have to survive the non-conference schedule first.