College Football Handicapping: Stanford Surging
by Trevor Whenham - 11/19/2009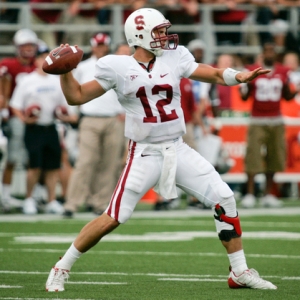 Stanford. Wow. What else is there to say? A team that couldn't find a way to beat Wake Forest, Oregon State, or Arizona earlier in the season has now had the biggest upset of the week two weeks in a row. Both Oregon and USC were thought to be the prime contenders for the Rose Bowl, but Stanford beat them both - destroyed them, really. This wasn't the first major upset the program has had in recent years - they beat USC as 41-point underdogs two years ago. These wins were different, though - they weren't a fluke. Stanford was clearly the better team in both of these wins, while they had to hang on for dear life two years ago. The Cardinal still don't control their own destiny in the Pac-10, but they are a legitimate contender for the first time in a long time, and right now they are the hottest team in the country - one that no one wants to face. So, how are they doing it, and can they keep doing it? Here's a look:

Defense - Let's start with one thing that isn't a major cause of their success. This is, simply put, not a good defensive team. They rank 79th overall in defense, and a dismal 94th in passing yards. They have allowed 38 or more points three times in 10 games, and the only time that they have kept an opponent to less than two touchdowns was in their opening game against pathetic Washington State, and the Cougars still scored 13. The Cardinal have done a lot of things to help them win, but playing sound defense is not one of them.

Andrew Luck - The biggest key to the success of this team rests with their redshirt freshman QB. Luck was the fourth-rated quarterback in his recruiting class in 2008 - a four- or five-star recruit depending upon who is doing the ranking. He's not alone in his strong play in that class - Missouri's Blaine Gabbert was the top-rated pivot, and he's also enjoying a nice year. Not as nice as Luck, though. Luck has thrown 13 touchdowns with just three interceptions. His yards per attempt is a gaudy 9.33 - the fourth best in the whole country. His QB rating is 13th-best in the country. The kid is really good. At this point he is clearly the best freshman QB in the country, and he plays with a presence and a confidence that players his age shouldn't have. In each of the two biggest games of his career he threw two TDs, avoided mistakes, and led the way to victory. Against USC he badly outplayed the more touted freshman - Matt Barkley. Other freshmen have faded as the season has gone on, but Luck has gotten stronger. There's no reason to think that he won't finish strong.

Toby Gerhart - Stanford's senior running back is a beast. He leads all running backs with 19 touchdowns, and is third in the country with 1,395 yards on the ground. He certainly rises to the occasion as well - he has scampered for 401 yards and six TDs in the last two weeks. If Luck leads in the huddle then Gerhart leads by example. There is a good chance that he'll be able to stay hot for the rest of the season, too - Cal is decent but inconsistent against the run, and Notre Dame is just plain brutal at defending the ground game. Gerhart has been special, but he hasn't done it alone. In a nod to old school, smash-mouth football, Stanford relies very heavily on fullback Owen Marecic. The junior is a scary monster - I'd get out his way, too. Marecic punishes everyone in his path, and that makes it easier for Gerhart to do what he does. That steamrolling attitude has also set an example for the offense to follow. Coach Jim Harbaugh can't say enough good things about Marecic.

Jim Harbaugh - Harbaugh can flat out coach. He has the credentials to get guys to listen to him - a first round pick out of Michigan who played 13 years in the NFL and was runner-up for MVP in 1995. He also comes from coaching blood - his dad, Jack, coached in college for 35 years. His brother, John, is making waves as the head coach of the Ravens. He's even the brother-in-law of Indiana basketball coach Tom Crean. Beyond the family ties, though, Harbaugh can succeed on his own accord. After serving as an assistant for the Raiders for two years, Harbaugh took over the University of San Diego. In three season there he won two Pioneer League titles and groomed QB Josh Johnson into a future NFLer. Then he moved on to Stanford. He won just nine games in his first two years, but he was clearly making progress. This year is his third season, and has clearly been his breakthrough. Now Harbaugh is one of the hottest coaching names in the country.

Harbaugh has succeeded this year because of how he has inspired his team to play. He coaches with incredible bravado, and that attitude permeates throughout the team. He made waves when he called Luck the best quarterback in the country, and he hasn't backed down from that. He slapped USC in the face when they were down by trying a two point conversion on their seventh TD of the game. Stanford is succeeding right now because Harbaugh is telling them they are invincible, he acts like it is the truth, and they are believing it.