TCU Probably Won't Get Chance to Play For National Title
by Trevor Whenham - 11/19/2009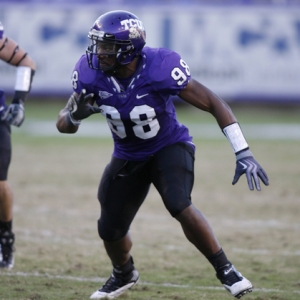 TCU - the little school that could. The undefeated program has climbed to the unprecedented heights of 10th in both the AP Poll and the BCS rankings. They haven't gone halfway in their efforts, either - they have won their 10 games by an average of more than 26 points per game while allowing just 13 points per game. This is a team which can score and which plays even better defense.
It's becoming very popular to suggest that this is a team that could be competitive in the BCS National Championship Game if they were to get a shot. We'll look at whether that could be true or not in a bit, but first we need to accept that they are very unlikely to get the shot to show us. They would have to get ahead of two of the three teams ahead of them, and that's not going to happen. Florida and Alabama have already secured a date in the SEC Championship Game, and neither is likely to lose their two remaining games against flawed opponents. The winner of that game will take one BCS championship spot. Texas is very likely to make it as well - Kansas and Texas A&M can't match up to them, and no one in the Big 12 North is likely to challenge them in the Big 12 Championship Game.
TCU is almost sure to go undefeated this year, but it would take a miracle for it to matter. TCU's best shot is to cheer for the Longhorns' opponents.

This run by TCU is impressive but it's not the first time they have enjoyed some serious success. They won the National Championship in 1938, and they claim another one in 1935, though that is disputed. They've turned out some impressive players as well - LaDainian Tomlinson has an MVP award in his trophy case, Sammy Baugh was the QB for the first National Championship, and Davey O'Brien took over for the 1938 championship and won the Heisman Trophy that year as well.

So, could TCU win it all if they had a chance? Here's a look:

Last week, Utah was crushed by TCU. Despite being ranked 16th overall and being well regarded nationally, Utah was totally outclassed by the Horned Frogs. Head Coach Kyle Whittingham has been in charge of the Utes since Urban Meyer left for Florida, and was defensive coordinator with the team for 10 years before that. He says that TCU is the best team he has faced while at Utah. That includes, most notably, last year's No. 4-ranked Alabama team.

On the strength of the numbers you have to respect what TCU has accomplished. They have played, and decimated, two ranked teams. They are frighteningly balanced - ranked fourth in the country both in terms of most offensive yards gained, and fewest defensive yards allowed. They average more than 250 yards rushing per game.
Defensively they have no holes - they are sixth best in the country in both pass defense and rushing defense. Defensive end Jerry Hughes is as disruptive as a player can be. This is a team that can measure up statistically to any team. Texas, Florida, and Alabama are, in that order, the three teams that rank ahead of TCU in defense, but they only sit 25th, 26th, and 29th in the offensive rankings. It would seem that TCU would have trouble scoring against any of the top three, but they would have at least as much trouble scoring against TCU as well.

One of the biggest criticisms a non-BCS team always faces is their comparative strength of schedule. Though TCU hasn't played the toughest schedule in the country, there have been a few points to note. They have played two ranked teams and beat them soundly, and their non-conference schedule included two BCS-conference teams. That's not significantly easier than any of the other top teams. Texas also played two ranked teams, they played no BCS teams in non-conference play, and have benefited from a struggling Big 12 conference. Florida has played just one ranked team, and Florida State is their only BCS non-conference opponent. Alabama comes out top on this measure - they have played four ranked opponents, including Virginia Tech, which was ranked No. 7 at the time of their meeting. Both Florida and Alabama have also enjoyed a conference that is having an off year. If you are going to be critical about the schedule TCU has faced then you have to be at least somewhat critical of the other three as well. TCU's came closest to losing against Clemson, a team that is about to win their division and has a running back with serious Heisman potential. Texas' biggest fear came against Oklahoma - a lesser team than Clemson this year.

Unfortunately, the best indication of whether this team could be competitive in the National Championship Game is how well they will fare in their bowl game. That's frustrating and makes you wonder if we have the best bowl system, but that's another issue entirely. What we do know, though, is that there is no easy way to discount this team or consider their accomplishments as less worthy than those of the other major contenders.