24 Seconds Around the NBA
by Nolan Sinclair with Robert Ferringo - 1/26/2010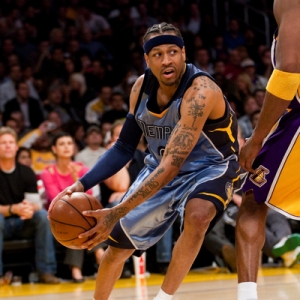 Late in the Miami Heat-Cleveland Cavaliers game on Monday we had a perfect Rocky Balboa versus Apollo Creed moment.
Dwyane Wade threw an absolutely terrible behind-the-back pass, up one with less than 10 seconds to play, and LeBron James stole the ball. The two went flying down the floor and went crashing to the floor as Wade fouled James – hard - on the ensuing layup. As both men laid on the floor the announcers on NBA TV were swooning over how both men were down, how Wade turned an ankle, how James made such an impressive steal, and how he was hit "so" hard on the layup. Basically, it was if Rocky and Apollo had knocked each other to the mat and the ref was counting out, waiting for one man to rise and claim the victory.
Finally Wade got up first and it looked like James wouldn't peel himself off the floor. But he did. He picked himself up, walked to the line and made both free throws to win the game 92-91. Advantage: King James.
With that said, I give you 24 Seconds Around the NBA:
24. The Denver Nuggets are playing impressive basketball as they have won seven straight games. Carmelo Anthony and Chauncey Billups have been healthy during the streak, but Anthony landed awkwardly on his ankle Saturday night and is now day-to-day. Anthony didn't play Monday and if he misses more time Denver could struggle ATS. The Nuggets are 20-22 ATS on the season.
23. Cleveland is now without Mo Williams and Delonte West, and it shows. First, they barely beat Oklahoma City at home and followed that up with a one-point win at Miami. I am not saying that either of these were "bad" wins, but with Mo and West the Cavs would have been able to handle themselves in a better fashion late and these one-point wins would've been six-eight point wins. Williams is out for a few more weeks and West is now day-to-day.
22. Allen Iverson playing in the All-Star Game is a disgrace. Watching his game Monday versus the Indiana Pacers, he is about as close to an all-star as I am. Thanks for the memories Allen but you have no business being there. You are a shell of your former self and I can't believe the NBA lets the fans vote for this game.
21. NBA players donated $1,000 per point to Haiti on Friday night. This was very nice to see out of people that many of us view as the most self-absorbed of all professional athletes. Players that stepped to the forefront of Bill Clinton's big night were Pau Gasol of the L.A. Lakers and Danillo Gallinari of the New York Knicks. Good to see some Americans stepped up for a good cause. Oops.
20. ESPN reported that there is locker room tension in Phoenix and coach Gentry is not happy about it. Are the Amare Stoudemire trade rumors taking their toll on the Phoenix brass? Keep an eye on Phoenix moving forward. Will tension increase? One thing I do know is that the Cavaliers are interested in Amare and they would like to get this done before the trade deadline. If this happens…um...yeah…I would say that a ring is done and done.
19. Sacramento is falling apart. Right around the time Kevin Martin came back the ATS darlings became the ATS duds. The Kings' record is at 20-20-3 ATS but they are a disastrous 3-12-1 ATS in their last 16 games.
18. Kobe Bryant is not happy with Pau Gasol. Bryant feels that Gasol is too nice. He feels that Gasol needs to get tougher and meaner if the Lakers are going to repeat. I don't know about that, but I do know that Gasol is a mix between Tom Green and Steve Buschemi
17. The Golden State Warriors are one of the worst teams in the NBA at 13-27, but they have been extremely profitable for their backers as they are 24-17-1 ATS on the year. They still have that great home court edge and look for them to continue to be a live home dog.
16. Are the Pistons heating up for the wrong reasons? Yes, indeed they are. Certain veterans that shall remain nameless (Tayshawn Prince) are not happy with the way things are going. He has lashed out at teammates and at his coaches and this spells trouble for a Detroit team that is just 15-28 SU on the year. The Pistons have failed to cover three of their last four games and it could continue to get worse with games against Memphis, Miami and Orlando on deck.
15. Kevin Garnett is back and the Celtics should start to play defense again. KG's first game back went 'over' the total but only because it went to overtime. Their second game with KG back was more to form as they held the Clippers to only 89 points. The Celtics are 20-21-1 versus the total on the season.
14. Suns Leandro Barbosa is scheduled to miss a month after surgery on his wrist. The Suns are not the same team when Barbosa is out. Their up-tempo style takes a hit when their sixth man is not available. Barbosa comes in and is a nice change of pace from Steve Nash or a nice compliment when they play together. Look for them to take a hit ATS. They looked good in Utah last night but overall they should struggle.
13. As if things couldn't get any worse for the Nets, Devin Harris has now hurt his wrist. If Harris misses an extended period of time the Nets may not win again this year. Harris missed Saturday's game and he is questionable for Wednesday versus the Clippers.
12. The Mavs and Kings are talking trade and it could pay dividends to both teams. News is that the Mavs and Kings could swap Josh Howard for Kevin Martin. Martin would shore up the two guard spot in Dallas and the "bat-schize crazy" Howard could take his circus act west to Sacramento.

11. The Atlanta Hawks and the Oklahoma City Thunder are both at least 10 games over .500 ATS thus far this season, whereas the New Jersey Nets are the only team that is 10 or more games under .500 ATS on the season. Five teams finished at least 10 games over .500 ATS last season and five teams finished at least 10 games under .500 ATS.
10. Ref Watch: Bennett Salvatore is 21-10 versus the total on the season.
9. If you are fortunate enough not to catch an overtime game the 'under' can be a profitable wager. Over 54 percent of games that do not go to overtime are falling short of the total. I guess that is what happens when all anyone does is focus on dribbling and dunking. The jumper has become a lost art.
8. Beware of teams that are known to be "offensive." The Knicks, Lakers, Warriors, and Suns, all teams thought to be up-tempo all have a losing record versus the total. The Lakers and Knicks aren't as up-tempo as they have been in the past, and the Suns and Warriors face totals that are just too high to cover.
7. Memphis is becoming a cash cow. At 24-17-1 ATS and 26-16 versus the total they are making their backers very happy. Memphis fans are excited as they can go to a game, bet on their team and see a lot of points being scored. At least they have that going for them as Memphis as a city doesn't have much else going for them. Sorry Elvis.
6. Underdogs were 31-23-1 ATS last week. Good for a 57-percent winning clip.
5. Out of the 10 teams in the NBA Northwest Division and the NBA Southwest Division, eight of them are at least four games over .500, with New Orleans being three games over .500. Out of the 15 teams in the entire Eastern Conference only four teams are more than four games over .500. As has been the case over the last 15 years, the West is still best.
4. Syracuse Orange Update: The Syracuse Orange are now definitely the best team in the nation. The Orange are currently ranked fourth in the land and they wrecked the Georgetown Hoyas Monday. Not only did their first five have a solid game but their bench showed that this team is a legit seven-deep and one that needs to be feared for the rest of the season. Kentucky has played a soft schedule and the Big 12 will struggle with the zone. Villanova can be difficult to beat with all those guards and good shooters, but come April it looks like we could be drinking Orange Tang and Vodka and celebrating a national championship.
3. 'Under' is the name of the game for the Philadelphia 76ers. Over their last eight games seven have fallen short of the posted total. Out of those eight games, six have seen a total set at 199 points or higher. If Philly continues to see totals that high the 'under' will continue to be profit-worthy.
2. Home dogs are winning at over a 53-percent clip. Keep an eye on home teams that are getting at least four points, as they are 4-1 ATS in their last five games.
1. Check back next week for more 24 Seconds Around the NBA.