24 Seconds Around the NBA
by Nolan Sinclair with Robert Ferringo - 1/6/2010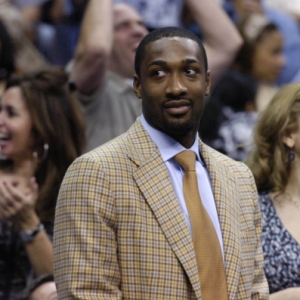 Here is a quick spin around Da League (flak jackets and bulletproof vests for everyone!) with 24 Seconds Around the NBA:
24. As many of you already know Gilbert Arenas has gotten himself into hot water with the NBA for his actions in a locker room tiff in which guns were involved. He has stated that the gun was for a "joke" to be played on a teammate. Wow! That Gilbert is one funny guy. I may be the only one to say this, but when Gilbert is out of the lineup because of his suspension I won't be so quick to fade the Wizards. This Washington team is used to playing without Gilbert and they should be just as good as they are now. (Which is to say not very.)
23. The Boston Celtics are currently without Paul Pierce (early January), Kevin Garnett (mid-January), and Marquis Daniels (early February). They are also dealing with a Rajon Rondo hamstring injury. Without their four stars the Celtics are 8-12 ATS. Keep an eye on the Celtics; if Rondo misses more time I would fade them, as he has become the engine that makes this team run. The Celtics are also 2-0 against the total without their defensive stopper, Garnett.
22. The Sacramento Kings have improved their ATS record to 19-13-2, which is good for fourth in the NBA.
21. The Orlando Magic, Los Angeles Lakers, Dallas Mavericks, and Cleveland Cavaliers are the top four defensive rebounding teams in the NBA. They are also four of the best straight up (wins) teams in the league. However defensive rebounding does not guarantee ATS success as the Magic are the only team out of the four ranked in the Top 10 against the spread.
20. Speaking of Dallas and L.A., the two teams met Sunday night in Los Angeles in a battle of one versus two in the West. The Lakers clearly proved they are the best of the West in a 131-96 thrashing of the second-seeded Mavs.
19. The Highlight Factory in Atlanta has shut their doors as of late. The Hawks do not look like their dominant selves, as they are losers of four straight after getting worked over in Miami on Monday. If oddsmakers lessen some of the large lines that the Hawks have seen this season jump right back on board as this team is one of the best in the East and they will right the ship soon.
18. Nate Robinson put on a show Saturday night versus the Atlanta Hawks. Nate "The Great" hadn't played in the previous 14 games, but when Chris Duhon and Tony Douglas couldn't keep the Hawks in check the Knicks had no other choice but to turn to Nate. Robinson scored 41 points, dished out eight assists, and grabbed six rebounds in an overtime win versus the Hawks. The Knicks followed this big win with a 43-point victory over the Indiana Pacers. Don't look now but New York has won 10 of their last 15 games. The System might be starting to click.
17. If the season ended today the Charlotte Bobcats and the Oklahoma City Thunder would be playing playoff basketball. Not many people thought they would say that at the beginning of the year. Both teams have the makings of a playoff team, but they will need to stay healthy and win all the games they "should" win.
16. Carmelo Anthony and Chauncey Billups both sat out Tuesday's game. If the two remain out it is time to fade the Nuggets. Denver is 2-6 ATS without Billups and 1-2 without Anthony.
15. The Houston Rockets are both 20-15 ATS and SU and their biggest name is Aaron Brooks. I love how the Rockets play and it is time to give credit where credit is due. Rick Adelman, I applaud you. All this guy did was create a few great teams in Sacramento and now completely rebuild Houston without (allegedly) it's two best players.
14. San Antonio has started to win and cover, going 8-2 SU and 7-3 ATS in their last 10 games. Not many of the wins have come against quality opponents, but a win is a win and a cover is a cover. Take not of the Spurs playing poor teams at home. That has been their best role of late.
13. Ron Artest was considered doubtful for Tuesday, but he managed to suck it up and play. He was not sharp at all, but L.A. was 2-3 ATS in the five games that Artest missed and his yo-yoing in and out of the lineup has kept the Lakers (and their backers) from getting into a groove with this team. What they need to do is focus their attention on the total instead of the side. Since Artest has been out the Lakers are 5-0 against the total. No defensive stopper, no defense. Then he comes back on Tuesday and the game goes 'under' by 33 points. Not a coincidence.
12. The Charlotte Bobcats have become ATS darlings. The Cats are 67-47 ATS since the start of last season. It is time to take notice if you already haven't.
11. I went to an NBA game this past weekend and I took notice of how the players acted when they were on the bench. As I watched the players appear to not give a damn, I wondered why we give these athletes so much money. People are angry with our government for spending absurd amounts of money on health care and the environment when they should be pissed at the what these pampered athletes are making. Oh yeah, did I mention that they were sending ball boys and towel guys all over the stadium getting Gatorade, warm towels and extra cushions as well. These guys are the biggest scumbags in sports.
10. Allen Iverson is averaging 15.5 points a game with the 76ers this season and I think that it was a good call for the Sixers to keep him around. Philly is just 4-6 ATS in the 10 games that he has been on the team but they are 3-2 ATS in the last five games, in which AI has been playing around 32 minutes per game.
9. The Memphis Grizzlies, once a doormat in the NBA, have gotten themselves to the .500-mark SU. Even better is the fact that they are 18-13-1 ATS.

8. Ref Watch: Keep an eye out for David Jones. The home team is 13-4 ATS in games he officiates.
7. The Portland Trailblazers were in first place in the NBA Northwest Division at 22-13 before a two-game skid. What is most impressive about their success is that they have done this with LeMarcus Aldridge, Steve Blake, Nicolas Batum, Joel Przybilla, Rudy Fernandez, Greg Oden, Travis Outlaw, and Brandon Roy, all missing games this season.
6. Syracuse Orange Update: The Orange took their first loss of the season on Saturday. Syracuse lost by 10 at home to their nemesis, the Pittsburgh Panthers. Something about the way Pitt attacks the zone just gives The 'Cuse fits as the Panthers have won 12 of their last 15 meetings with the Orange. This was also the first time Arinze Onuaku and Rick Jackson got into foul trouble. Hopefully for the two of them it isn't a sign of things to come.
5. The Detroit Pistons are 1-9 ATS in their last 10 games. Their offense has been nonexistent, as they have scored over 90 points in just four of the 10 games. It shouldn't have taken them as long as it has for Tayshaun Prince, Rip Hamilton, and Ben Gordon to mesh, but alas, it has. Detroit has lost every game but the last one by at least seven points.
4. I don't want to mention it but Tracy McGrady has been sent home and he is hoping to be traded. That is all I have to say about that since it makes me sick to think about how much money this guy makes. I just know that I hope he finds a new squad and that his new team makes the playoffs so we can make a killing betting against this loser.
3. The 'under' is hitting in over 53 percent of games that do not go into overtime this year.
2. Who is next to coach the Bulls? Rumors out of Chicago are that it could be Doug Collins or Lawrence Frank. Either would be taking over one of the hottest teams in the NBA as the Bulls are playing great basketball, going 8-3 ATS in their last nine games.
1. Check back next week for more 24 Seconds Around the NBA.