BCS Bowl Projections and Predictions
by Nicholas Tolomeo - 11/30/2010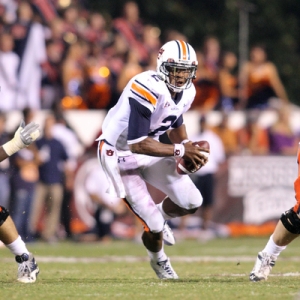 One final weekend and 19 games remain in college football before bowl bids can be given out. In regards to the National Championship Game and the other BCS bowls, things have sorted themselves out pretty clearly through 13 weeks of football.
For the most part teams know what they need to do and what they need to happen. Here is a breakdown of the BCS bowls and how this coming weekend of college football will affect the matchups in these bowl games.
BCS National Championship Game
Glendale, Arizona
BCS No. 1 vs. BCS No. 2
Jan. 10, 8:30 p.m. EST
They have been on a collision course all season long, and now all that stands in the way of an Auburn/Oregon National Championship Game is a SEC title game and a Civil War.
Auburn is set to face South Carolina on Saturday in the Georgia Dome in the SEC title game as six-point favorites. A win sends Auburn to Glendale to play for a National Championship. Oregon's road is a little easier as it travels to in-state rival Oregon State (5-6), who is just trying to become bowl eligible. The Ducks are 16.5-point favorites.
If both Oregon and Auburn win, they will play for the national title. With one loss from either team, however, TCU will sneak its way into the game. Two losses and we will have a colossal BCS shakeup with potentially TCU facing Stanford, Wisconsin or a one-loss Auburn or Oregon.
Sugar Bowl
New Orleans
SEC champion vs. BCS at-large
Jan. 4, 8:30 p.m. EST
The SEC champion is tied to the Sugar Bowl. If Auburn wins on Saturday they will be headed to Glendale to play for a National Championship and the Sugar Bowl will get its choice of at-large teams based on pecking order and based on the fact they are losing Auburn.
So with an Auburn win the Sugar Bowl will jump at Arkansas and then go after Ohio State, who has not played in the Sugar Bowl since 1998. If Auburn is upset in the SEC title game, South Carolina will end up in New Orleans opposite of Ohio State.
Orange Bowl
Miami Gardens, Florida
ACC champion vs. BCS at-large
Jan. 3, 8:30 p.m. EST
The ACC title game pits No. 11 Virginia Tech (-4) against No. 20 Florida State. The winner will be headed to South Beach.
Orange Bowl officials are hoping, no scratch that, praying for a Connecticut loss on Saturday at South Florida and a West Virginia win. The Huskies are one-point underdogs on the road against the Bulls. A Connecticut win ensures the Huskies of a BCS bid.
The Orange Bowl will be left to choose from Stanford and the Big East champion. If Connecticut gets the Big East's BCS bid the Orange Bowl will have to pick from two apathetic fan bases, but will end up going with the better matchup and take Stanford. If UConn loses on Saturday and West Virginia wins as 20-point favorites at home against Rutgers, then the Orange Bowl will jump at the chance at landing the rabid West Virginia fan base.
The Mountaineers, who have never been to the Orange Bowl, could potentially send 35,000+ fans to South Beach, and that will more than make up for a potential regional rivalry game between West Virginia and Virginia Tech.
Fiesta Bowl
Glendale, Arizona
Big 12 champion vs. BCS at-large
Jan. 1, 8:30 p.m. EST
No. 13 Nebraska and No. 9 Oklahoma (-3.5) face off for a Big 12 title on Saturday and a berth in the Fiesta Bowl. They will be placed opposite of either the Big East champion or Stanford, whoever the Orange Bowl does not want.
The Fiesta Bowl is last in the pecking order this year and has to pick from the leftovers of the rest of the bowls. Stanford is not an attractive team to land because of their lack of fan support, but the Fiesta Bowl has to hope it lands Stanford because its next option is Big East champion Connecticut.
If Connecticut wins the Big East, the Orange Bowl will gobble up Stanford and Connecticut will fall to the Fiesta Bowl. If West Virginia wins the Big East then Stanford will fall to the Fiesta Bowl.
Rose Bowl
Pasadena, California
Big Ten champion vs. Pac-10 champion
Jan. 1, 4:30 p.m. EST
The Pac-10 champion, Oregon, is headed to play for a national title if it can win as 16.5-point favorites at Oregon State. That will require the Rose Bowl to invite TCU, because the Horned Frogs will have met certain BCS stipulations that prevent the Rose Bowl from inviting Stanford.
TCU will play opposite of Wisconsin, Ohio State or Michigan State, whoever is ranked higher in the BCS and that team will be Wisconsin. An Oregon loss on Saturday and essentially the Ducks and TCU flip-flop spots with Oregon going to Pasadena and TCU headed to play for a National Championship.
Bowl Projections
Assuming all the favorites win on Saturday here are the projections and predictions for the BCS games
BCS National Championship: Auburn vs. Oregon
Sugar Bowl: Arkansas vs. Ohio State
Orange Bowl: Virginia Tech vs. West Virginia
Fiesta Bowl: Oklahoma vs. Stanford
Rose Bowl: Wisconsin vs. TCU