Best and Worst Betting Teams Against College Football Lines
by Trevor Whenham - 10/20/2010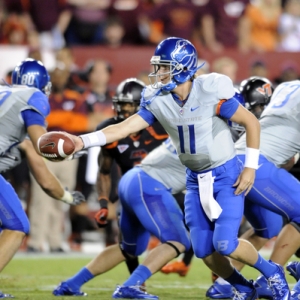 Here's a look at the teams that have been very kind to bettors so far at the halfway point of the college football season, and the ones that have really struggled to reward bettors. All records are against the college football lines:
Studs
Utah (5-0-1 ATS) - This one is pretty easy to understand - this is a very good team that is playing even better than people expected them to this year. They have played a reasonably easy schedule, and they have completely taken care of business. The second half of their schedule is much tougher, so it remains to be seen if they can keep on rolling.
Hawaii (6-1 ATS) - This team doesn't play much defense, but their offense is sneaky good. Just ask Nevada - they had a promising season derailed by Hawaii last week. The concern here is that the one game on the Hawaii football schedule that they didn't cover was a blowout loss to a really lousy Colorado team.
Boise State (5-1 ATS) - This team couldn't really be more impressive. Everyone expects them to be dramatically better than their opponents, so they face massive spreads. Thanks to the top defense in the country and a Top-5 offense, no spread seems to be big enough. The only time they didn't cover was against Oregon State - and they still won by 13.
Oklahoma State (5-1 ATS) - People have been a bit surprised by this team. They had to make some personnel changes, so it just didn't seem likely that they would be where they are - with the second best offense in the country. They almost got caught by Troy in the second game of the year - and they didn't cover - but since then they have been particularly impressive.
Central Florida (5-1 ATS) - I give this team less credit than most on this list - they have not played a strong schedule at all. Luckily for them, they don't play a tough schedule down the stretch, either.
North Carolina (5-1 ATS) - This is a clear example of the power of the press. The story from the start for this team was disaster - they had lost many key players on defense, so there was no way they could perform. Instead, they have found a way to perform - and to play strong defense at the same time.
San Diego State (5-1 ATS) - Take note - Brady Hoke can coach. Last year was his first year, and this team wasn't doing much that was impressive. This year is a whole different story, though. They still aren't great, but they are improving at a rapid pace - faster than the public seems to have noticed.
Duds
Rutgers (1-5 ATS) - It wasn't that long ago that this team was the talk of the country thanks to their strong play and impressive talent. That just isn't the case now. They are barely beating bad teams, and losing to only decent teams. They aren't a terrible team, but they sure aren't a good one.
Penn State (1-5 ATS) - Joe Paterno really hates starting freshman quarterbacks, and this is why. You take a struggling quarterback, put him behind a lousy line, and give him a defense that isn't as good as it should be, and you have a recipe for failure. It really doesn't help in this case that they were viewed as a good team heading into the season.
Boston College (1-5 ATS) - This is not Matt Ryan's team. They have lost their last four games, and they have only covered once - in a game they still lost by five. These guys just aren't good, and it's hard to cover when you aren't very good.
Middle Tennessee St. (1-5 ATS) - This team looked like they were taking some steps forward over the last couple of years. All of that momentum has disappeared lately, though, and now they just can't cover a spread.
Marshall (1-5 ATS) - They are in the first year under a new coach, so it's not a big surprise that they aren't doing great this year. It's not like they were great in the first place, anyway.
New Mexico State (1-5 ATS) - Just how bad is this team? They couldn't even cover against New Mexico. That's embarrassing. This team isn't good, and there isn't much more to it than that. One fun fact, though - they have an offensive star named Marcus Allen. Unfortunately for the Aggies he doesn't play anything like Marcus Allen.
New Mexico (1-5 ATS) - The Lobos are the worst team in the country. Plain and simple. Not going 0-12 would be a miracle.