NBA Handicapping: Celtics Struggles
by Trevor Whenham - 2/5/2010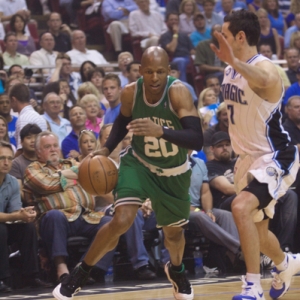 Two seasons ago the Boston Celtics were as dominant as a team can be en route to an impressive NBA title. Their big three players and the complementing pieces around them were perfectly suited to the pursuit of an NBA title. Last year wasn't quite the same as the year before, but many people clearly expected the Celtics to reclaim their past magic this year - they were 2-1 to win the NBA Championship heading into this season.
For a while it looked like they were going to reward those backers - they were 23-5 on Christmas Day and everything was clicking. Since then, though, the wheels haven't totally fallen off but they sure are wobbly. They have gone just 8-11 since Christmas, and they have endured three separate three-game losing streaks over that stretch. Last week they played three games against teams that are not only going to make the playoffs but will make some noise when they get there - the Hawks, Magic, and Lakers. They lost all three. So, what's wrong? And, more significantly from our perspective, can they get over it and return to being a useful bet before it's too late? Let's take a look:

Kevin Garnett - It goes without saying that Garnett is the best player on the team and the key to their success - he's still one of the best players in the league. The Celtics seem to be particularly reliant upon their star, though - in an unhealthy way. When Garnett missed 10 games due to injury starting late in December, the team managed only four wins. That was really the start of the current fall from grace. Garnett doesn't have to play well, but the team is unquestionably better when he does play. That's not good news given Garnett's age and the miles on his tires. He's only 33 so he's not washed up by any means, but because he started so young he has already played more minutes than guys like Bird, Barkley, Wilkins, and David Robinson.
Garnett doesn't protect himself and stay out of trouble, either, so he's taken more than his share of abuse. While he will still be the kind of player any team would love to have, his impact is inevitably going to continue to fall. He's averaging his lowest point total since he was a rookie, and his previous low was last year. Garnett also can't be expected to remain healthy over the long term because of his wear and tear. He's missed 11 games already this year, and only played 57 games last year. When a team relies on a player that can't be relied upon it's not a great situation.

Paul Pierce - If one of your big players can't carry his weight then you need another to step up. The most likely candidate for that is Pierce. Like Garnett, Pierce is putting up his worst offensive season since he was a rookie. His decline hasn't been quite as sharp as it has been for Garnett, but it is still notable. He's also is not as healthy as he once was - he missed five games at the end of December, and he's struggling with injuries again right now. It all really boils down to this for the Celtics - they are built around three guys, and all three of those guys are 32 and older, all are declining in their productivity, and all are challenged physically as a result of their age. It's not a wonder that the team isn't the force that it was in the past.
More significantly, it seems naive to believe that this team in their current structure can return to what they once were. They can clearly play better than they have been playing recently - just like they did earlier this season and for good portions of last year - but I find it very hard to believe that they will ever be a significant contender again - one worthy of anything near a 2-1 price - without an overhaul.

Chemistry - Players don't have to be best friends to win a title, but they have to be willing to work together to achieve whatever goal is in front of them. What made the Celtics so potent when they won their title was that they were all focused on the goal of turning the team around and getting the hardware that none of them had.
This year has looked different from the outside, and we are getting hints that it is different on the inside as well. Rajon Rondo came out last week and made some surprisingly bold comments, suggest that there were issues with accountability in the locker room, and that the players were playing with too many agendas beyond the most important one - winning. Doc Rivers has back-tracked from those comments and tried to take the air out of the discussion of them, but the fact that Rondo was willing to talk about it like he did makes it easy to believe that there is indeed an issue. It only makes sense that there is going to be frustration when a team struggles like they have, when the core players can't perform like they once did, and when it isn't immediately obvious how things can change in a significant way. Above all else, this is why I find it very hard to be optimistic about this squad.