NHL Handicapping: Calgary Flames Overhaul
by Trevor Whenham - 2/3/2010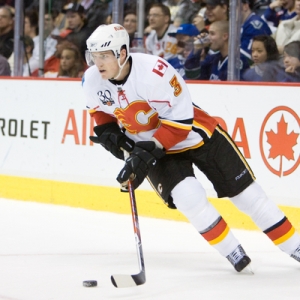 In this cautious salary cap era of the NHL it's still common to see teams make changes at or near the trade deadline, but it's increasingly rare to see a team make a deal that really shakes up their roster - especially when a team is a legitimate playoff contender. It's truly surprising, then, that the Calgary Flames have not made one such deal in the last week, but two.

The season for the Flames has been truly bizarre. After two years of underachievement under Coach Mike Keenan, General Manager Darryl Sutter lured his brother Brent away from New Jersey to take over. The results were very positive early on, and by late November they were near the top of most power rankings. Star forward Jarome Iginla was the NHL Player of the Month in November, and everything seemed to be working great.
Since then, though, nothing has gone particularly well. The team dropped to 6-6-2 in the month of December. That doesn't seem great compared to the 10-2-2 mark in November, but it was downright impressive compared to what was to come in January. Despite winning their first two games of the month, the team was just 4-8-3 in January, and they went nine games in a row without a win before beating the pathetic Oilers on the last day of the month. They dropped their first game in February to add to the misery. They have gone from being on track to host a playoff series or two in November to sitting on the outside of the playoffs looking in today.

Before the team underwent their major overhaul there was no more controversial player in Calgary than Dion Phaneuf. The young defenseman, who incidentally dates Elisha Cuthbert from "24," was drafted by Calgary and arrived with massive expectations. He was a finalist for Rookie of the Year in his first year, and for the Norris Trophy for top defenseman in Year 2.
Since then, though, he has gotten progressively worse. Now in his fifth year, Phaneuf wasn't contributing defensively nearly to the extent that he should be at this point. In fact, he's often a liability, and the biggest thing he can be relied on to do is to be out of position. His offensive production has tailed off as well, and he's on track for by far his worst offensive season of his career. On top of it all, Phaneuf was reportedly not a positive force in the dressing room, and he wasn't getting along well with Brent Sutter - despite the fact that the coach was also his coach in junior hockey in Red Deer.
There are those that believe that Phaneuf, who is still only 24, has elite potential and will grow into one of the best defensemen in the league. Others, including me, think that his attitude and his stunning lack of hockey IQ means that what we see is disturbingly close to what we will get.

GM Sutter insisted that Phaneuf wasn't going to be traded, but on Sunday he was shipped to Toronto in a very surprising seven-player deal. Along with Phaneuf the Flames lost journeyman forward Fredrik Sjostrom and defensive prospect Keith Aulie. In exchange they received underachieving center Matt Stajan, veteran winger Niklas Hagman, solid young defenseman Ian White and veteran forward Jamal Myers. Stajan is a free agent at the end of the year, but has a good chance of getting extended if he can find chemistry with Iginla - something no center has been able to do over the long term. Hagman is a 20+ goal scorer who will fit in nicely and is still under contract. White is another free agent, but he's likely to be signed, and he offers more with and without the puck than Phaneuf has this year. Myers is a positive dressing room guy, but he's nearing the end of his career, and isn't a long-term factor here.

That deal sent a real message to the team, but Sutter wasn't done yet. Last year at the trade deadline, the Flames made a big splash by acquiring the long-coveted Olli Jokinen. He was a total disaster - he didn't find chemistry with Iginla or any other forwards, and his offensive contribution was far from adequate and certainly didn't improve as the season progressed. Jokinen was a free agent after this season, so it seemed likely that the Flames would keep him around for the rest of the year to free up the salary cap space - $5.5 million. Instead, Sutter sent him to the Rangers along with bruiser Brandon Prust for two of the Rangers major underachievers - Chris Higgins and Ales Kotalik. Higgins is a free agent at year end, but Kotalik is signed for two more years at $3 million per.

All the changes mean that the Flames have six new forwards on the team - seven if you consider that they called up center Michael Backlund, an elite prospect, just days before the trades. They desperately need to find offense, and they unquestionably have more offensive production on board now. The question, though, is if they can find the chemistry and combinations to make the most of the talent they have. It's almost unprecedented to see this much change at this type of the season, so it's really hard to know how to deal with the team as bettors.

It also seems almost certain that the team isn't done dealing yet. They have 13 wingers on the NHL roster now, and that's far too many. A couple of those wingers have the potential to play center, but not particularly well. The Flames don't have a No. 1 center - really they have one No. 2-caliber and three solid No. 3s. Kotalik and Hagman are both one-dimensional players with no defensive discipline - exactly the type of player that usually finds themselves in the Sutter doghouse. In short, though the team has gone through a tremendous amount of change already, they will likely go through more soon - probably before the Olympics.

How do we deal with this as bettors? To be honest, I have no idea. I'm generally tentative after a trade until the players settle in and we get a sense of what impact the change will have. Because the team has gone through such an overhaul, because there were so many obvious significant issues with the team before these deals, and because there is more likely to come and that will surely create uncertainty among the players, I would have to have a very good reason to bet on or against this team for a long time to come. This is a very unique situation, and it is going to be fun to watch - from a distance.