NHL: Chicago Blackhawks vs. Nashville Predators Series Odds and Predictions
by Nicholas Tolomeo - 4/13/2010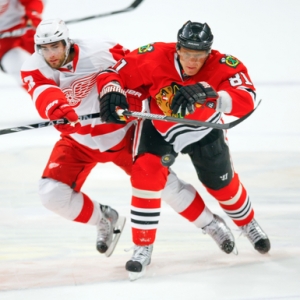 Chicago Blackhawks vs. Nashville Predators Series Odds
Chicago -400
Nashville +300
The Blackhawks enter these Stanley Cup Playoffs as the No. 2 seed in the Western Conference just like last season. However, the similarities stop there. This Chicago team finished just one point out of a tie for first place with top-seed San Jose.
And unlike last season when Detroit was considered the overwhelming favorite, there is no clear-cut favorite in this NHL Playoff bracket. Chicago set a franchise record with 112 points and this seems to be their best chance since the early 90s to bring home Lord Stanley for a franchise who has not won one since 1961.
They are given no favors in their first-round matchup against Nashville, a team that does not fit the mold of your normal No. 7 seed. These Predators were one the hottest teams in the NHL over the second half of the season. They can also dictate the tempo of their game with their defensive-minded scheme.
The last thing Chicago wants is a slowed down series. They want to quicken the pace and get all of their scorers involved like they were able to do in taking four of six from Nashville during the regular season. Before you read too much into the Blackhawk's 4-2 record against the Predators, remember the last time the teams played was Dec. 27. Since then Nashville is 26-18.
The big advantage Chicago has is playoff experience. Nashville has never been out of the first round in franchise history and last year they did not reach the postseason. The other big advantage is scoring depth. Six Blackhawks have topped 20 goals and the Predators only have two 20 goal scorers.
Marian Hossa has received a bad rap for losing in the Stanley Cup Finals with the Pittsburgh Penguins, then jumping ship to Detroit only to lose in the Finals to his former team. But something should be said for a player helping to lead two teams to the finals and another team to a No. 2 seed. He could be the difference maker in this series. Nashville will try to slow things down but it will be a futile attempt against a determined Chicago team.
Chicago Blackhawks vs. Nashville Predators Series Predictions
Chicago in five
Doc's Sports NHL customers ($100 players) won $2,500 during the regular season and the playoffs look prime for even more profits. Click Here for NHL picks prices.