2010-11 Chicago Blackhawks NHL Predictions with Futures Odds and Betting Picks
by Alan Matthews - 9/27/2010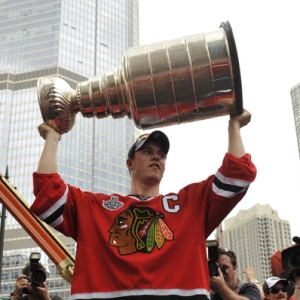 The NHL's short offseason was one big party in the Windy City as fans of the Chicago Blackhawks finally were able to celebrate a Stanley Cup, with last year's squad ending a 49-year championship drought thanks to six-game Cup finals win over the Philadelphia Flyers. Really, the Hawks weren't seriously threatened in last year's playoffs, never getting extended to seven games and sweeping the West No. 1 seed Sharks in the conference finals.
Led by the likes of Jonathan Toews (25 goals, 43 assists), Patrick Kane (30 goals, 58 assists), Patrick Sharp (25 goals, 41 assists) and Norris Trophy winner Duncan Keith (14 goals, 55 assists), Chicago finished last season as the Central Division champion and with a franchise-record 112 points. The Hawks were third in the NHL in goals and first in shots.
But success often comes with a cost: a financial one. And the Blackhawks were well over the salary cap entering the offseason after signing Toews, Kane and Keith to long-term deals last year that totaled about $130 million and was on top of big previous deals to Marian Hossa and Brian Campbell. Thus, the story of the Hawks in the offseason was whom they had to get rid of to get under the cap. Every day it seemed GM Stan Bowman was forced to make another trade or roster move. But he was also able to do so without touching his core six of Toews, Kane, Sharp, Hossa, Keith and Brent Seabrook. Thus Chicago enters the season as the odds-on favorite to repeat, which no team has done since the Red Wings in 1998.
The Chicago Blackhawks schedule sees that Stanley Cup banner go up in the United Center rafters on Oct. 9 after the Hawks open two days earlier in Colorado.
Chicago Blackhawks' Offseason Moves
The salary losses certainly were substantial. Antti Niemi, who took over for Cristobal Huet as the clear No. 1 goalie late in the season and finished fourth in the league in GAA before leading the Cup run, was released because an arbitrator awarded him about a $2 million raise over last season's salary. He's with West rival contender San Jose now. Dustin Byfuglien, who was a major playoff force, was sent to Atlanta. Also gone is Huet and his $5.6 million salary (loaned to a Swiss team) as well as Brent Sopel, Andrew Ladd, Ben Eager, Kris Versteeg, Adam Burish, Colin Fraser and John Madden.
Chicago signed former Dallas Star Marty Turco to take over in net. The 34-year-old was 22-20 with a 2.72 goals-against average and .913 save percentage and four shutouts for the Stars last season. But more important: He got a one-year deal that was about $1.4 million less than Niemi would have made. Chicago also added defenseman John Scott, forward Fernando Pisani and winger Viktor Stalberg. All three will make the big club but probably won't be huge contributors. The Hawks will look to some in-house young players (Kyle Beach, Jack Skille) to fill out the roster.
Chicago Blackhawks Predictions: Outlook
Nothing short of another championship will suffice with the Hawks, and they still have the talent to do so, although obviously the depth isn't what it was so a key injury would be a bigger problem this year than last – there's no salary wiggle room to add help in a trade. Backup goalie Corey Crawford might have promise but he's very inexperienced. Thus there's a lot of pressure on Turco to stay fit.
Chicago Blackhawks Futures Odds
Chicago is the -300 favorite to win the Central Division, +205 favorite to win the West and +360 to win the Cup again. The Hawks' 'over/under' for regular-season points is 102.5.
NHL Predictions for Chicago Blackhawks
Even with all the defections the Blackhawks bring back five 20-goal scorers from last year, and keeping young defenseman Niklas Hjalmarsson after the Sharks signed him to a rich offer sheet was vital because it kept the top-four blueliners intact. In addition, the Hawks should get a full season out of Hossa, who only played in 57 games last year, and Dave Bolland, who was limited to 39. The Hawks should easily surpass the points total and will easily win the Central. Whether they win another Cup largely depends on Turco.
Doc's Sports is geared up for another profitable hockey picks season. Picks will be available starting Oct. 7. We have a hockey handicapper based out of Canada and he knows the sport inside and out and has been betting the sport for years. Early Bird specials will be posted soon, so check our homepage regularly.. Also, check our home page daily updated hockey odds, hockey betting articles and daily matchup reports.