College Football Handicapping: Teams With the Toughest Schedules
by Trevor Whenham - 7/22/2010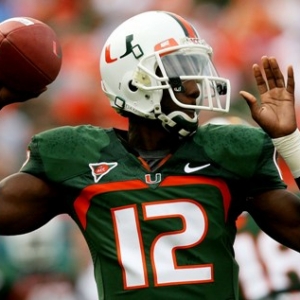 When we are thinking about college football we spend all of our time talking about things like the quality of the players, the coaching, the recruiting, and so on. While that's all important, perhaps the biggest consideration of all is the schedule that teams have to play. An easy non-conference schedule can have teams heading into conference play undefeated and bursting with confidence. Playing your toughest opponents on the road makes it much harder to come out unscathed. Teams in the SEC have been far more challenged to post a good record than teams in the ACC recently.
With that in mind, here's a look at four teams who could have less success this year then it seems like they should because of their difficult schedule:
Florida State - A lot of people are talking about Florida State as a team that could be a serious contender this year. It's tempting to believe in them because they made a much-needed coaching change and they have a lot of talent on board. Their schedule makes me very uneasy, though.
Their first game against Samford is obviously a gimme, but then things get ugly. They travel to Oklahoma in the second week. The Sooners won't likely be the power they have been, but they are still dangerous, and Landry Jones is now in his second year as a starter. Next up the Seminoles host BYU. The Cougars are extremely tough and will be looking to slay a giant. Then conference play begins.
They get lucky in that they have avoided both Virginia Tech and Georgia Tech, but there are still scary spots - they travel to Miami the week after another road game, and Clemson could be scary towards the end of a long season. Even if they survive all of that, though, the scariest impediment looms at the end of the line - a home game against Florida. The Gators are going through a massive offensive retooling, but they have a ridiculous amount of talent, and by this point they will have had a whole season to work out the kinks.
Miami - ACC teams from the state of Florida have not made it easy for themselves. The Hurricanes come into the season with a Heisman contender at QB and high hopes, but their schedule is absolutely brutal - worse than Florida State's.
After a guaranteed win over Florida A&M they have to run an impossibly tough gauntlet for four weeks. They start by traveling to Ohio State to play the class of the Big Ten. If they manage that then they hit Pitt and Dion Lewis. Next, they open conference play at Clemson. Things don't get any easier once they get home, either - Florida State is awaiting them. Things get easier for four weeks or so, but then it finishes with a bang - a trip to Georgia Tech and their gimmicky offense that can be impossible to decode, and then a home game against Virginia Tech in which the Hokies could be looking to cap off their BCS bid. The last game of the year could be a trap as well - South Florida is going through changes, but is always tough against in-state rivals.
Oregon State - The Beavers are a popular choice to rise up and make some noise out of a conference in turmoil this year. They stand a decent chance of doing so in the Pac-10, but making some national impact will be very tough with this schedule.
Of their three non-conference games two are against titans, and the third isn't a pushover. Louisville is the middle of the three opponents. The Cardinals are rebuilding, but I like the progress they are making and they will be tough. Oregon State could come into that game a bit beat up, because the game before that they will be playing the ridiculously tough TCU in a neutral location. After Louisville is an even harder game - a trip to the smurf turf at Boise State. The pressure lets up a bit in conference play, but not entirely. They face tough trips to Washington and Stanford, and USC will be tough no matter what issues they are facing or how incompetent their coach is. If they are in a position to do something impressive by the end of the schedule then the Civil War against Oregon looms, and that's never easy.
Pittsburgh - Sooner or later Dave Wannstedt is going to have a major contender at Pitt. He has some pieces that could be useful this year, but his schedule is brutal.
The Panthers start out by traveling to Utah to play a very good team - one looking to make a last stand before moving up to the Pac-10 next year. New Hampshire is next and obviously not an issue, but then they host Miami in a game we have already talked about. Florida International is another easy game, but then they have to travel to South Bend to play the new-look Irish. Conference play should be pretty smooth for the first three weeks, but then it gets ugly for the last four - trips to Connecticut, South Florida, and Cincinnati, and the Backyard Brawl against West Virginia in between. If Pitt makes it into the last month unscathed - a tall task - then they might be okay, but it sure won't be easy.