College Football Picks: Army vs. Navy Betting Odds and Predictions
by Alan Matthews - 12/9/2010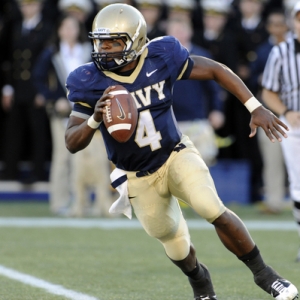 Army vs. Navy hasn't been the best rivalry game in college football for decades, but you can still argue it's the most important, tradition-rich game of each season. The problem is how one-sided this series has been. Navy has won eight in a row (6-2) ATS to take a 54-49-7 edge in the series.
If you look down below at the Army vs. Navy betting trends as to why this game has gone 'under' in the past four meetings, it's probably because both teams tend to have a lot of time off before this matchup. By the time the two rivals play Saturday in Philadelphia, each team will have had three weeks off between contests. But that long is out of the ordinary.
This will be the first time both teams will be playing each other with a winning record since 1996. And for the first time since that year, this game won't end Army's season as the Black Knights will play in the Armed Forces Bowl against SMU on Dec. 30 in Dallas.
Army enters off an ugly 27-3 loss to Notre Dame in the first college football game at the new Yankee Stadium. The Black Knights (6-5), who run the triple-option like Navy, managed a field goal on their first possession against Notre Dame and then nothing else for the rest of the game. They rushed for just a season-low 135 yards. That snapped Army's 10-game streak with at least 230 yards rushing. Overall Army averaged 260.3 yards rushing on the season to rank No. 9 in the country.
Navy (8-3) closed strong, winning six of seven – the lone loss a bit of a head-scratcher against Duke. The Midshipmen offense went crazy in the final three games, totaling 149 points – including 76 in a win over East Carolina. For comparison's sake to Army, Navy won at Notre Dame, 35-17, on Oct. 13.
Army Vs. Navy Predictions: Team Breakdowns
Last year you could start to tell Army was closing the gap in this rivalry as it lost only 17-3. In that game, Navy star QB Ricky Dobbs ran and threw for a score, setting the NCAA single-season record for most rushing touchdowns by a quarterback. He passed Tim Tebow's previous mark of 23 set in 2007. Dobbs finished with 27, including the bowl game.
Dobbs, a senior, will be the best player on the field again. He has thrown for 1,194 yards and 10 touchdowns while leading Navy in rushing with 806 yards (although just 3.6 yards per carry) and 13 touchdowns. Dobbs now has 48 career rushing touchdowns, the fifth-most in NCAA history. He needs two more to move up to fourth. Dobbs has compiled a 17-6 record as the team's starting quarterback and has rushed for 100 yards or more in 12 of those 23 starts. Navy is No. 5 in the nation in rushing this year.
Navy has scored on 20 of its past 27 possessions and 33 of its past 34 times from the opponent's 20-yard line or closer. Thirty-one of those chances have resulted in touchdowns.
Army's rushing attack is much more balanced, although it still all starts with Trent Steelman. Four Cadets have run for at least 300 yards. Fullback Jared Hassin leads the way with 881 yards while Steelman has run for 620 yards and a team-high 11 touchdowns.
If you notice I didn't mention much in the way of passing that was intentional. Army is last in the nation in average passing yards per game while Navy is just two spots ahead. If there are 200 combined passing yards it will be a huge upset.
Army vs. Navy Betting Odds
Navy is a seven-point favorite as of this writing with the total at 54.5, according to college football odds. Approximately 70 percent of the lean is on the Midshipmen. The side hasn't moved much, a half-point toward Army at some books. But the total has dropped as much as three points. Army is 5-6 ATS this year, failing to cover in three of the past four. Navy is 6-5 ATS this year.
Army vs. Navy Betting Trends
The 'under' is 4-0 in the past four meetings
The favorite is 7-2 ATS in the past nine meetings
Navy is 6-0 ATS in its past six vs. teams with a winning record
Army is 2-7 ATS in its past nine vs. teams with winning record
Army vs. Navy College Football picks and Predictions
Navy still has the best player in Dobbs and better talent overall, although Army is getting closer each year under coach Rich Ellerson, who recently got a two-year contract extension. If the Black Knights win one of their two remaining games, Ellerson would become the first coach to win at least 12 games in his first two seasons since Tom Cahill in 1966 and 1967. Navy will win, but wait until that current line moves a half point. I would take Army if it gets to 7.5. However, take Navy if it's under seven. And you can't ignore that 'under' trend as I like the 'over' here.