College Football Picks: Texas A&M at Texas Longhorns Betting Odds and Predictions
by Alan Matthews - 11/23/2010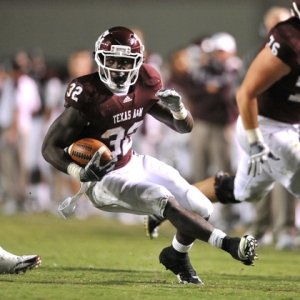 When glancing at the Big 12 schedule at the start of the season, it seemed rather likely that this annual game between Texas and Texas A&M would have something to do with who won the Big 12 South – but that was supposed be because Texas was a favorite to win the division again.
Instead it's the Aggies who have the outside shot of getting to the Big 12 title game.
Here's what A&M needs to happen to be the South's title game representative: The Aggies basically have to hope for a three-way tie among them, Oklahoma and Oklahoma State. So A&M must beat Texas and have Oklahoma beat OSU to get a three-way tie at 6-2 in Big 12 play. The Aggies would have to hope to win that tiebreaker, which goes by which team is the highest in the BCS standings with one exception: if two teams finish next to each other in the BCS, the winner of the head-to-head matchup would advance. In this week's BCS standings, Oklahoma State was No. 9, Oklahoma was No. 13 and Texas A&M was No. 17. The Aggies beat the Sooners this year but lost to the Cowboys.
Get all that?
It's obviously unlikely, barring a massive blowout of the Horns, that a three-loss A&M team climbs over either a two-loss OSU or OU team. Still, Aggies fans will have a major beef if they win this game because they could conceivably have beaten both Big 12 title teams in Oklahoma and Nebraska as well as Texas, but instead be left out. And no team is hotter in the conference than the Aggies, who have won five in a row (first time since 1998) since Ryan Tannehill took over as quarterback.
Last week's 9-6 win over Nebraska, however, wasn't exactly a thing of beauty. But a victory here probably sends A&M to the Cotton Bowl.
Texas has won just once in its past five games, and that came against Florida Atlantic last week in which UT had 500 yards in total offense for the first time this season. The Horns must win to go to a bowl for a 13th consecutive season.
Texas A&M at Texas predictions: Team Breakdowns
While Tannehill gets a lot of credit for the Aggies' surge, the team's best player has really been running back Cyrus Gray. He had 202 yards of total offense in last week's win over the Huskers. It was his fifth consecutive 100-yard rushing game, becoming the first Texas A&M running back since 1990 to have five straight. He has 396 yards rushing in the three games since fellow running back Christine Michael broke his leg. A&M has had a 100-yard rusher in eight of its 11 games and is 8-0 in those contests.
A&M Coach Mike Sherman said Tannehill will not be the primary punter against Texas if starting punter Ryan Epperson (hip flexor) cannot play. Epperson left the Nebraska game with the injury. Tannehill and Ken Wood punted.
Texas QB Garrett Gilbert almost lost his job two games ago, but he played well last week against FAU. With a Big 12-high 15 interceptions, he didn't throw a pick for the first time in four games. He completed 15-of-21 passes for 263 yards and two touchdowns, and had another 32-yard touchdown pass overturned on replay. Gilbert also rushed for 60 yards and a touchdown, giving him 287 rushing yards in the past four games.
Turnovers have been a huge problem for Texas this year. Last season UT's turnover margin was +22, but this year the Horns are -10, ranked No. 116 out of 120 teams.
Texas A&M at Texas Betting Odds
A&M is a 3.5-point favorite with the total at 47.5, according to college football odds. About two-thirds of the lean is on the Aggies, who are 7-4 ATS this year and 2-1 on the road. UT is 3-8 ATS and 1-5 at home.
Texas A&M at Texas Betting Trends
Texas A&M is 1-7 ATS in its past eight Thursday games
Longhorns are 2-9 ATS in past 11 against teams with a winning record
The home team is 10-2 ATS in the past 12 meetings
The over is 5-0 ATS in A&M's past five games as a road favorite
Texas A&M at Texas College Football Picks and Betting Predictions
Not that A&M isn't playing for pride and a nice bowl game, but the Horns simply won't allow themselves to be shut out of a bowl a year after playing for the national title. They will be motivated by being rare dogs in this series, play their best game of the season and win this one. And take the 'over'.
Doc's Sports has become known in nearly four decades in the sports handicapping business as one of the brightest and most successful college football handicappers in the nation. Doc has shown a profit in six of seven weeks for football picks ($100 bettors have made nearly $9,000) and he has a 6-Unit Senior Day Game of the Year coming this weekend. Here ay Doc's Sports we provide both college football picks and NFL picks in one package so you can get the best of both worlds for all your football betting needs. Check our homepage for up-to-the-minute college football odds and daily exclusive college football betting articles.