2010 College Football Predictions: Michigan Wolverines Odds and Betting Picks
by Trevor Whenham - 8/25/2010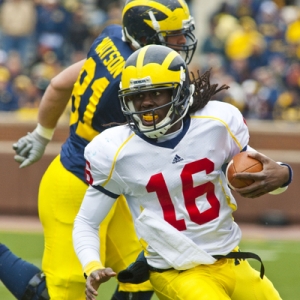 Let me say this up front - I am obsessed with Michigan. Proof: my newborn son was wearing a Michigan hat within minutes of his birth. It was the first thing he wore other than a diaper. And I wouldn't have had it any other way.
That means two things: First, like all Michigan fans I shouldn't be left alone with anything sharp after the emotional toll of the last few years in both major sports. Second, I am, like any fan of any team, going to be more likely to be optimistic about the team than the average college football fan. That being said, I think that Michigan isn't getting quite enough credit in the media heading into this season. It has become popular to note that Rich Rodriguez is under intense pressure (he is), the team has some issues (it does), and is facing some unwanted attention from the NCAA (it is). The conclusion from that is most often that this team is likely to only barely become bowl eligible - if they even manage that. I disagree. I think that this team has the potential to win eight games and take a solid step forward and out of the nightmare of the last two years.
If I'm right then there could be some value to be had on betting on Michigan - rare for a team this public. Here are four college football predictions for Michigan to justify my relative optimism:
Coach - Rich Rodriguez has made more than his share of mistakes in his two years at Michigan, and he hasn't always handled the transition from Lloyd Carr to him very smoothly. It's a mistake to totally discount him and his chances this year, though.
For a start Rodriguez has a good track record of success, so he's not just going to forget how to coach. He's faced a much bigger rebuilding job than most coaches in his position as well. His program couldn't be more different than Carr's in playing style, so there was inevitably going to be some growing pains as Rodriguez recruits players more suited to his style. He also faced a serious defection of talent in his first year when good NFL players like Jake Long, Chad Henne, and Mario Manningham all went pro and Ryan Mallett left and there weren't guys of similar caliber behind them in the pipeline.
If there is fault to be laid here the Michigan administration should shoulder much of it for underestimating the impact of a massive change like this. Rodriguez is a strong coach, and sooner or later he's going to show it again.
Quarterbacks - Michigan has struggled through two years of very difficult quarterback situations. The first season was a disaster - Mallett had long been tabbed as the starter, so there wasn't any top-level talent waiting behind him when he left. Last year they were forced to play two true freshmen. Tate Forcier started strong but struggled with injures, and Denard Robinson was lightning fast but clearly not ready to play at this level.
The summer seems to have made a big difference. Robinson has made the biggest move. He's clearly capable of passing this year. Last year he could only complete passes to the other team. He looks to be in the driver's seat, with Forcier as a comfortable second choice.
Behind them is Devin Gardner, a true freshman who promises to be better than both of them when he gets his turn. Michigan should get by far the best QB play of the Rodriguez era, and that can't help but improve the team.
The quarterbacks have a very solid receiving corps to work with, a deep though reasonably unproven stable of running backs, and an offensive line that should be fine. This team will be more offensively consistent than they were.
Defense - A lot of the negative attention on this team is focused on the defense, and that's definitely an area of concern. I don't think it is as bad as it seems, though.
There is one major problem, and we'll get that on the table right away - the secondary is scary. Injuries, and ill-advised move to the pros, and a transfer have robbed the program of the guys who would likely have been in the top four positions on the depth chart at corner. Teams will be able to pass on Michigan.
The defense should be helped out by the front seven, though. The brilliant Brandon Graham has gone pro, but he's left behind some nice talent to fill the gap including Craig Roh, a sophomore who is poised to become a star.
The defense has some stability finally as well - coordinator Greg Robinson is in his second year after some early instability on the defense under Rodriguez. The defense won't be stellar, but it should be better than many anticipate.
Schedule- This is the main reason for relative optimism, because the schedule certainly has its' opportunities.
They open at home against UConn in a game that, while no gimme, is certainly winnable. Then they travel to Notre Dame - a team that will have a lot of kinks not yet worked out with a new coaching regime and a new quarterback. That's followed by four very winnable games - UMass, Bowling Green, Indiana, and a home game against the Spartans.
This team has a good look at five or six wins n their first six games. That will help the record as well as the confidence of the team. Two more games down the stretch are very winnable as well - Illinois and Purdue.
That leaves four tough games against currently ranked conference rivals. Two are at home, though, and Michigan played a couple of these opponents very close, so a win or two from among the four games isn't an impossibility, either. Michigan started strong last year but faltered down the stretch. They will have learned a lot from that and won't be looking to have it happen again.
Strike Point Sports has shown a profit in 25 of the last 40 weeks he has released his football picks and he is geared up his best season yet for 2010-11. Find out why SPS is considered one of the best college football handicappers in the nation with one of his many profit-building football packages. And be sure to check out Doc's Sports homepage daily for updated football betting content, matchup reports and up-to-the-minute college football lines.