2010 College Football Predictions: Oklahoma Sooners Odds and Betting Picks
by Aaron Smith - 8/11/2010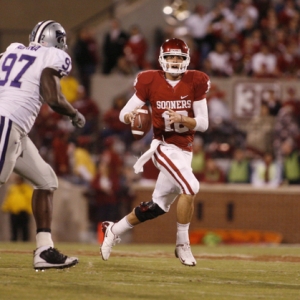 The Oklahoma Sooners would like to forget about the 2009 season. Oklahoma came into the year as one of the favorites to win it all, but after numerous key injuries they sputtered to an 8-5 record and weren't even ranked at the end of the season. Three of the first four picks in the NFL Draft were Oklahoma Sooners players from last year, so they clearly lost a great deal of talent. Despite all of the talent that has left, Oklahoma still has one of the most talented teams in the country. Expectations are high in Sooner country, and fans are looking for a quick rebound from last year's disappointment.
The fact that so many youngsters were put on the field last year may have hurt their 2009 record, but it should help their chances in 2010. The Sooners are loaded with young talent that appears ready to burst onto the national scene. These sophomores and juniors have already seen a great deal of action, so they should be ready to go this year.
College Football Predictions: Oklahoma Offensive Preview
The Oklahoma offense is stocked full of talent at all of the skill positions. RB DeMarco Murray has been dinged up a lot in the past, but he appears ready for a huge season. Ryan Broyles is an amazing receiver and an extraordinary punt returner. Broyles has the ability to be the best receiver in the nation, so keep an eye on his production. Under center, the Sooners have Landry Jones, and Jones proved last year that he has the tools to lead this offense. Jones has already developed a nice pocket presence, and his decision making should be improved this year. The offensive line has done well in pass blocking, but they were quite disappointing in their run blocking schemes last year. The Sooners have an offense full of skill players that, if they stay healthy, could have breakout years.
Oklahoma Defensive Preview
If you lose a player like Gerald McCoy in the middle, you are going to suffer at least some, but this Oklahoma defense appears to be strong again in 2010. Jeremy Beal is a defensive end that should make a ton of noise this year. Beal had 11 sacks last year, and I fully expect Stoops and his coaching staff to devise plenty of plans to get Beal in the opponent's backfield again this year. Adrian Taylor has had some injury trouble, but if he is healthy, he will clog up the running lanes in the middle of the defense. The linebackers should be solid with Travis Lewis roaming all over the field with his amazing speed. The cornerbacks are both new starters, which could be a bit tough for Oklahoma. The good news for the Sooners is they definitely have two high quality safeties in Johnathan Nelson and Quinton Carter. It's possible that this defense will slide a bit from the last couple years, but don't expect any big drop off in production.
Oklahoma Football Question Marks
The biggest question mark for the Sooners heading into this season is probably the play of their cornerbacks. Both of their new starters are talented, but they have no experience, and the Big 12 is a league where they will be tested constantly.
How quick will Landry Jones become the star that he is capable of being? Very few people doubt that Jones will be a star during his college career, but how quickly he matures will determine when that occurs. In order to reach their full potential in 2010, the Sooners will need Jones to make good decisions more consistently.
Oklahoma Football Futures Odds
This may have been an 8-5 team last year, but the oddsmakers are convinced they'll be much better in 2010. The Sooners are listed at +1200 to win the BCS Championship at 5dimes. What about their chances in the Big 12 Conference? The Sooners are listed at +125 to win the Big 12 South and +180 to win the Big 12 Championship overall. Sportsbook.com has set the Sooners team total at 10.5. The 'over' is currently listed at +125, while the 'under' is listed at +145.
2010 Oklahoma Football Schedule- Key Games
The 2010 Oklahoma football schedule starts out with some difficult nonconference games against Florida State on Sept. 11 and at Cincinnati on Sept. 25. The showdown against Texas will take place in Dallas on Oct. 2. The road game at Texas A&M on Nov. 6 could prove tricky as well. The 2010 Oklahoma football schedule is difficult from start to finish. The good news for the Sooners is that they will avoid Big 12 North power Nebraska in the regular season.
2010 Oklahoma Football Predictions
There is no denying that this Oklahoma football team is deep and extremely talented. They do still have more question marks than many of the teams at the very top of the rankings, and I don't think they will be able to make it through this tough of a schedule without losing a couple games. This is an Oklahoma team who could beat anyone on any given day, but I think they'll lack the consistency necessary to be a national title contender.
Doc's Sports has become known in nearly four decades in the sports handicapping business as one of the brightest and most successful college football handicappers in the nation and Doc is primed for one of his best years ever in 2010-11. Here ay Doc's Sports we provide both college football picks and NFL picks in one package so you can get the best of both worlds for all your football betting needs. Check our homepage for up-to-the-minute college football odds and daily exclusive college football betting articles.