Denver Nuggets vs. Utah Jazz Series Odds and Predictions
by Nolan Sinclair (with Robert Ferringo) - 4/17/2010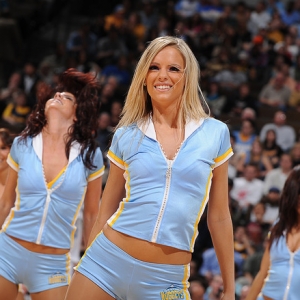 Denver Nuggets vs. Utah Jazz
Series Odds: Denver -200 (Utah +180)
Before I start I would like to extend my sincerest hope out to George Karl and his family that he beats this dreaded sickness.
The Nuggets need Karl as much as he needs them and unfortunately they have not played to their capabilities without their fearless leader. This series is by far the most intriguing of any and I, for one, cannot wait for it to start. Both of these teams are nearly unbeatable at home and a bit suspect on the road. Both of these teams have numerous options in crunch time and both have true point guards that can lead their teams deep into the playoffs. If Andrei Kirilenko returns to form and Carlos Boozer can shake his injury baggage then Utah has a great shot to pull the upset.
Here is a look at why either team will win this series:
Why the Denver Nuggets will win: Home court advantage. Denver has more home games than Utah does in this series and that is HUGE. Denver will need to overcome numerous distractions and injuries to win this series and one of the best medicines for that is 20,000 people cheering for everything you do. Chauncey Billups is going to really need to step up (not that he doesn't always do so in the playoffs) for Denver to come out on top. In order to make up for the loss of Kenyon Martin the Nuggets are going to have to find help in other areas. Billups and Carmelo Anthony are going to have to average 50-60 points between the two of them in order to get out of this difficult series on top.
Player to watch for Denver: Carmelo Anthony. Melo had a huge playoffs last year and that is because he focused more attention on both sides of the ball than just his offensive game. He needs to return to that form for Denver.
Why the Utah Jazz will win: I hate to say it, but coaching could play a significant role in this series. Jerry Sloan is/has been a staple for the Jazz and in the NBA playoffs. He knows what it takes to get by difficult opponents, unless Michael Jordan is playing. The fact that the Nuggets won't have their defensive stopper in the middle allows Boozer and Paul Milsap to control the paint. Nene is going to have his hands full with these two gentlemen without the services of Martin. Look for the Jazz to try and control the flow of the game and to not allow Chauncey Billups to dominate offensively. They will also try and take advantage of mismatches they have on their offensive end. When AK-47 is healthy the Jazz are a tough out for any team.
Player to watch for Utah: His name is all over this story: Kirilenko or AK-47. His intensity on both ends of the floor is unparalleled. He is the one guy that can slow down Carmelo.