2010-11 Edmonton Oilers Predictions with NHL Futures Odds and Betting Picks
by Trevor Whenham - 9/28/2010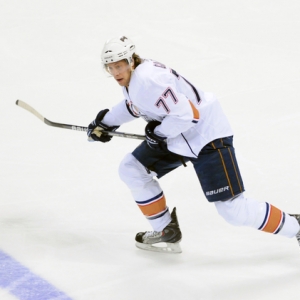 For the Oilers, the future is bright. The question is when the future will arrive. No team in the league has anywhere close to as much exciting young talent joining them this year. The centerpiece is first overall draft choice Taylor Hall - a guy who has dazzled in pressure situations everywhere he has played. Jordan Eberle, a 20-year-old first rounder from two years ago, is another high pressure guy who has hit the ground running in the preseason and has massive upside. Magnus Paajarvi is the third youngster who has fans drooling. The 19-year-old comes over from Sweden this year where he has already been playing against men and looking very good doing it. He announced his presence to the world at the World Championships this year, and is going to fit in well with the other two newcomers. That's three years of prime first round talent hitting this team at once. No wonder people are excited in Edmonton.
Edmonton Oilers Offseason moves
The players must have needed name tags at the start of camp because so much had changed for this team. They used the arrival of the three young stars as an excuse to clean house. Pat Quinn is out as coach, a ton of fat was cut from the roster, and Sheldon Souray is still with the team in theory but has been asked not to report until he can be gotten rid of. The team locked up some young talent, got rid of players that they weren't interested in committing to, and got younger.
Edmonton Oilers Outlook
Conventional wisdom is that this team will be last in the division, close to last in the conference, and will add another high draft pick next year. Though that's what I see as most likely as well, I can't help but think of the Avalanche last year. Colorado was a young team with little obvious talent, but they added two young stars - neither as good as the three Edmonton has - and was, stunningly, a playoff team. Edmonton has further to climb than Colorado did, and they have four No. 2 goalies and no clear No. 1 like Colorado had, but I can't help but be a little nervous about writing this team off this year. They will be very well coached by Tom Renney, and the new-found enthusiasm in the city for this team can only help them on their mission.
Edmonton Oilers Future Odds (from Bodog)
The Oilers are 75/1 to win the Cup, 40/1 to win the Western Conference, and 30/1 to win the Northwest Division. Their points total is set at 76.5.
Edmonton Oilers NHL Predictions
I don't think that this team will stun the world and win it all or anything even close. They will be better than expected, though. They have some offensive potential surrounding the big three youngsters. Ales Hemsky was injured last year, but should be healthier this year. Dustin Penner has shown he can shine when he has linemates who can do some heavy lifting. The defense is promising with guys like Tom Gilbert, Ryan Whitney, and Kurtis Foster - a great offseason signing - there to make some noise. Above all, though, I just think that these rookies can make an impact like Duchene and O'Reilly did in Colorado last year. Eberle is just a gamer - the guy knows how to win. Hall is an all-world talent who could make an impact out of the gate like guys like Tavares and Stamkos has before him. Paajarvi is seasoned and mature and could be the best of the bunch this year.
Overall, I'm not convinced that this is a playoff team, but I wouldn't rule it out entirely, either. I certainly don't think that it is inconceivable that they could be better than fifth in the Northwest. The futures odds aren't attractive because this team isn't likely to win anything meaningful, but I definitely like the over on their season total. As much as I hate to say it as a Calgary Flames fan, I am very bullish on this team. If they aren't god now then they soon will be very good.
Doc's Sports is geared up for another profitable NHL picks season. Picks will be available starting Oct. 7. We have one of the premier NHL handicappers in the business and he is based out of Canada and he knows the sport inside and out after betting the sport for years. Early Bird specials will be posted soon, so check our homepage regularly.. Also, check our home page daily updated NHL lines, hockey betting articles and daily matchup reports.