Free NHL Picks: Flyers at Canadiens Game 3 Predictions
by Alan Matthews - 5/20/2010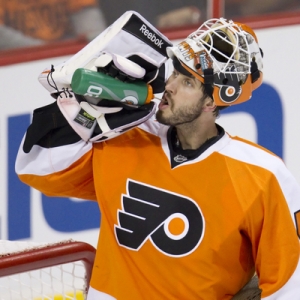 Yeah, I will take a few days off from baseball recommendations after a bad day on Wednesday as both the Yankees and Dodgers (my picks on the run line) got routed -- hey, it happens to the best of us. At least the NHL finally got its head out of its you-know-what as it has broken up the two series so we don't have hockeyless nights and then two games the next.
Flyers at Canadiens, 7 p.m.
The line: Canadiens -125/Flyers +105
Props: Will Canadiens' Mike Cammalleri score a goal? (yes +210, no -280); will Flyers' Daniel Briere score a goal? (yes +140, no -180); total Canadiens shots: 'over/under' 28.5)
How they enter: The Flyers have turned into like the 1983-84 Edmonton Oilers in winning six games in a row after being down 3-0 to Boston. In fact, Philly has scored a rather amazing 13 goals in a row in these playoffs (a team playoff record) since falling behind the Bruins 3-0 in Game 7. The Habs haven't been down 2-0 yet in these playoffs but were down 3-1 to the Caps, so it's not over yet.
Scouting report: There's no question the story of this series is Flyers goalie Michael Leighton, who has pitched back-to-back shutouts in just his third and fourth playoff starts ever. He's the first Flyers goalie to post consecutive postseason shutouts since Bernie Parent against the Leafs in 1975. Since replacing the injured Brian Boucher against the Bruins during Game 5, Leighton has gone 4-0 and posted a 0.87 goals-against average and .969 save percentage. That's historic. Meanwhile, Canadiens goalie Jaroslav Halak was THE star of these playoffs until he ran into Philly. But he has allowed seven goals on just 37 shots in this series. Has he hit the wall following two seven-game series? Halak is 3-2 in five starts at home in the playoffs with a 2.24 goals against average and a save percentage of .939. But Montreal must do something on special teams, as the Flyers are 4-for-10 on the power play and 8-for-8 on the penalty kill.
Key trends: The 'over' is 5-2 in the past seven in Montreal.
The Flyers are 4-1 in the past five meetings.
The Habs are 1-4 in their past five as a favorite.
The picks: Montreal says it will do whatever it takes to get traffic in front of Leighton tonight. And this might as well be an elimination game, and the Habs are 5-0 in those this postseason. I believe Montreal figures it out for one night.
I love the Briere prop, because he will be the most-hated man on the ice tonight. Why? He turned down more money three years ago and signed with the Flyers over the Canadiens, the team he grew up cheering for (Briere is from Quebec). The knowledgeable Montreal fans don't forget stuff like that. You almost have to take the 'yes' bet just on value alone, plus Briere has scored a goal in four straight games. But realize he has two goals in this series on just three shots – so is that skill or luck? Briere has six goals in six games overall vs. Montreal this year.
As for Cammalleri, he was the second-biggest reason for the upsets of the Caps and Penguins (behind Halak) as he had 12 goals and six assists combined in the first two rounds. In this series? No goals (or assists) on just five shots. Still, the Habs are desperate and figure to be on rapid-fire mode against Leighton, so you have to take the +210 here. Montreal has put 28 and 30 shots on net in the first two games and I expect much more intensity at home, so take that 'over' on the shots.