Heisman Trophy Odds and Betting Predictions
by Trevor Whenham - 10/22/2010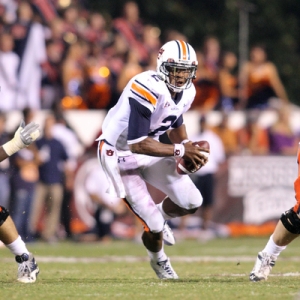 I think that college football is the best sport there is. There are a lot of reasons for that, but one is because it changes so quickly. Every time you think you have everything figured out they play another week of games and everything gets turned upside down. Good teams don't look so good anymore, top players falter, and we have to adjust our expectations time and again.
If you need proof of how topsy-turvy things are you just need to look at the Heisman Trophy race almost every year - and this year is certainly no exception. This race has changed almost every week as seemingly every favorite or near-favorite finds a way to disappoint. Here's how the race looks now (college football odds are from 5Dimes):
Cam Newton, QB, Auburn (+200) - Newton is the new favorite thanks to the combination of his strong play and the weak play of those who have been ahead of him in the race.
Newton is a dual threat QB who has put up some impressive numbers - especially on the ground. He is the deserving favorite right now, but I just don't think he will hold up in the end, so he's not much of a bet in my eyes.
The problem is that the Auburn football schedule is tough down the stretch and includes games against LSU and Alabama. His team can't play defense, so they are likely to lose at least once. If Newton has a bad game - and he very well could against either defense - then he doesn't have the established track record to overcome that. No value here.
Kellen Moore, QB, Boise State (+300) - I said at the beginning of the season that Moore was the sensible pick in this race. The odds were more attractive then, but I still like him here.
He plays on a team that plays brilliantly on both sides of the ball. He's scoring points like he's playing a video game. He has the signature comeback against Virginia Tech. If the Broncos end up undefeated - which they will - and Auburn loses then Moore is going to be tough to beat.
A lot of voters might have an issue with going outside of the BCS conferences for a winner, but it has happened before - like with Ty Detmer at BYU - and Boise State has so much respect that it's not hard to imagine it happening.
The biggest problem Moore faces is that his margin for error is very low - if he has a bad game he's done even if the team wins.
Terrelle Pryor, QB, Ohio State (+550) - Pryor was the favorite from the preseason to this past week. He faltered with a bad game against Wisconsin in which his poor play contributed to the loss in a big way. It's not nice to say, but I wasn't surprised at all. He's just not a mentally tough play, and his game smarts don't match his athletic ability.
The only way Pryor wins this award is if he closes strong and everyone else falters. I don't like his chances - at least not at this price.
LaMichael James, RB, Oregon (+825) - James is a very interesting case - the best player on a very explosive offense. There are a couple of big things working against him in my eyes, though.
First, he's a running back. Running backs can win, but they don't win as often as quarterbacks, and with one winning just last year it seems unlikely to have two in a row - especially when there are deserving quarterbacks in the field.
More significantly, I think that Oregon is going to lose at least once. The remaining games on the Oregon Ducks football schedule are very tough, and given the lack of respect that the Pac-10 gets nationally it will be hard for James to get a lot of respect unless he is on an undefeated squad.
He's the second best value of the players we have looked at so far, but the only way I think he beats Moore is if Oregon doesn't lose and Boise State does.
Denard Robinson, QB, Michigan (+1400) - In just seven weeks he has gone on a roller-coaster ride - from unknown to megastar and Heisman near-lock back to long(ish)shot.
I still think that his candidacy is alive and well, though. He has amassed ridiculous numbers on the ground, and there is a chance he will run and pass for more than 2,000 yards each. That would be very special.
He has already run and passed for 200 yards in a game twice in a season - an unprecedented accomplishment - and he has five more games to go, including three games against suspect defenses. He currently leads the country in rushing yards by 168 yards - and I'm not just talking about quarterbacks. If he can be the top rusher in the country and have some decent passing stats as well - and set a few more records along the way - then he would be very hard to ignore.
There are a couple of things working against him, though. First, he has shown an ability to get hurt very easily, so he has to find a way to stay healthy. A week off this week will help on that front. He also can't afford for his team to lose many more games. For him to win the Wolverines likely need to win their next three games and then beat either Wisconsin or Ohio State in the final two, with Robinson playing well even if they lose one.
A lot has to fall into place in order for him to win, but it's certainly not impossible. At this price he is worth a gamble.