2010-2011 Milwaukee Bucks NBA Picks with Futures Odds and Betting Preview
by Aaron Smith - 10/11/2010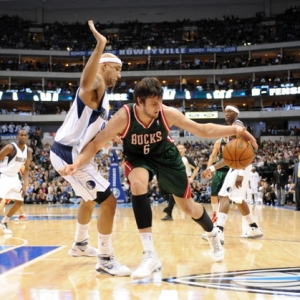 The Milwaukee Bucks were probably the biggest surprise in the NBA last year. The Bucks not only got into the playoffs, but they secured the sixth seed and nearly knocked out the Atlanta Hawks in the first round. It would have been easy for this team to just rest on their laurels from last year, but the front office has been busy making this team better for 2010-11. Scott Skiles and his coaching staff have an even more talented group of players to work with, which could make this team one to watch this year.
Milwaukee Bucks Offseason Moves
The Bucks were extremely active this offseason, as they try to move into the upper echelon of the Eastern Conference. There were some moves that made a lot of sense, and some that were a bit puzzling. Corey Maggette was probably their biggest pickup. Maggette had a career year last season in Golden State, but he doesn't have much experience playing for a winning team. Skiles will need to make sure Maggette buys into the team's style of basketball, which is putting defensive effort first. Milwaukee was also able to grab underrated forward Jon Brockman, which could really bolster their rebounding ability.
Drew Gooden was given a five-year deal worth $32 million to come in and shore up the front line of this team. Gooden is a solid player, but you have to wonder if they didn't give him too long of a contract at this point. John Salmons was a key player in their late-season run last year, and they did well to re-sign him. Chris Douglas-Roberts and Keyon Dooling were signed to give the team improved depth. Larry Sanders may take some time to develop, but I believe he was a good first round pick for this team.
2010-2011 Milwaukee Bucks Preview: Outlook
The Milwaukee Bucks have improved their depth greatly over the offseason, but they must continue to focus on defense if they are going to win consistently. Skiles is a great defensive coach and his team really bought into the system last year. Brandon Jennings was absolutely terrific as a rookie point guard last season. Jennings is a playmaker that can single-handedly carry the team when he is hot. Andrew Bogut is still the franchise player, and in order for this team to contend when it counts they will need him healthy. Bogut is expected to play on opening night, but injuries are still a concern.
The Milwaukee Bucks schedule has been released, and there are plenty of intriguing matchups on tap. The Bucks start out the season with a fairly easy schedule, so they need to get out of the gate well. On Dec. 28, the Bucks must travel to Chicago to take on the Bulls. The Bulls will probably be the team to beat in this division, so it will be a nice measuring stick for Milwaukee. The Bucks will finish off their regular season with a trip to Oklahoma City to take on the Thunder.
2010-2011 Milwaukee Bucks Futures Odds
As the season grows closer, the sportsbooks are giving us even more options to wager on NBA futures for 2010-11. Bookmaker has listed the Milwaukee Bucks at +2,000 to win the Eastern Conference. The Bucks are listed at +4,500 to win the NBA Championship. The Bucks are given odds of +1,200 to reach the Eastern Conference finals by BetUS. What about Milwaukee's chances to win the Central Division? 5dimes has Milwaukee listed as the second favorite at +250 to win the Central Division. The Bulls are favored at -125.
2010-2011 Milwaukee Bucks NBA Picks
The Bucks shocked the world by going 46-36 a year ago. I think the team has more talent this year, and they could definitely hit the 50-win mark. It will all depend on whether the team chemistry is still good this year. They must also continue to buy into the defensive system that put them in the playoffs last year.
Milwaukee is a team on the rise right now, but the books won't be surprised by them the way they were last season. At +250, Milwaukee might be worth a small play to win the Central, but the Bulls do have the most talent in the division. I expect Milwaukee to improve their seeding, but I don't think they can get any farther than the second round of the playoffs. However, with a small-market team such as the Bucks there should be some nice lines available for them this season and I expect this team to be a moneymaker this season.
Doc's Sports is very excited about another profitable NBA picks season. Picks will be available starting Tuesday, Oct. 26. Doc's Sports has become known as one of the best NBA handicapper in the nation with three of four winning seasons - $100 bettors are up $18K in the last four years! Early Bird specials will be posted soon, so check our homepage regularly. Also, check our home page daily updated NBA odds, NBA betting articles and daily matchup reports. Call us toll-free at 1-866-238-6696 to find out about a free week of Doc's Sports NBA picks, or a free week from any of the fine NBA handicappers at Doc's Sports.