MLB Handicapping: Potential Breakout Pitchers
by Robert Ferringo - 4/7/2010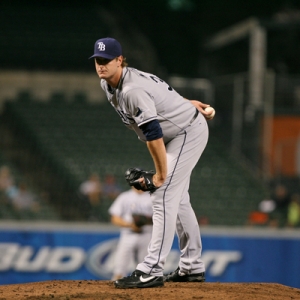 Last week I discussed some veteran arms that I think could pose some excellent MLB betting value if they can bounce back and achieve some of the success that they've experienced in the past. In this space I'm going to go the opposite direction and try to tab some young, up-and-coming arms that could be the next generation of aces, value arms, and piñata pitchers to fade away.
There is nothing as unpredictable in baseball as young pitching. Guys that are about 26 or younger can go from being brilliant to disastrous from one year to the next, one start to the next and even one inning to the next. And because square bettors and the general public seem too often to value potential over production you often find that you have to pay a premium to get behind the top young arms in the game.
Conversely, if you can tab a guy like a Rick Porcello early in the season and early in his career you can find yourself a young cash calf to ride until the books and boobleheads catch up.
That is, until his manager overworks his arm, pro hitters adjust, and the once faithful fans turn on him faster than you can say "Dontrelle Willis".
Below is a list of 11 young pitchers that I'm interested in watching in 2010. I'm not saying that I'm going to fade or follow any of these arms. But I do know that I'll be monitoring them very close to see if we have any gems or if the names on this list will develop into the next generation of burnouts, journeymen and never-were.
Here are 11 young pitchers I'm eager to watch in 2010:
Brett Anderson, Oakland
Any A's fan will tell you that they haven't been this excited about a young lefty since some dude with floppy hair and a cheesy acoustic guitar was winning Cy Youngs for them earlier in the aughts. Anderson enters his second season after posting a solid 11-11 record with a 4.06 ERA in 2009. He has a tight slider and a lot of polish and, because of some maneuvers and some guys coming back from injury, now can slip back into the middle of the rotation and not be expected to carry the staff. I don't think he is an elite pitcher yet. Not by any means. And I'm interested to see how the books treat him for what I believe is an improving A's club.
Homer Bailey, Cincinnati
The 24-year-old gem of the Reds farm system went 3-0 with a 1.04 ERA in his final four starts of 2009, giving an inkling as to why this team and its fans are so gaga for him. He still needs to learn to be more efficient, and now in his fourth season – his first full one with the team – I want to see some major strides.
Aroldis Chapman, Cincinnati
Another potential ace for the Reds, Chapman was the talk of Spring Training. The lefty is a Cuban import that rocks 101 on the radar gun and just baffled opponents in Florida. Cincinnati played it very safe by sending Chapman down to Triple-A to work on some things but I predict that he'll be back before we hit mid-June. Chapman posted a 1.69 ERA and had 15 strikeouts in 11 innings this spring and could be The Next Big Thing.
Tommy Hunter, Texas
A strained left oblique muscle has hampered Hunter all through the spring and is going to keep him out at least until the end of April. But I'm curious to see if he'll continue to build on last year's quietly strong performance. The Rangers went 7-3 in Hunter's first 10 starts and finished 11-8 backing the rookie last year. He's a big, strong, fastball-first righty that I'm sure Nolan Ryan can work wonders with. But how he bounces back from that injury and the lost time bears consideration.
Edwin Jackson, Arizona
It's easy to think of Jackson as a veteran arm but the kid is still just 26 years old and entering his prime. Jackson was an absolute piñata through the first 73 games of his career. However, he has shaved over two full runs off of his ERA in his first three years as a starter. Now he is leaving the hitter-centric American League to go play some small ball out in the N.L. West. He's really got that nasty slider down pat and I think it will take his opponents a lot longer to adjust to the action on his pitches than it will take Jackson to adjust to opposing hitters.
Ian Kennedy, Arizona
Arizona has a pair of live young arms at the front of their rotation. And now that it looks like Brandon Webb may not be back this year – or should at least miss the first two months – there is a lot more pressure on Kennedy to step up. Kennedy is an ex-Yankee. And if I had a nickel for every ex-Yankee prospect that was traded to another team and then flamed out I wouldn't have to work. But I'm curious to see if this kid is the real deal and will be watching closely.
Clayton Kershaw, L.A. Dodgers
This kid sure does have high expectations and sure does get a lot of respect from oddsmakers for a guy that is 13-13 in his career. But Kershaw may be blossoming into the de facto ace for a Dodgers team that should compete in the West all season long. This is just his third season in the Majors but he posted a 2.79 ERA in 30 starts last year and has top-of-the-rotation stuff. Whether he matures sooner or later will go a long way in determining L.A.'s value this year.
Justin Masterson, Cleveland
Masterson is a guy whose stuff I like and is an arm that I can see a high ceiling for. He was used exclusively in the bullpen in Boston and had a huge problem trying to stretch out as a starter in Cleveland (see: Indians' 1-9 record in his 10 starts after acquisition). But he's had a full spring to settle into the Tribe's up-and-coming rotation. And now the 6-6, 250-pound monster with excellent movement will get a chance to prove if he is an MLB-ready starter or not. His delivery has a lot of moving parts and he needs to show some consistency late into starts.
Brian Matusz, Baltimore
Matusz needs to have a big season for this pitching-starved franchise. The 23-year-old lefty was the No. 4 overall pick for the O's just two years ago and now some scouts are predicting a breakout season. He comfortably utilizes a four-pitch arsenal with a low-90s fastball and nice changeup doing most of the damage. The trouble is that he is a lefty in a division that absolutely destroys left-handed pitching. How he holds up – both mentally and physically – against mashers like the Yankees, Red Sox and Rays will tell a lot about where is real ceiling is.
Jeff Niemann, Tampa Bay
Here we have another hulking presence on the mound. The 6-9, 260-pound monster is going to have little problem holding up for 200 innings. He very quietly went 13-6 with a 3.94 ERA last season for the underachieving Rays. And while youngster Wade Davis is getting most of the buzz in the Rays rotation I am more interested to see if Niemann is ready to take the next step. He isn't a "strikeout pitcher" but managed 125 punch-outs last year. He is more of a pitch-to-contact kind of guy and did have a WHIP of nearly 1.40. But we'll see how the progression goes. In my mind he's a question mark in terms of this team winning 90 games, like a lot of bobbleheads have predicted.
Rick Porcello, Detroit
The last time we saw this youngster he was posting a sensational performance in a one-game playoff for the Tigers at Minnesota. He's had a great spring and there is little reason to think he won't build on his exceptional rookie year. He won 14 games and sported a sub-4.00 ERA and gave up two runs or less in 19 of his 31 starts last season. My concern is that the Tigers may have overworked him a bit last year. But if Porcello's arm holds up he is one of the league's young stars.
Clayton Richard, San Diego
Richard was kind of a throw-in in the Jake Peavy trade last summer but quietly had a brilliant fall. The Padres went 9-3 in his 12 starts to close the year and he finished the season with a 4.07 ERA in the National League. He was almost left off the roster but managed to slide in as the No. 4 starter for San Diego. Richard is 26 and is in kind of a make-or-break season. And some scouts don't think he really has much upside to begin with. But in a pitcher-friendly park he could have a nice season for the Dads.
Robert Ferringo is a professional sports handicapper. He has posted three straight winning MLB regular seasons and posted over +300 Units in two of the last three years. For more information on Ferringo's MLB picks, check out his Insider Page here.