MLB Predictions and Betting Picks: Odds for Oakland A's Vs. Twins
by Jason Sharpe - 9/17/2010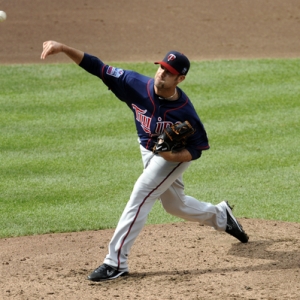 The Minnesota Twins looked to be in big trouble at the all-star break with two teams ahead of them in the division and their star first baseman out of the lineup for what was to be an extended period of time. Many felt it was time to write the Twins off as this just wouldn't be their year. Now fast forward two months and the Twins sport the best record in baseball at 42-16 since the break, and even though Justin Morneau still remains out the Twins offense hasn't missed a beat by leading all of baseball in hitting at .286 for the second half of the year.
The Twins sweep of the Chicago White Sox this week all but clinches the AL Central for the Twins, giving them their second straight divisional crown in as many years. At 88-58 they are now 30 games above .500 for the first time all year and hold a nine-game lead over the White Sox (79-66). They have even got within a half game of the Tampa Bay Rays for the best record in all of baseball.
Nick Blackburn (9-9 5.51 ERA) comes in as the -120 favorite over the Oakland A's and Brett Anderson (6-9 2.94 ERA) with a total of 8, 'under' -120. The A's are just a game below .500 on the year (72-73) but are 15 games below .500 on the road for the season (28-43) while the Twins have the second best home record (48-23) in baseball. For those who have backed the Twins, they have been rewarded with more than 18 units of profit this season, the second highest of any team in baseball. These two teams have met six times so far on the season with Minnesota winning five of those six games.
Nick Blackburn returned to the Twins staff less then a month ago after his month long demotion to Triple A. Since his return he has been excellent with an ERA of just 1.71 in his four starts (all quality starts) and one relief appearance. The one big change in Blackburn since returning to the staff is how he has been able to keep the ball in the park, allowing just one home run in over 31 innings of work. The previous 2.5 seasons Blackburn was allowing one home run every eight innings. The Twins have won four of their past five starts by Blackburn and are 28-11 when he pitches at home. Blackburn goes up against an A's team that has won just one of their last five games against a right-hand starter.
The A's counter with their young ace Brett Anderson. They have went just 2-5 in Anderson's last seven starts and are just 1-5 when he faces a team with a wining record. In fact, the A's have struggled with just about anyone on the mound against winning teams, as they have went just 32-73 on the road against teams with winning records. Though Anderson has been very effective there are two interesting things to keep mind with him. His xFIP is almost a full run higher then his ERA at 3.70. Basically this means Anderson is pitching above his head so far and can be expected to come back down a bit going forward. The complete opposite can be said about Blackburn as he has an xFIP which is almost a full run lower (4.72) then his season ERA. Also of note, Anderson has faced the easiest set of hitters from pitchers with 75 inning pitched or more in the American League this year. Anderson ranks dead last in the AL in opposition batting averages as the average opponent Anderson has faced this year is hitting just .249 on the year, which is the lowest of any pitcher in the AL who qualifies.

The Twins offense ranks second in baseball with a team batting average of .277 on the season while the A's are 20th hitting just .254. The bullpen ERAs for both teams are solid with Minnesota sixth in the baseball (3.30) and the A's sitting 10th (3.70).
When you get a team hitting as well as the Twins and you combine them with a pitcher throwing as well as Blackburn, getting them at this price is a real bargain. Mt MLB predictions and betting picks state look for Minnesota to continue with their red hot ways in this one.
Jason Sharpe is the newest member of Doc's Sports Advisory Board, but he is not new to the sports betting scene, as he has made a living in Las Vegas for several years betting sports as a Wise Guy. For his baseball picks has compiled four of five winning weeks and he has a MLB Totals Game of the Month going for Friday. If you are interested in baseball betting, this is one guy you don't want to miss. Also, check Doc's Sports homepage each day for exclusive baseball betting articles, current baseball lines and matchup reports to boot!