MLB Predictions: Twins vs. White Sox Betting Odds and Picks
by Nicholas Tolomeo - 8/12/2010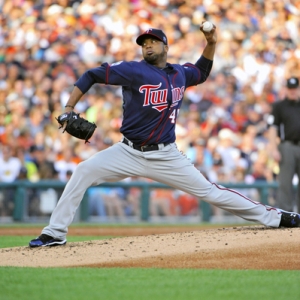 This critical three-game series between AL Central rivals looks to be a microcosm of the division race. The White Sox have the bats but the Twins have the pitching, consistency and now, even the momentum.
The rubber match of this series is Thursday night at 8:05 p.m. ET in the South Side of Chicago.
Chicago has lost its lead in the AL Central. How did things fall apart for the South Siders? Five losses in nine games, dropping three of four to the worst team in baseball (Baltimore Orioles) and getting doubled up 12-6 at home against the team you are tied for in the division.
Minnesota has been just the opposite. The Twins took three of four from the Orioles, strung together eight consecutive wins leading into August and won five of six including crucial road tests at Tampa Bay and at Chicago.
For as close as the race is the Twins are making it look like it is no contest. Yet the White Sox have that ability to get hot, especially if those big bats in the lineup get going. Thursday's game is almost a must-win situation. Chicago knows losing a series at home at the Twins is not a recipe to reaching the postseason. Minnesota has had Chicago's number this season, going 7-4 against the White Sox.
MLB Predictions: Pitching Matchup
Francisco Liriano, LHP (10-7, 3.33 ERA) vs. Gavin Floyd, RHP (8-8, 3.49)
He may not have the record or the strikeouts of some of Chicago's other starters, but Floyd has been the most dependable starter for his team. He has a ridiculous 1.19 ERA in his last 12 starts and was the only Chicago pitcher to go into Baltimore and win.
Liriano had the look of a Cy Young winner through four consecutive starts until a head-scratching 4-2/3 inning performance at Cleveland where he allowed four earned runs. He had pitched 21 consecutive scoreless innings up until the Cleveland game. In a four-game stretch that started with a win against Chicago Liriano pitched 28 2.3 innings allowing just two earned runs and strikeout out 33. The Twins are 4-0 in his last four decisions but that streak is coming on the heels of a 0-4 streak in June and July.
As consistent as Floyd is, Liriano is a polar opposite. The Minnesota leftie has two consecutive four-game winning streaks but also two three-game losing streaks. He is 2-0 against the White Sox this season including a win in Chicago.
For the White Sox, Floyd is 0-1 against Minnesota. He only pitched five innings back on July 16 at Minnesota but was tagged for three unearned runs and only one earned run in a 7-4 loss.
Twins vs. White Sox Betting Odds
The White Sox have been installed as slight favorites. They are -125 on the moneyline with Minnesota listed at +105. The total is 7.5 with an 'over' paying out even money. Lines are courtesy of Sportsbook.com
Twins vs. White Sox Betting Trends
Minnesota is 7-1 in its last eight meetings in Chicago
Chicago is 21-5 in its last 26 home games
Chicago is 8-2 in Floyd's last 10 starts
Twins are 30-16 vs. the AL Central this year
Chicago is 20-22 vs. the AL Central this year
Twins vs. White Sox Betting Predictions
Chicago needs to be given credit for leading the AL Central as long as it has. Minnesota has shown over the past month that it is the better team and will likely win the division. The White Sox are 1-1 in this series thus far, but that was against two pitchers without a decision this year. Liriano is the first established starter they will face this series. The pitching matchup favors the Twins and they are playing their best baseball of the season. All the pressure in the world is on the home-standing White Sox. This is a great spot for the Twins and at +105 a great price too.
Jason Sharpe is the newest member of Doc's Sports Advisory Board, but he is not new to the sports betting scene, as he has made a living in Las Vegas for several years betting sports as a Wise Guy. For his baseball picks, 9 o15 winning nights and will have a big 5-Unit MLB Game of the Week for Thursday. If you are interested in baseball betting, this is one guy you don't want to miss. Also, check Doc's Sports homepage each day for exclusive baseball betting articles, current baseball lines and matchup reports to boot!