NBA Handicapping: Hot or Cold Report
by Nicholas Tolomeo - 1/28/2010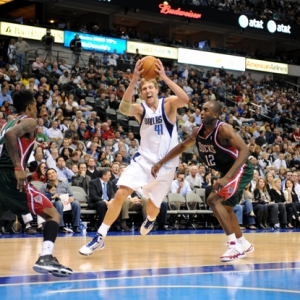 Hot
Toronto Raptors
Finally playing with a sense of urgency, the Toronto Raptors have been one of the hottest teams in the league. They are in the midst of a 13-5 SU and 12-6 ATS run and have climbed to fifth in the Eastern Conference. The impressive thing about that feat is that the Raptors have done it against a challenging stretch of their schedule. Next up for Toronto is a long stretch of 17 games where they should be favored in all but a few games. Their record against their next 17 opponents is 12-4 SU. The Raptors are healthy, finding out their point guard situation and playing with plenty of confidence.
Chicago Bulls
The Chicago season has been salvaged thanks to two four-game winning streaks in the span of a month. The Bulls have reeled off upset after upset on the road against the likes of Boston, Phoenix, Houston, San Antonio and Oklahoma City. The Bulls are back in the Eastern Conference playoff picture and it is because of their offense. They were averaging 90 points per game coming into January and since then they have scored at least 96 points in 10 straight games including five 100-plus point games.
Minnesota Timberwolves
The Western Conference-worst Timberwolves are enduring another five-game losing streak, their fifth losing streak of at least four games this season. Minnesota has struggled immensely against Western Conference foes, having lost 26 of 30 games. Against the Eastern Conference Minnesota is 5-12 SU, not a great number but pretty impressive considering their 4-26 SU record against the West. Six of Minnesota's next nine games are against Eastern Conference opponents and with their latest losing streaks, the Timberwolves will likely be getting double-digit point spreads in most of their upcoming contests.
Cold
Denver Nuggets
The Nuggets' eight-game winning streak gives bettors an opportunity to go against the hottest team in the NBA. Denver has built its longest winning streak mostly at home (six games) and they needed overtime twice and four of the wins were against teams with losing records. Next up for Denver is a tough slate that sends them on the road for four of the next six games. The point spreads will likely increase for the Nuggets and against their next nine opponents, Denver has been involved in single-digit games with eight of those opponents the last time they met.
Dallas Mavericks
The schedule makers have done no favors for the Dallas Mavericks in an upcoming stretch of games. Dallas, who has struggled mightily on one-days rest now heads into late January and early February with almost nothing but games on one-days rest. In the Mavericks last seven games on one-days rest, they are 1-6 ATS. On top of that of Dallas' next four opponents, it is 1-3 SU and 0-4 ATS against them the last time they met.