NBA Picks: Detroit Pistons Futures Odds and Betting Predictions
by Aaron Smith - 10/12/2010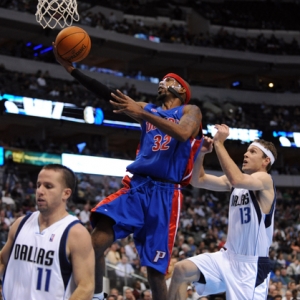 It was just 2008 when the Detroit Pistons were making their sixth straight Eastern Conference Finals appearance. However, during the 2009-10 season the Pistons finished a miserable 27-55. There's no doubt there were a multitude of injuries, but for a franchise with as much pride as the Pistons last year was an embarrassment. They go into the 2010-11 season much healthier, but there are still plenty of question marks about how much improvement this team can make.
Detroit Pistons: Offseason Moves
For a team that won just 27 games a year ago, the Pistons didn't make much noise at all this offseason. The only free agent they signed was Tracy McGrady. General Manager Joe Dumars is obviously hoping that McGrady can stay healthy and look like the same player he was four or five years ago. The Pistons also re-signed Ben Wallace in a move to shore up their depth in the frontcourt.
The Pistons made a big investment in their first-round draft pick, Greg Monroe. Monroe played only one year at Georgetown, but he displayed plenty of skills during his year in the Big East. Kwame Brown is no longer with the team this year, but he wasn't very productive in his time in Detroit. Detroit took a chance on Terrico White in the second round of the NBA Draft. White has as much athleticism as anyone in the draft, but he is very raw.
2010-11 Detroit Pistons Betting Predictions: Outlook
There are quite a few veteran players on this Pistons squad that have been quality players most of their career, but they were hurt much of last season. Tayshaun Prince, Richard Hamilton, and Wallace are still around from the 2003-2004 NBA Championship team. Prince and Hamilton may still have some prime years left, but Wallace is far from the player he once was. Ben Gordon was injured much of last year, but he could be a solid contributor if healthy.
What about the young nucleus of this team? The Pistons are a bit of a unique situation, because they have aging veterans and a few very young players, and not a whole lot of in between. Rodney Stuckey, Austin Daye, Jonas Jerekbo, and DaJuan Summers are all part of the young crop of players that Detroit is working with this year.
The Detroit Pistons schedule has been released, and I see several matchups that will be worth watching. We should know very early on whether this team will contend this year, because they have a tough slate right off the bat. In the first week of the season they will play Oklahoma City, Chicago, Boston, and Atlanta. On Jan. 28, they will travel to Miami to take on the Heat. The schedule is much easier to close out the season, so if the Pistons are in contention they might make a late run. Detroit finishes off the regular season against Philadelphia on April 13.
2010-11 Detroit Pistons Futures Odds
The books aren't giving the Pistons much of a chance to go deep into the playoffs, and I can't blame them. BetUS lists the Pistons at +10,000 to win the NBA Championship and +5,000 to win the Eastern Conference. They also have the Pistons at +2,500 to reach the Eastern Conference Finals. What about Detroit's odds to win the Central Division? 5dimes has the Pistons listed at +800 to win the division.
2010-2011 Detroit Pistons NBA Picks
You have to assume that Detroit will be a little healthier than last year, which should be enough to help them improve a solid amount. The Pistons have a decent amount of talent, but they still have a pretty big hole down low. Expect this team to get out rebounded by most teams and struggle to score down low.
The Eastern Conference is loaded at the top, but it isn't terribly deep. This means the Pistons should at least be in the running for a playoff spot, and I think they could win 38 or 39 games this year. Don't expect big things from this team, but do count on an improvement from last season.
Vegas Sports Informer is one of the best at NBA handicapping in the entire nation. He has had three straight winning NBA seasons and last season he helped his NBA picks customers pick up +100 units and $100 bettors made more than $5,600 on the season. The NBA is known as one of the hardest sports to win money at, but VSI has shown the ability to beat the NBA odds on a consistent basis. Call us toll-free at 1-866-238-6696 to find out about a free week of VSI's NBA picks, or a free week from any of the fine NBA handicappers at Doc's Sports.