2010-11 NBA Picks: Golden State Warriors Basketball Futures Odds for Betting
by Nicholas Tolomeo - 10/7/2010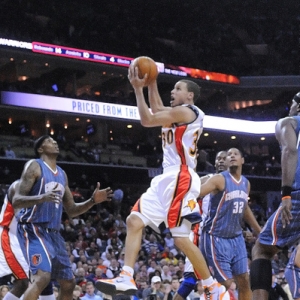 As years continue to pass by from Golden State's improbable six-game upset of No. 1 seed Dallas in 2007, the feat continues to look more and more like a fluke. The Warriors have not come close to achieving anything quite like what they did in the 2006-07 postseason. Since the playoff run they have watched their win total drop from 48 to 29 and to 26 last season, their lowest in seven seasons.
That 26-win performance set the stage for major changes. This appears to be the beginning of a new era of Golden State basketball with new owner Joe Lacob taking over, all-time winningest coach Don Nelson out and his protégé Keith Smart in. David Lee is now the new centerpiece of the organization.
Lee will be counted on for plenty considering his price tag, six years at $80 million, and because what he represents: a proven All-Star and a low-post presence, two things that have not been seen in the Bay Area for the past decade. What could actually help Lee is that he is used to losing. He lost for five years in New York and he is prepared to watch a young team around him go through some growing pains.
But there is plenty of hope and plenty to build around Lee, including perhaps the franchise's most important piece, point guard Stephen Curry. Monta Ellis at shooting guard and center Andris Biedrins are both proven commodities
The Golden State Warriors schedule starts with four of five games at home, including a season-opener Oct. 27 against Houston. Golden State then embarks on a five-game road trip to the East Coast.
Golden State Warriors Offseason Moves
Lee came at a cost besides his salary. Golden State traded Anthony Randolph, Ronny Turiaf and Kelenna Azubuike to acquire Lee and also had to bid farewell to Corey Maggette, Anthony Morrow and C.J. Watson to create cap room. None of those players lost are franchise players by anyone's standard, while Lee certainly is one. Golden State made out like bandits this offseason.
2010-11 Golden State Warriors Predictions: Outlook
The concept is a good one and it has worked in other places; bring in a young coach that can relate to his players and place young players with plenty of potential amongst a group of average veterans. How it will shake out will depend in large part to how Curry and Lee work together, and it hard to imagine anything but results coming from those two.
2010-11 Golden State Warriors NBA Futures Odds
The oddsmakers are well aware of the challenges ahead of the new-look Warriors. Only the Timberwolves (+10,000) have worse odds than Golden State (+7500) to win the Western Conference. The Warriors are lumped in with long shots Cleveland, Detroit, Philadelphia and Sacramento at +10,000 to win an NBA Championship.
2010-11 Golden State Warriors NBA Picks and Predictions
Golden State hopes it hit bottom last season with 26 wins. The Warriors will start to turn things around this season although it will be a long process. Do not expect this team to compete for the Western Conference anytime soon or even the division, but look for much improvement and for the Warriors to be a tough out most nights.
Allen Eastman was the Doc's Sports Advisory Board leader for NBA picks last season, helping $100 bettors earn more than $5,000. His picks will be available starting Tuesday, Oct. 26. Eastman has been in the sports betting business for decades and his NBA handicapping system is a must for any NBA bettor that is serious about making money this season. Early Bird specials will be posted soon, so check our homepage regularly. Also, check our home page daily updated NBA lines, NBA betting articles and daily matchup reports.