NBA Picks: San Antonio Spurs Predictions with Futures Odds and Betting Preview
by Nicholas Tolomeo - 10/11/2010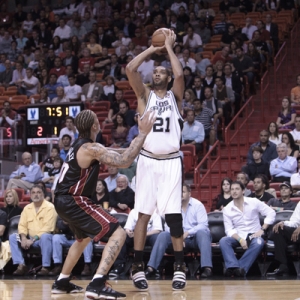 One year the Spurs will show up for an NBA season with an entirely new-look roster. This is not that year. Tony Parker, Manu Ginobili and Tim Duncan have been playing together for nine seasons now. They were a 'Big Three' even before LeBron James, Dwyane Wade and Chris Bosh reached the NBA.
It's an aging group, but the Spurs have continued to add younger players that make sense for the chemistry of the entire team. The starting five remains Parker, Ginobili, Duncan, Richard Jefferson and Antonio McDyess, but the future of the Spurs is evident just taking a look at the depth. The second-year player out of Pitt, DeJuan Blair, appears headed for stardom. After being drafted in 2008 Brazilian Tiago Splitter finally makes his way to the states and to the Spurs' roster as a proven professional player, and point guard George Hill has an extremely high ceiling.
The San Antonio veterans are still capable and still have plenty left in the tank so management is wise not to go full bore with a youth movement. The window may be shutting on Duncan, but he still has enough to make one more run at a fifth title.
The season could hinge on how Jefferson adapts to George Popovich's system. He looked out of place often times last season, but improvement has to be expected from him this season. And, of course, health is a big question mark with Ginobili and Parker playing throughout the offseason with their national team and Duncan turning 34.
The San Antonio Spurs schedule opens with back-to-back home games against Indiana on Oct. 27 and New Orleans Oct. 30. Their first three games are against non-playoff teams from last season, but they have a big test in their fourth game with a trip to Phoenix on the schedule. Their schedule also features a daunting nine-game road trip in February.
San Antonio Spurs Preview: Offseason Moves
Agreeing to terms with Splitter, their first-round pick in 2008, came at the perfect time for San Antonio, which will have to lessen the minutes of Duncan. Rookie James Anderson (Oklahoma State) could have an impact sooner rather than later with this team. Resigning Jefferson, who opted out of his contract, was another important move. In typical San Antonio fashion those were the only offseason transactions of note.
2010-11 San Antonio Spurs Futures Odds
The San Antonio Spurs' odds of winning the NBA Championship are +2500. Their odds to win the Western Conference are +1000. Only the Thunder (+600) and Lakers (-130) have better odds to win the conference. NBA odds are courtesy of BetUS.
2010-11 NBA Picks: San Antonio Spurs Betting Predictions
As long as the Spurs have Parker, Ginobili and Duncan they will be viewed as a contender, but as long as they have those three there will also be serious concerns about what happens after a grueling 82-game schedule. The Spurs can grind their way to a Southwest Division title and a high seed in the Western Conference but the age, health and lack of a dynamic offense will cost them in the end. The Lakers, Thunder, Mavericks, Nuggets and Blazers all look like better bets to advance far in the Western Conference.
Allen Eastman was the Doc's Sports Advisory Board leader for NBA picks last season, helping $100 bettors earn more than $5,000. His picks will be available starting Tuesday, Oct. 26. Eastman has been in the sports betting business for decades and his NBA handicapping system is a must for any NBA bettor that is serious about making money this season. Early Bird specials will be posted soon, so check our homepage regularly. Also, check our home page daily updated NBA lines, NBA betting articles and daily matchup reports.