Handicapping the NBA Western Conference Playoff Race
by Trevor Whenham - 4/7/2010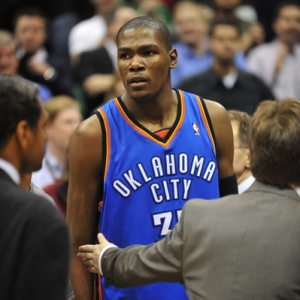 At first glance the NBA playoff race just isn't that interesting right now, even if there are only four or five games left. All eight teams in the Western Conference have already secured their spot in the postseason, and the only real race in the East is between Toronto and Chicago to see which squad can get humiliated by the Cavs in the first round. Not exactly high drama. When you take a closer look at the West, though, you see an intense, important fight that will be played out over the coming days. As of Wednesday Utah sits in second place, but they are just half a game ahead of Dallas, Denver, and Phoenix, with San Antonio and Oklahoma City tied two games further back, and Portland just one more game back. That's seven team within three and a half games.

There are really two separate races at play here. Utah, Dallas, Denver, and Phoenix are fighting for playoff seeding which will be crucial in later rounds, and to avoid being the one of those teams that doesn't get home court advantage in the first round. The other three teams are looking to avoid the Lakers in the first round, and to finish high enough to at least give them a shot at hosting a home playoff series at some point in the playoffs. Neither race is likely to end before the season does. Here's a look at how both break down, and the implications for each (all odds are from Bodog):

The Fight For Second

Phoenix - If the teams continue their recent form over the rest of the games this season then the Suns (14/1 to win the Western Conference in the playoffs) would have the clear edge. They are 9-1 in their last 10 games, five of those wins have been on the road, and they have home wins against Utah and Portland. Their biggest problem, though, is their remaining schedule. The only non-playoff team they play is a pretty decent Houston squad, so there won't be any easy wins. On the other hand, games against Utah and Portland will make it easier for them gain points at the expense of their competitors. My guess is that Phoenix will get home court, and that they stand the best chance of winding up in second.

Utah (8/1) - Like the Suns, Utah has been very good recently - 9-3 in their last 12. They have one fewer game left than Phoenix, though, and they play three of the remaining four on the road. They also are coming off a grueling 140-139 overtime win against Oklahoma City Tuesday night, so they may not be at their sharpest for their road trip starting Wednesday. Home court but not second place seems their likely fate.

Dallas (11/2) - Dallas has been a surprising story this year. They got a big boost at the trade deadline, but they have fallen to earth last year. They are just 5-5 in their last 10, and that record is even worse than it looks - all five losses have been to playoff teams, while just one win was against a team currently in the postseason. They have five games left, and only two are against playoff teams, but at this point I would still give them a good chance of finishing fifth, though only the second best chance.

Denver (11/2) - This team has a lot working against them. Their coach is undergoing cancer treatment, Kenyon Martin is injured and acting like a baby, and the list goes on. They have just three wins in their last eight, with all losses against playoff teams, and only one of the wins against a team with a pulse. They have an extremely tough final schedule with games against Oklahoma City, the Lakers, San Antonio and Phoenix. This seems like a team destined to finish fifth.

The Battle for the Cellar

San Antonio (11/1) - The Spurs have won 16 of 21, Tony Parker is finally back from injury, and the team has all sorts of experience with getting ready to be at their best at this time of year. They have three very tough road games against teams ahead of them in the standings, though, so things won't be easy for them. Still, I think that they will be good enough to stay out of eighth, and they will be a tough draw for their first round opponent.

Oklahoma City (20/1) - This is a remarkable team that is well ahead of schedule, but they are in unfamiliar territory here. They don't have playoff experience, but they do have Kevin Durant and that is a very good thing given how he is playing. Three of their five remaining are against teams higher ranked than them, but they are playing well, and have the form to at least maintain their position given that they are a game ahead of Portland. I don't think that they can win a playoff round this year, but it sure will be fun to watch them try.

Portland (25/1) - The Trailblazers are a game back, so they need to do better than one of the teams ahead of them to move out of eighth and avoid Kobe. They have five games left, and two - against the Clippers are Golden State - are likely wins. They probably need to win at least two of their other three to ensure they move up. They start at home against Dallas - a team they beat at home two weeks ago. Next is a trip to play the Lakers - a tough contest to be sure, though perhaps easier because the Lakers will have nothing to play for and won't want to give away any secrets heading into a potential playoff matchup. That leaves Oklahoma City in a game that could prove to be a showdown for the eighth spot. Portland could certainly move up, but the smart bets seems to be for them to remain in eighth.
Be sure to visit our homepage for daily exclusive NBA betting content, free NBA picks, updated odds, matchup reports, scores and predictions. Click Here.