2010-11 New York Islanders NHL Odds and Predictions with Betting Picks
by Nicholas Tolomeo - 9/22/2010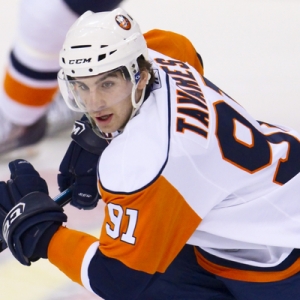 There are two ways to look at the New York Islanders current situation. There is the positive of an 18-point increase from the 2008-09 season to last year, but a third consecutive Atlantic Division last-place finish also lets you know just how far of a hole the Islanders were in.
Under GM Garth Snow the Islanders have been moving in the right direction over the course of the past few years. Even with the positive steps that have been taken the Islanders still have a long way to go and tangible postseason results are still off in the distance.
The first overall pick in the 2009 draft, John Tavares, is the unquestioned future of this team. He produced 24 goals last season including 11 power-play goals, best on the team. He finished with 54 points and another major step forward in his career can be expected this season. Matt Moulson scored a quiet 30 goals last season to lead the team and winger Kyle Okposo is another young talent with loads of potential.
The offense was not exactly great last season (21st in the NHL), but it was far from the Islanders biggest problem. Allowing 3.15 goals per game last season, New York finished 28th in defense in the league.
The goalie situation is also an area of concern. Rick DiPietro is as fragile as they come in the NHL. The Islanders still want him as the goalie of the future, but until he proves he can last an entire season, or at least half a season, New York will lean on 40-year old veteran Dwayne Roloson. He played in 50 games last season, way more than the Islanders wanted to. However, they had no choice.
Scott Gordon is in the final year of his three-year contract and he may not see the next calendar year if this Islanders season starts the way so many before it have.
The New York Islanders schedule is tough enough considering 24 of their games are against Atlantic Division rivals: New Jersey, New York Rangers, Philadelphia and Pittsburgh. In addition to that the Islanders play 12 of their first 17 games on the road, an unbelievably tough stretch for a team who went 11-23-7 on the road last season.
Offseason Moves
The key moves this offseason were aimed at bolstering the third worst defense in the NHL. The Islanders signed Mark Eaton, formerly of Pittsburgh, and dealt a draft pick for James Wisniewski, a four-year veteran fresh off a career year (30 points in 69 games) with Anaheim. They will join veteran holdover Mark Streit as leaders of a defense that at the very least will be an upgrade from last season.
The Islanders parted ways with backup goalie Martin Biron (New York Rangers), which could come back and bite the team if Roloson or DiPietro are forced to miss extended time. There is no other goalie on the roster with NHL experience. Former Lightning enforcer and highlight of most hockey fighting compilations, Zenon Konopka, is another noteworthy addition to the Islanders. He led the NHL with 265 penalty minutes last season.
New York Islanders Predictions: Outlook
Another 30-goal season seems to be a lot to ask from Moulson, but Tavares and Okposo are capable of taking that next step in their development. The defense will improve, but the goalie situation has the potential to deteriorate and derail this season.
New York Islanders Futures Odds
The Islanders season win total 'over/under' is the lowest in the NHL at 32.5. They are long shots to win the Atlantic Division (+2500), the Eastern Conference (+5000) and obviously the Stanley Cup (+10,000).
NHL Predictions for New York Islanders
Give credit to the Islanders for having a plan and sticking to it. If Snow and Gordon are given time the Islanders could make another step in the right direction this season, but a drastic improvement off of their 13th-place Eastern Conference finish last season should not be expected. If New York is blessed with healthy goalies they should be able to surpass 32.5 wins.
Doc's Sports is geared up for another profitable NHL picks season. Picks will be available starting Oct. 7. We have one of the premier NHL handicappers in the business and he is based out of Canada and he knows the sport inside and out after betting the sport for years. Early Bird specials will be posted soon, so check our homepage regularly.. Also, check our home page daily updated NHL lines, hockey betting articles and daily matchup reports.