NFL Survivor Pool Picks and Advice: Week 17
by Matt Severance - 12/29/2010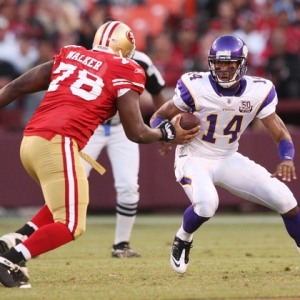 Hard to believe another NFL regular season and Survivor Pool season is already at its end, so this will be my final advice column of the season. Hopefully you have either cashed in by now or will by Sunday night. Of course I will be back with this Survivor Pool Picks column next season – assuming of course there is a 2011 NFL season (i.e. labor issues).
There were a few surprises in Week 16 that could have cost you or your competitors. The Eagles laying an egg at home on Tuesday night against the Vikings certainly could have caused a stir in your pool. Maybe the Lions winning in Miami bit a few people, but if you took the Dolphins at home you simply weren't paying attention considering they entered that game 1-6 at home this year. I warned you against taking Dallas at Arizona and Jacksonville at home vs. Washington and both the Cowboys and Jaguars were upset. I thought Buffalo had an outside chance to end its 14-game skid to New England, but the Pats rolled and look pretty invincible right now. I can't say I saw Cincinnati beating San Diego, but that was the coldest weather the warm-blooded Bolts had played in for nearly three years.
Week 17 is always a tough one to forecast for Survivor Pools because you never know which playoff-bound teams will give much of an effort or which starters on those clubs might sit out. The NFL changed its scheduling this year so that all Week 17 games were vs. divisional foes in an effort to limit those meaningless games. But the Jets, for example, really don't have anything to play for this week and could sit Mark Sanchez and certainly will bench any players who have even the most minor injury.
The Patriots have zip to play for and you know Coach Bill Belichick might be very cautious with his starters this week after Wes Welker blew out his knee in last season's meaningless regular-season finale. I would steer clear of any games involving a team with no motivation this week. Also pay close attention to what times these games are because what one team may do in a 1 p.m. game could affect what another might need or not need to do in a 4 p.m. start, although the NFL pretty well moved all the "interconnected" games to the same starting time.
Anyways, here are a few betting favorites to stay away from in Week 17:
Kansas City (vs. Oakland): Yes, the Chiefs are 7-0 at home and Oakland is just 2-5 on the road. But I see no way that the Chiefs don't have a major letdown after winning the AFC West last week for the first time since 2003. Really, Kansas City has little to play for as the Chiefs will host a first-round playoff game regardless of what happens this weekend. The only thing a win might do is get the Chiefs up to a three seed instead of a four. Big deal. The Raiders, meanwhile, would no doubt love to finish at .500, which would be quite an accomplishment for this franchise considering it hasn't sniffed .500 since 2002. The Raiders also already beat Kansas City this year. In fact, Oakland hasn't lost a division game and could become the first team in NFL history to go unbeaten in its division and not make the playoffs.
San Diego (at Denver): You know it's going to be cold in Denver (although early forecasts don't look too bad) and you saw what the Chargers did in the cold last week. Plus, the Bolts have absolutely nothing to play for, with ownership saying that Norv Turner would return next year – so even playing for their coach is a carrot the players don't have. Look for several banged up Chargers to sit. And Tim Tebow mania is already alive and well in Denver and the rookie will likely have the whole team motivated to end the season on a two-game winning streak with him as the starter.
Philadelphia (vs. Dallas): The classic nothing-to-play-for playoff team – even Philly's seeding is locked in at No. 3 in the NFC after the Iggles tanked on Tuesday night at home against Joe Webb and the Vikings. I can all but guarantee you that Andy Reid rests Michael Vick (who was battered on Tuesday night), DeSean Jackson and some other top players to give them their pseudo-bye week before opening the playoffs in the wild-card round.
San Francisco (vs. Arizona): The Niners will totally mail it in this week after being eliminated from the NFC West race last week and Mike Singletary already getting canned.
New England (vs. Miami) and New York Jets (vs. Buffalo): See my reasons above.
Hope you've had a profitable season and see you in 2011.
Four of six winning weeks for football picks for Allen Eastman and the "Michigan Money Man" is set to tackle the NFL this weekend with his expert pro football handicapping. His football clients have earned tons of dough lately and he expects to pull another winning week with his NFL betting system, the 99 System.