NHL: Pittsburgh Penguins vs. Montreal Canadiens Series Odds and Predictions
by Nicholas Tolomeo - 4/29/2010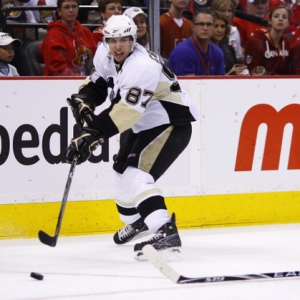 Pittsburgh Penguins vs. Montreal Canadiens Series Odds
Pittsburgh -550
Montreal +375
This is as lopsided of a series price you will see in the NHL Playoffs in the second round. There is a good reason for this: Pittsburgh is the defending Stanley Cup Champion while No. 8-seed Montreal played way above its head to beat the No. 1 Washington Capitals in Round 1 of the playoffs.
Less than 48 hours after their dramatic Game 7 win in Washington that finalized a stunning come-from-behind series upset over the Presidents Cup Trophy-winning Capitals, Montreal is staring directly back into reality.
If their upset win over the Capitals could be considered a David over Goliath, then for them to do it again in Pittsburgh would be tantamount to David, with one hand tied behind his back and a pirate's patch over one eye, beating Goliath for a second time.
The Penguins are 3-1 against Montreal this season. They have lit up first round hero Jaroslav Halak for nine goals in two games. The Eastern Conference playoffs have been the Penguins' playground the last two postseasons. They have steamrolled the competition with an overall 28-9 record over the last three playoffs combined.
Pittsburgh has reached the Stanley Cup back-to-back years and in doing so they swept one series each time. This could be that series.
The Canadiens were able to shutdown Alexander Ovechkin by having a net of defenders constantly around him. It worked for the most part. Doing that against Sidney Crosby likely will not work. Crosby is playing the best hockey of his life, and that is saying something. He led all players with 14 points in six games during the first round 4-2 series win over Ottawa.
Just containing Crosby is not something Montreal can afford to do. Evgeni Malkin, a superstar in his own right, had four goals and four assists in the first round. The Penguins have multiple scoring threats. And unlike Washington, defense is a priority for the Penguins. Additionally, they are playing in front of Marc-Andre Fleury, the only starting goalie in these NHL playoffs to have won a Stanley Cup.
The equivalent of having a puncher's chance in the NHL playoffs is having a red-hot goalie. Montreal has that and they have momentum. Those two things combined should let them steal one game in this series.
Sidney Crosby cemented his legacy in Canadian hockey lore with his gold-medal winning overtime goal against the United States. He broke Canadian hearts in the first round against Ottawa and he very well could break Canadian and Canadien hearts again.
Pittsburgh Penguins vs. Montreal Canadiens Series Predictions
Pittsburgh in five
Doc's Sports NHL customers ($100 players) won $2,250 during this season and the playoffs look prime for even more profits. Click Here for NHL picks prices.