NHL Playoffs: Crazy First Round
by Trevor Whenham - 4/21/2010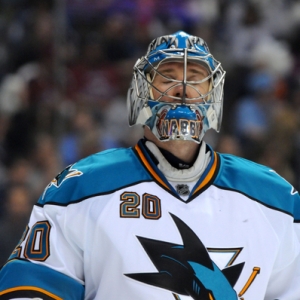 The first round of the NHL playoffs has been, in a word, haywire. Teams that shouldn't win are winning, and not a lot is making sense. To begin with, for the first time since the NHL started playing seven-game series in the first round all eight road teams - the underdogs in all but one series - won one of the first two road games. The surprising play of the lower-ranked teams has continued on since then. The top seed in the West, San Jose, has gone to overtime in two straight games, and are tied at two in a series they should be dominating. Both second seeds are trailing in their series. So are both of the third seeds. Only the fourth seeds aren't embarrassing themselves - Phoenix is tied against a tough Detroit team, and Pittsburgh is on the verge of eliminating an outmatched Ottawa team.

So, what's going on with hockey? And, more importantly, is it going to keep happening? Let's take a quick look at each of the series:

Washington vs. Montreal (Washington leads 2-1) - Montreal pulled off an incredible feat in Washington - they won the first game, and took the second to overtime. For a series that wasn't supposed to be close against the heavy favorite in these entire playoffs that is quite an accomplishment. They also found a way to contain Alex Ovechkin so that he played his worst game on a long time in the opener. Unfortunately, things took a change for the worst in the third game. After a tight first period, Washington remembered that they were Washington, and things got ugly for Montreal. The power mismatch is so large in this one, that I just don't see how Montreal turns things around.

New Jersey vs. Philadelphia (Philly leads 3-1) - Philadelphia is rolling, and I just don't understand it. In the first two games New Jersey badly outplayed the Flyers, but they only came out with one win. The third game saw Philly play better and won in overtime. The fourth game wasn't close. The biggest mystery is that Brian Boucher, an average goalie at best, is outplaying Martin Brodeur, perhaps the best goalie of all time. Philadelphia somehow dominated the Devils all year despite their struggles, and that domination has continued. New Jersey will have to become a new team to come back in this one.

Buffalo vs. Boston (Boston leads 2-1) - This series could still go either way. Neither team looked like they could score much coming into the series, and they have lived up to the expectations. The difference has been that Buffalo's Ryan Miller has been brilliant in one game and then just average in the next two, while Boston's Tuukka Rask has been more consistently good. Goaltending will continue to be the difference, but it appears that Boston has the edge. Unlike the other series, this one isn't nearly as surprising of an upset - both teams were equally flawed and well matched.

Pittsburgh vs. Ottawa (Pittsburgh leads 3-1) - Finally one that makes sense. Pittsburgh is the superior team in terms of talent, and they are far more experienced in the playoffs. They have much better goaltending as well. They should be dominating, and after an initial hiccup they are.

San Jose vs. Colorado (Series tied 2-2) - Colorado is in this series for two reasons. First, San Jose is playing so poorly and making so many mistakes that Colorado can't help but compete. Second, goalie Craig Anderson has been incredible. He has faced a ridiculous amount of pressure, and he has stood up like a superstar. The way the series has gone Colorado absolutely could win - especially if Dany Heatley and Joe Thornton don't start playing better very soon. The difference in talent is so remarkably large in this one, though - the biggest in any series by far - that San Jose should be able to win two of the last three. I'd bet on San Jose, but I wouldn't feel great about it.

Chicago vs. Nashville (Nashville leads 2-1) - I'm at a total loss in this one. The biggest concern for the Blackhawks heading into this series was goaltending. If their goalies were okay then they would be absolutely fine. Well, the goalies have been adequate, but nothing else is working. The offense is completely absent, and the defensive has been slack. Not to take anything away from Nashville, but they aren't winning this series - Chicago is losing it. Nashville shouldn't be able to win two more games, but then I never would have anticipated that they would have won two at all.

Vancouver vs. L.A. (L.A. Leads 2-1) - Yet another one that has me throwing my hands in the air in confusion. For the first game and the first half of the second game it looked like Vancouver was going to cruise to the easiest possible win. Since then the Canucks have looked like a high school girls team against the Kings. Roberto Luongo is supposed to be a mega-star, but he was yanked in the third game after some indescribably bad play. Vancouver has a talent edge, but right now L.A. is out-playing the Canucks, their goaltending has been significantly better thanks to Jonathan Quick, and, most significantly, they have been out-thinking Vancouver and out-coaching them. The deciding factor in this series is going to be Game 4. If Luongo can bounce back very strong - something that he typically does after getting benched - and the Sedin's can find some room to skate - then the Canucks will win the series. If the Kings can continue to set the tone, though, then this one is over.

Phoenix vs. Detroit (series tied 2-2) - This looked like it could be the best series of the first round coming in, and it hasn't disappointed. Both teams have played extremely well, and the gap between them has been tiny. The interesting part of this series is that only one game - the first - has been close. The last three have all been won by at least two goals, but the winners have alternated. Detroit should have an edge in experience, but some of that will be offset by Phoenix's home ice advantage in the final three. Though I favor Detroit, I certainly won't be making a strong prediction in this one. I also won't be missing a remaining game. The winner of this one is going to be tough to beat if they keep playing like they have.