NHL Playoffs Series With Best Chance for Upset
by Trevor Whenham - 4/14/2010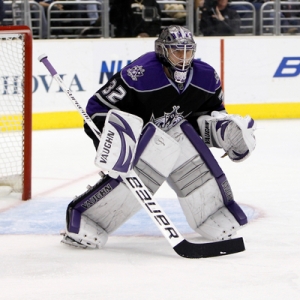 The first round of the NHL playoffs aren't always filled with upsets, but they certainly can be - in 2008 the lower-seeded teams won four of the eight series, and there were four upsets in 2006 as well. There are at least a couple of series this year in which the lower-seeded team looks strong, and one where that lower-seeded team is the favorite. This is how I would rank the eight series from the most likely to be upset to the least likely:

No. 5 Detroit at No. 4 Phoenix - This is the series that will, frankly, be surprising if it doesn't end in a win by the lower seed. Detroit is favored in this one with an average series price of about -190. Detroit has been red hot down the stretch, they have the experience of two straight runs to the finals, they have a wildly experienced coach, and their goaltending is very strong. Phoenix has had a remarkable year, will have home ice advantage, and have the ridiculously good Ilya Bryzgalov in net, but they lack the experience and the depth that they would seem to need to match the machine that is the Red Wings.

No. 6 Boston at No. 3 Buffalo - This is a battle of the goaltending stars, and a hot goalie is the single biggest factor for success in the playoffs. Boston's Tuukka Rask led the league in goals against average and save percentage, with Buffalo's Ryan Miller close behind in second in both categories. Buffalo has more offensive power than Boston, but if Rask is 'in the zone' then the higher seed could definitely topple. Rask has beaten the Sabres four times this year, so an upset is certainly possible.

No. 7 Philadelphia at No. 2 New Jersey - Philadelphia is as high as they are on this list because they have owned the Devils this year, winning five of six. They play a physical brand of hockey that will challenge the Devils as well. I'm not nearly as convinced of this upset as others are, though - Philadelphia has struggled to score at times, the Devils have a very large edge in net, and Philadelphia could be better defensively.

No. 6 Los Angeles at No. 3 Vancouver - Vancouver is clearly the better team, but Roberto Luongo has been worked very hard this year, and hasn't been quite as sharp as we are used to from him. He's also not a proven playoff performer. The Kings have a goalie who can get hot in Jonathan Quick, and a couple of outstanding defensemen who could work to contain the Sedin twins. Vancouver is deservedly favored, but the Kings have more than a bit of a chance.

No. 5 Ottawa at No. 4 Pittsburgh - On paper a No. 5 has a very good shot against a No. 4, but I don't really see it here. Sidney Crosby is red hot, Marc-Andre Fleury has been brilliant in the playoffs the last two years, and this Pittsburgh team just knows how to win in the playoffs. I'd feel better about Ottawa's chances if they had stellar goaltending, but Brian Elliott certainly doesn't fit in that category.

No. 8 Colorado at No. 1 San Jose - The Sharks earned the top seed in the West, and their top line is the best in the playoffs. Colorado limped into the postseason, and just don't have the depth and experience of a playoff team. Despite that, San Jose has to be viewed as more vulnerable than they should be for one reason - Evgeni Nabokov. The San Jose goaltender was really bad last year in the playoffs, and he was even worse for the Russians at the Olympics. He seems to crumble under pressure, and being the top seed in the playoffs on a team that has a history of under-performance is certainly pressure.

No. 7 Nashville at No. 2 Chicago - I've watched more than enough sports in my life to know that you never say never, but it is highly unlikely that there is going to be an upset here. Nashville has made the playoffs in five of the last six years, but they have yet to win a series, and they just don't have the depth or talent to beat Chicago. Antti Niemi is a mild concern in the nets for Chicago because he's only a rookie, but he has been very solid and has eased the goaltending concerns everyone had about this team at the start of the year significantly.

No. 8 Montreal at No. 1 Washington - I respect Montreal goalie Jaroslav Halak immensely. He was stellar for Slovakia in the Olympics, and he and defensemen Andrei Markov are one of the best shutdown duos in the league. Against many teams in these playoffs I would pick Montreal as an attractive upset pick. Washington is just too good for the Habs. They have acceptable goaltending, solid defense, and the most potent offense in the league by a whole bunch. Montreal just plain isn't good enough to beat Washington over the course of a seven-game series.