2010-11 NHL Predictions: Columbus Blue Jackets Odds and Betting Picks
by Alan Matthews - 9/23/2010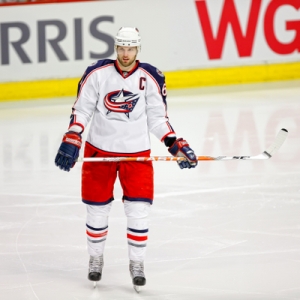 We start our NHL Central Division previews at the bottom, as the Columbus Blue Jackets finished the 2009-10 season with 35 wins and just 79 points, 11 behind fourth-place St. Louis. It was the first time the team had finished in the Central cellar since 2003 and the campaign was considered a huge disappointment after Columbus reached the playoffs the season before. That cost Coach Ken Hitchcock his job last winter; Scott Arniel is the new coach.
There was certainly more than one reason for Columbus' slide, but goalie Steve Mason took a major step back after being a Vezina finalist in his 2008-09 rookie year when he led the NHL with 10 shutouts. Last season Mason's save percentage of .901 was 37th out of 44 qualified goaltenders, while his goals against average of 3.08 was 38th. The Jackets dropped from ninth in the NHL in goals allowed (223) in 2008-09 to 24th (249) last season. Earlier this week, the Jackets locked up the 22-year-old with a two-year extension, keeping the goalie under contract for the next three years. The deal is for $5.8 million total. He reportedly lost 15 pounds this offseason and is in the best shape of his young career.
The Jackets still don't have enough offense around superstar Rick Nash, who also took a minor step back in overall numbers last year with 33 goals and 34 assists. Everyone keeps waiting for this guy to turn into a 50-goal scorer. Thanks to solid years from Antoine Vermette, Kristian Huselius, R.J. Umberger and Jakub Voracek, the Jackets had five 50-point scorers for the first time in franchise history. Yet the Blue Jackets sunk to 20th in the league in scoring last season, netting just 214 goals. Supposedly the Jackets will have a much more offensive system this year under Arniel.
Columbus Blue Jackets' Offseason Moves
In all honesty, the team really didn't make any big splashes in either direction (Ethan Moreau?) in offseason additions other than an entirely new coaching staff. Arniel, the fifth coach in franchise history, joins the Jackets after spending four seasons as coach of the Vancouver Canucks' AHL affiliate. Veteran goalie Mathieu Garon was brought in to back up Mason. But the key move could be the return of 2008 first-round pick Nikita Filatov. After floundering early last year, he was allowed to play with CSKA Moscow of the KHL. In 26 KHL regular season games, Filatov had nine goals and 13 assists.
Columbus Blue Jackets Predictions: Outlook
Is this the surprise team of two seasons ago or the bottom-feeder of last year? A lot of that could depend on the new offensive system and Filatov and Derick Brassard stepping up. The latter had an impressive rookie season two years ago but then scored only nine goals in a tough sophomore season. The hope is that he can end up next to Nash on the No. 1 line, which was the plan last season. But the Jackets really have the bad misfortune to be stuck in arguably the best division in hockey with powerhouses Chicago and Detroit, up-and-coming St. Louis and always-overachieving Nashville. Last place looks likely again. The Columbus Blue Jackets schedule starts out tough as they open the season at home against the defending Stanley Cup champs.
Columbus Blue Jackets Futures Odds
The odds to win the Central Division or 'over/under' win odds weren't active at press time for Columbus. Its odds to win the Western Conference are +5000, which are tied with Edmonton and Minnesota for the longest. The Jackets' odds to win the Stanley Cup are +10000. Needless to say, it would not be wise to take a longshot on this team.
NHL Predictions for Columbus Blue Jackets
Hopefully this will at least be a more exciting team now that it won't be under the complete defensive strategy favored by Hitchcock. And maybe Nash can carry the team to 85 points or the like. Columbus needs an infusion of something because fan support is waning, with season-ticket sales down more than 25 percent from last year.
Doc's Sports is geared up for another profitable NHL picks season. Picks will be available starting Oct. 7. We have an NHL handicapper based out of Canada and he knows the sport inside and out and has been betting the sport for years. Early Bird specials will be posted soon, so check our homepage regularly.. Also, check our home page daily updated NHL odds, hockey betting articles and daily matchup reports.