2010-11 NHL Season: Montreal Canadiens Predictions with Futures Odds and Betting Picks
by Nicholas Tolomeo - 9/24/2010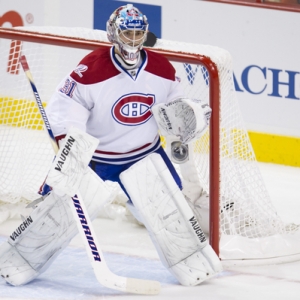 The Montreal Canadiens unexpected and improbable playoff run last season raises a few questions. How did Montreal manage to win two Game 7s on the road, one against top-seed Washington and another against defending Stanley Cup Champion Pittsburgh? Where had that Montreal team been all regular season when it struggled just to get into the postseason? And then how did that same Montreal team get blown away by No. 7 seed Philadelphia in five games?
And, of course, the question most pertinent to this season, why is the hero of those playoffs, Jaroslav Halak, now suiting up for the St. Louis Blues?
In a name the answer to the latter question is Carey Price. The 23-year old netminder signed a two-year contract extension in early September this year. Montreal will put its eggs in his basket for the second season in a row. Price was the No. 1 goalie last season, but as the season wore on Halak began to handle more and more games before completely taking over in February and in the playoffs where Price only saw one game of action.
More so than any other team in the NHL, the situation in net could define this Montreal season. Behind Price will be veteran Alex Auld, who presents an ideal situation. The 29-year-old is a veteran and capable backup, but his job is to spell Price at times, not to have Price constantly looking over his shoulder. Auld has played 20-plus games in a season four times with four different teams, and the plan is for him to see around 20 starts this season.
The pressure will be on prospect Lars Eller to produce on either the second or third line. The pressure comes from the fact that Eller was one of the pieces St. Louis sent to Montreal in exchange for Halak.
Tomas Pelkanec returned to his 2007-08 form last season when he scored 25 goals and added 45 assists. While Pelkanec was producing, center Scott Gomez was regressing. His 12 goals were the fewest since his third season in New Jersey. His 59 points were the fourth lowest of his 10-year career.
The Montreal Canadiens schedule opens at Toronto on Thursday, Oct. 7 and then they return to Pittsburgh, where they closed down Mellon Arena for good back in May. Montreal has one of the longest road swings in the NHL with a seven-game trip in late December that winds from Colorado to the East Coast and to Florida. Montreal gets its rematch against Philadelphia when it plays the Flyers twice in a four-game span in late November.
Offseason Moves
Losing Halak and gaining Auld is by no means a wash for Montreal. but when considering what Auld will be asked to do this move has the potential of helping the goalie situation. Eller and left winger Ian Schulz represent the return for Halak, and both have received high marks in training camp so far. Forwards Sergei Kostitsyn (Nashville) and Gregory Stewart (Edmonton ) and defenseman Shawn Belle (Edmonton) were the major notable departures from Montreal in the offseason.

Montreal Canadiens Predictions: Outlook
Montreal has the makeup of a playoff team, but to improve on its No. 8 seed from last season it will have to improve on an offense that averaged 2.6 goals per game last season (25th in the league). The Habs hope they have the postseason-like efforts of Mike Cammalleri, who scored 13 goals in 21 games compared to the regular season when he scored only 26 goals all season. The Halak trade could end up being addition by subtraction in the goalie situation and expect Montreal to resemble the team we all remember for their unprecedented playoff run last season and not the one who barely snuck into the playoffs.
Montreal Canadiens Futures Odds
Montreal's odds to return to the Eastern Conference finals are +700. To win the Northeast Division Montreal is listed at +400. Their odds to win the Eastern Conference are +1400 and their odds to win the Stanley Cup, +2500. The Habs 'over/under' for total season wins is 40.5. Odds are courtesy of BetUS.
NHL Predictions for Montreal Canadiens
Their playoff run was not a fluke last season. Montreal has the personnel in place to make another run. They won 39 games last season and an improvement should be expected, so take 'over' 40.5 wins.
Doc's Sports is geared up for another profitable NHL picks season. Picks will be available starting Oct. 7. We have an NHL handicapper based out of Canada and he knows the sport inside and out and has been betting the sport for years. Early Bird specials will be posted soon, so check our homepage regularly.. Also, check our home page daily updated NHL odds, hockey betting articles and daily matchup reports.