2010-11 Philadelphia Flyers NHL Odds and Predictions with Betting Picks
by Nicholas Tolomeo - 9/21/2010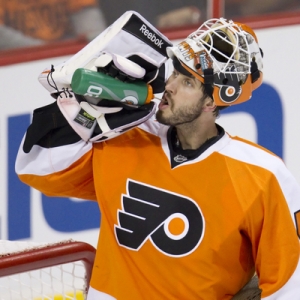 The Flyers 2009-10 regular season came down to a shootout in the 82nd and final game of the season. The Flyers won that shootout, earned a No. 7 seed and proceeded to shock everyone and advance to the Stanley Cup Finals.
After that improbable run Philadelphia will not be sneaking up on anybody this season. The Flyers remain one of the more physical teams in the league, but in last year's postseason their skill players showed that this team has that added offensive dimension to make an extended postseason run.
Get up to $1000 in sign-up bonus!
at Mybookie
CLICK HERE
Mike Richards and Jeff Carter both surpassed 30 goals and 60 points last season. There is loads of depth behind them with Daniel Briere (26 goals and 27 assists last season) and youngsters Claude Giroux and James van Riemsdyk. Chris Pronger has meshed right in with the Philadelphia defensive rotation.
Anybody who just watched Philadelphia in the playoffs might think that the goaltending situation is a strength of the team, but entering the season it appears to be the biggest question mark. Waiver wire acquisition and former third-fiddle goaltender Michael Leighton emerged as one of the more valuable commodities in the playoffs. After Ray Emery and Brian Boucher were sidelined with injuries, Leighton took the reins. He certainly had his moments, but he was far from consistent. Despite catching lighting in a bottle and carrying Philadelphia to the Stanley Cup Finals, his career record in the NHL remains 34-40-10. The defense will need to do its best to cover up for Leighton's shortcomings.
The Flyers hit the road to open the season as they have the unenviable task of helping the Penguins christen their new arena on Thursday, Oct. 7. The Flyers and Penguins actually meet three times in October. After a road trip to St. Louis for Game 2, the Philadelphia Flyers schedule eases up with a five-game homestand.
Offseason Moves
Arron Asham is suiting up for division rival Pittsburgh while former Penguin, veteran winger Bill Guerin has a decent shot of earning a roster spot in Flyers' training camp. Simon Gagne is off to Tampa Bay and goon Riley Cote is retired and replaced by enforcer Jody Shelley. The Flyers are the latest team to take a chance on journeyman forward Nikolai Zherdev, it is a low-risk gamble on the fourth-overall draft pick in the 2003 draft, but there is a high reward to be had.
Philadelphia Flyers Predictions: Outlook
They were two games away from the Stanley Cup, but they were also one shootout loss away from missing the postseason. That needs to be remembered when setting honest expectations from this group. Philadelphia has weapons and the bodies to play the physical brand of hockey Philadelphia fans have become accustomed to. There is plenty of potential amongst the second and third liners, but for the most part it is unproven.
Philadelphia Flyers Futures Odds
A year after winning the Eastern Conference, the Flyers' odds of repeating are +700. Their odds to win the Stanley Cup are +1200. Within the division they have the third best odds (+350) to win the Atlantic. Their season win total 'over/under' is 42.5. Odds are courtesy of BetUS.
NHL Predictions for Philadelphia Flyers
The Flyers have the talent and experience to separate themselves from the Rangers and Islanders in the Atlantic Division, but likely will not be able to hang with the Penguins and Devils for an 82-game season. Do not be surprised if Philadelphia's playoff future is still in jeopardy as the season winds down. Philadelphia 'under' 42.5 wins looks to be one of the strongest NHL future plays right now.
Doc's Sports is geared up for another profitable NHL picks season. Picks will be available starting Oct. 7. We have one of the premier NHL handicappers in the business and he is based out of Canada and he knows the sport inside and out after betting the sport for years. Early Bird specials will be posted soon, so check our homepage regularly.. Also, check our home page daily updated NHL lines, hockey betting articles and daily matchup reports.