Poinsettia Bowl Predictions: San Diego State vs. Navy Odds and Picks
by Trevor Whenham - 12/18/2010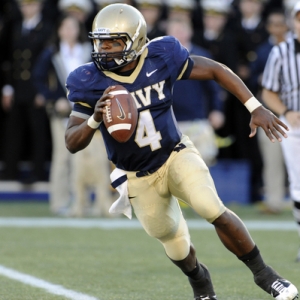 San Diego State (8-4) makes their first bowl game game since 1998, and as a result they get to travel all the way to San Diego for the game. What a reward. They'll face Navy (9-3), a team that was guaranteed a spot in this bowl this year as long as they had a winning record. The game takes place Thursday, Dec. 23 at 8 p.m. EST. At first glance San Diego State has a significant home field advantage, but with a massive naval presence in San Diego there will be plenty of support for the Midshipmen, too. It should be a raucous crowd.
This is going to be a very good game. That's not always the case in games played before Christmas, but this one has all the makings. The crowd will be huge and enthusiastic.
San Diego State has one of the hottest up-and-coming coaches in the country. They have already shown they can beat teams with a similar style to Navy - they beat Air Force.
Navy's Ricky Dobbs is a fantastic quarterback - he holds the all-time single season NCAA record for rushing TDs in a season by a QB with 27 - and he's making his final appearance for the team here. The team will rally around that, and they will rally around the fact that they can wind up with back-to-back 10-win seasons for the first time in the history of the program.
Both teams have a lot to play for, and they will be ready. It's a potential classic.
The two teams haven't met since 1997 - a game which San Diego State won handily. While they haven't played each other in a long time, they have each played some solid teams.
Navy has beaten four bowl teams -- Army, Notre Dame, SMU, and East Carolina (who they beat by 41). Unfortunately, they also lost to two bowl teams -- Air Force and Maryland -- and they have a totally inexplicable loss to Duke staining their record.
San Diego State's record isn't quite as impressive. Not nearly, actually. They beat only one bowl team -- Air Force. Beyond that they beat a whole lot of really bad teams. Their losses are more impressive than Navy's, though - they lost to four bowl teams, and only lost by an average of 3.75 points. The game that sticks out most is a five point loss at TCU - by far the biggest scare the Horned Frogs had on the year. While the Aztecs have taken huge steps forward under Brady Hoke, it's important to keep the excitement tempered a bit - they were only 1-4 against teams with a pulse.
Poinsettia Bowl - San Diego State vs. Navy Odds
San Diego State is favored by 4.5, according to college football odds. The game opened at six, but the action is slightly tilted towards Navy. The total seems reasonably stable at 60.5.
San Diego State vs. Navy Betting Trends
Navy is 14-2 ATS in their last 16 games against teams from the Mountain West Conference. They were a nicely profitable 7-3 ATS in their last 10 games. They have gone 'over' the total in four of their last six, but in just six of 12 on the year.
San Diego State is 8-4 ATS, but they haven't covered two spreads in a row since Week 4 of the season. They covered against UNLV last time out. The 'over' was 5-6-1 on the season.
Poinsettia Bowl Predictions and Betting Picks
Navy is a very attractive underdog here. They have beaten better teams, they have an offense that will challenge the Aztecs, and they are more experienced in bowl games and big games. The location won't be too much of a disadvantage for them because of the Navy presence. They'll either win or keep it close. Either way this is a nice line.
The total is really big, so my instinct is to go 'under' it - neither team consistently bested big numbers this year.
Vegas Sports Informer is one of the strongest college football handicappers out of Sin City and he has utilized his Las Vegas contacts and has found many weaknesses in the college bowl game lines. He will have football picks for all 35 bowl games and he expects to hit better than 60% of these games, so getting on his college football package is a great holiday investment.