2010 Preakness Stakes Contenders
by Robert Ferringo - 5/14/2010


Get our 2021 Preakness Stakes coverage including, Picks and Odds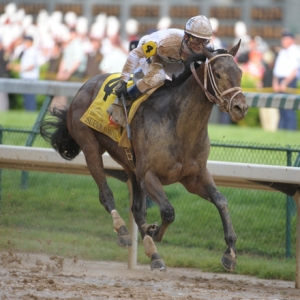 The Preakness Stakes is not only my favorite of the Triple Crown horse races but it's also a favorite's race in the Triple Crown series.
The favorite has won this race in 70 of the 134 runnings at Pimlico, which is great news for Kentucky Derby winner Super Saver. Super Saver has been instilled as a slim favorite for this race for the Black Eyed Susans. The Preakness will be run at 6:15 p.m. EST on Saturday, May 15 at Pimlico Race Course in Maryland.
There are seven new horses to handicap for the Preakness that didn't run in the Kentucky Derby. While more time may be spent on that portion of the field this week only three horses since 1983 have won the Preakness without running in the Kentucky Derby. Yet, seven of the last eight Preakness exactas have included at least one "new shooter'.
Oh, and of course that list of past winners includes last year's filly victory from Rachel Alexandra, so we can't count out the new shooters.
Here is a look at the 2010 Preakness Stakes contenders:
Super Saver (2.5-to-1): The Kentucky Derby winner is trying to become the seventh horse in the last 14 years to earn the first two jewels of racing's Triple Crown. Calvin Borel will again be mounting this horse, but Borel's magic seems contained in Churchill Downs. Super Saver had a perfect run in the Derby and that likely won't happen again. However, this horse is what I consider a "speed" horse and that's what the Preakness favors. This horse has a lot of heart and should finish in the money somewhere.
Lookin At Lucky (3-to-1): This horse was the soft favorite at the Kentucky Derby flatly out of the fact that it had the strongest resume. What worries me is that this mount has never posted a Beyer rating above 100. Yes, this horse was dominant as a two-year old and won five of its first six races. But this year it has just been average, winning the Rebel Stakes, being a non-factor at Santa Anita, and not doing much to impress at Churchill Downs. This is a very good horse and really should/could win but the odds aren't even close to being a proper reflection. One other thing to note: Lucky has a new mount and should be involved early in this race. I like that strategy here.
Paddy O'Prado (6-to-1): This is the "buzz" horse this week at Pimlico. But for the life of me I can't understand it. This Kentucky horse did make a great mid-race run at the Derby, but I'm willing to almost throw that race out because of the field and the conditions. In its previous run on dirt, O'Prado finished a distant seventh in a soft field. I think these odds are laughable for this ride.
Dublin (10-to-1): If you believe in a decent horse being "due," then Dublin could be it. Dublin has lost seven straight races after winning two of its first three starts and showing a lot of promise. This horse should find some money though, as it has finished in the top three in races featuring Lookin at Lucky, Noble's Promise, Line of David and Super Saver. So this horse can compete. But the short turnaround time could be more of a factor for Dublin than for the rest of the field because of past breathing issues.
Caracortado (10-to-1): This California-based mount will be running in the Eastern Time Zone for the first time. The last strictly West Coast-running horse to win the Preakness was Point Given back in 2001. But this horse is a winner. It won its first five races – including its lone dirt start – before a pair of off finishes. To me this horse is fresh and it is an X-factor.
Jackson Bend (11-to-1): I think that this is a horse that still has plenty of value. Heading into the Derby it had won or placed in all nine races it had participated in. Jackson Bend finished 12th in the Derby but that was because it faded late in the stretch. However, on a shorter, faster track at Pimlico this horse could shine.
Schoolyard Dreams (14-to-1): This is another interesting situation because this is a horse that has beaten Super Saver (in the Tampa Bay Derby). So if you are high on Super Saver you should think about putting this horse in your exotics. One of the things I don't like is that this horse will have its seventh jockey in seven career races.
First Dude (20-to-1): This horse shares a stable with Paddy O'Prado and, simply, isn't as good. It ran a length behind O'Prado at the Blue Grass and is a horse that simply wasn't good enough for the Derby field. However, I know more than one person that is predicting an upset from this obscure mount. The price is right but I still would like to have seen more from this horse. If you are high on Paddy O'Prado you have to be high on this horse. And vice versa.
Pleasant Prince (20-to-1): I actually thought that this horse would have the longest odds in the field. It's hanging its hat on a near-miss against Ice Box in the Florida Derby but this horse has "filler" written all over it. This one simply hasn't done anything that would make me think it is capable of topping this field.
Aikenite (25-to-1): This is one of the few closers in the field but I don't think that Aikenite has enough speed out of the gate to be much of a factor on Saturday. It has run against Dublin before, losing by 3.5 lengths in the Hopeful at the end of its second year. But In 2010 it's been a second and a third place showing alternated around to runs out of the money.
Yawanna Twist (25-to-1): The odds seem a bit long here for this horse. It has a great draw in the middle of the field and it has earned a pair of wins and a pair of places in its four-race career. This is obviously a step up in class but Yawanna Twist has gone stride for stride with some Derby sleepers (American Lion, Awesome Act) that didn't come to fruition.
Ferringo came through with the correct 76-to-1 exacta pick at the Kentucky Derby and he likes the lineup for the Preakness even better! Get all is picks for just $20. Click Here.