2019 Preakness Stakes Pace Scenario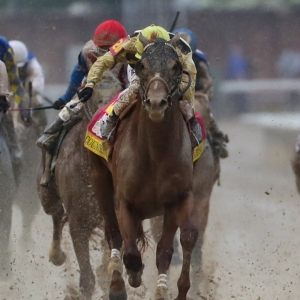 The key to handicapping any race is figuring out what the pace is likely to look like for the first half of the race and how that will impact the different horses in the field. The bigger the race, the more important this is because the quality of the jockeys, the noise of the crowd, and the tension of the stakes involved can amplify things. Looking at the Preakness pace scenario this year can paint a picture of what might happen and what it might mean.
Up front
A race typically needs two horses to drive a fast early pace. If there is only one horse who wants the lead, then he doesn't have to work too hard once he gets it because no one is trying to take it from him. We saw what that looks like in the Florida Derby when Maximum Security was given the lead unchallenged and was allowed to run very slowly up front. He had plenty of gas left in the stretch and wasn't being caught. It made the race a bit of a mess. Here, though, we have two horses who are very likely to seek out the race. Alwaysmining has wired the field in five starts in his current six-race winning streak and was in the lead fairly early in the other effort. He's going to be looking to lead, and starting in the seven hole he should have a path to the front with a good start. His chief challenger for the lead will be Warrior's Charge, who has won his last two races and wired both. Both horses are making big jumps up in class for this race, so they are going to have to be on their game to run their race, but they are likely to want to do it. The other horse who could be a factor is War of Will, who was rumored to have been thinking about going to the lead in the Derby as well. In that race and this one, though, he unfortunately drew the inside rail slot in the gate, which makes getting to the lead tough. He's more likely now to hang back a bit.
Next up
There is a good sized group of horses who will likely be behind the leaders somewhere. Having two pace horses can lead to a fast pace, but neither of those leaders has shown blazing speed, so I'm not banking on it being too crazy. Bodexpress, the maiden, stands out as a horse that could be at or near the front of the pressing middle group. Anothertwistafate, War of Will, and Market King should be right there, too - though the latter likely won't press a fast pace because he ran out of gas badly the last time he tried to. Owendale will be hanging around, too, but he could be at the back of this group because he has tried being more of a closer, too. And the last, and most important, horse in this group is favorite Improbable. He has the class to be flexible, and Mike Smith is as good as it gets at judging and working with pace. If things are conservative up front early, Improbable could look to push or even set the pace. Or he could sit anywhere from just behind the lead to well back. He isn't going to close, but he has the versatility to find his best spot other than that. He and War of Will, the two horses with a clear class advantage on the rest of the field, will be able to dictate what happens in the middle of the race. And if they stay out of trouble, that will make them to beat.
Closing
It could be crowded at the back of the field, with five horses that set up as closers. None of them are among the favorites or likely winners. I like Bourbon War from the back best, with Win Win Win not far behind. Everfast is a joke, Signalman seemed to peak as a two-year-old, and Laughing Fox is jumping way, way up in class.
The bottom line
I don't expect things to get too crazy up top. Warrior's Charge paid $150,000 to be supplemented in this race because he was not Triple Crown nominated, so he isn't going to want to throw away his race in a suicidal pace struggle. And the connections of Alwaysmining similarly imagines themselves competitive, so they won't want things to get crazy. We shouldn't see insane fractions. That's not great for the closers, and that group would need all the help they could get to be relevant. The reasonable pace does help the pressers, though, and it sure feels to me that the winner is going to come from that mid-pack.
Doc's Sports wants you to try out our expert horse racing handicappers free of charge and is offering new clients $60 worth of free picks that can be used for any Triple Crown race. Get $60 worth of premium members' picks free .
Read more articles by Trevor Whenham