Best Trifecta Bets for the 2018 Preakness Stakes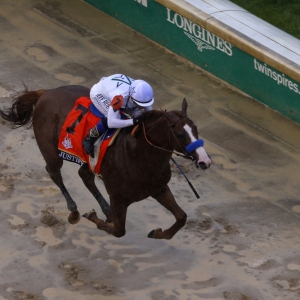 There are going to be easier races run than the Preakness this year when it comes to making good money. Justify is an absolute Goliath in the race . He should be 3/5 or less in the morning line and will very likely be bet well below that by post time. The return on a win bet will be so small as to make it not worth the risk. That means we need to get creative to search for a more exciting payoff, and the obvious spot to do that could be the trifecta - a good combination of risk and reward for most bettors. So, it only makes sense as we await the drawing of the field and the loading of horses into the starting gate that we look at the some of the best trifecta bets for the Preakness.
Free $60 in Member Preakness Picks No Obligation Click Here
With Justify
Justify put together a freakish performance in the Kentucky Derby. Absolutely incredible. Add that to freakish performances in each of his three prior career starts, and it is no wonder that people are in love with this colt. He was a strong favorite in the Derby, and the betting attention is going to be insane on Preakness day. He should be about 3/5 or even 2/5 on the morning line and could be bet below that by post time. If you are going to play the trifecta then your first decision is clear - you have to decide whether you think Justify is going to win or not. If you like him then your only real choice is to key him in the top spot on the trifecta bets you create.
Once you have decided that you are with Justify then the next step is to decide if you are with Good Magic or not. He'll be somewhere around 5/2 on the morning line, and he is the only horse in this field who is going to be under 10/1 in the field. In fact, no other horse is likely to be anywhere close to 10/1 based on futures action. Good Magic was solidly second best in the Derby, and the reigning two-year-old champion is the second-best horse in this field by a wide margin. Of course, the second-best horse doesn't always finish second. When American Pharoah ran in the Preakness, for example, Firing Line and Dortmund were the other two contenders that were clearly much better than the rest of the field, but they both had bad days, and the $2 trifecta paid $985 as a result. If you are a big believer in Good Magic then you could key him in second, or only wheel him with one or two other horses, and then you could go deep in third place. If you don't buy into Good Magic - which is possible because trainer Chad Brown initially was opposed to sending the colt here, for example - then you will have to go deeper in the second- and third-place spot. That will increase your costs and lower your potential return.
The race that jumps out when you think of this one is 2008. Big Brown had been very impressive in the Derby, was an unbeaten freak, and was very publicly popular. The one difference between this race and that one was the competition - Gayego was the second choice, but he couldn't hold a candle to Good Magic, and he went off at more than 9/1. Big Brown was bet way down to 1/5, and he ran away with the race. Gayego did everyone a favor and bombed, and despite the overwhelming favorite the $2 tri still paid $336.80. That's not a massive payoff, but it's more than enough to pocket some nice change. There is still hope for us even if Justify does what Justify does.
If you do like Justify up top and Good Magic in second then you might want to look at the superfecta instead of the trifecta. The costs of betting four spots instead of three is not massively bigger if you only have one horse in each of the top two spots, and you could get a much bigger return.
Without Justify
If you have somehow convinced yourself that Justify isn't a serious win threat here - which would be surprising since Baffert has never lost the Preakness with a Derby winner, and this horse has never taken a bad step - then things become much easier for you. If you don't bet Justify to win then you can afford to go really deep. If Justify doesn't finish on top then the trifecta will pay serious money regardless of which horses will come in. A staggering percentage of bets on this trifecta will have Justify up top, so if he doesn't wind up there then there will be a lot of money to distribute to a few winners. If a serious long shot comes in on top then the payoff could be life-changing.
Doc's Sports has been a leader in Triple Crown handicapping for more than four decades, and we have a great offer for new clients. Get $60 worth of Preakness Stakes picks free with no obligation to buy anything. Not credit card is needed, and you won't ever have to talk to a salesperson. Get $60 worth of premium members' picks free .
Read more articles by Trevor Whenham