Best Trifecta Bets for the 2019 Preakness Stakes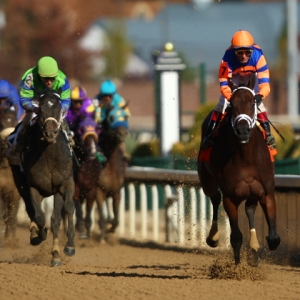 The trifecta is pretty much the perfect bet for Triple Crown races - or for most other races, for that matter. It is tough enough to bet that the return can be sizable but easy enough that it can be hit reasonably often, and you can play it effectively without breaking the bank or needing a supercomputer to craft your ticket like you do for the Pick 6. The Preakness is shaping up as a great trifecta race, with a 13-horse field ideal for building up the pot and with a couple of logical winners to help make the ticket more affordable. Because I am a gigantic and unapologetic horse racing geek, one of my favorite activities leading up to each Triple Crown race is to study the racing form to find all of the best Preakness trifecta bets - the ones that are linked together for the most pleasing of reasons. These tickets may not be the most likely to win, or the best bets, but they will be satisfying. And there are some good ones this year:
The Derby horses
This one is obvious and is a go-to bet every year, though it typically always includes a horse coming off a win. This year we have four horses moving forward from the Kentucky Derby to the Preakness. Improbable will be the likely favorite, with War of Will likely to be the second choice. Further back, and adding to the size of the potential return, are closer Win Win Win and maiden Bodexpress.
Preakness winning trainers
You could argue that the best way to know if anyone can do something is seeing if they have already done it. By that logic, it makes sense to bet on trainers that have already won the Preakness. And there is a whole lot of past wins represented in this race. Bob Baffert, training favorite Improbable, has won this race an incredible seven times and can become the all-time best in this event with a win here. He is currently tied with R. Wyndham Walden, who won for the last time in 1888. D. Wayne Lukas brings Market King here. He has won the race six times, most recently with Oxbow in 2013. Laughing Fox is from the Steve Asmussen stable. Asmussen, the winningest living trainer, has won this race with Rags to Riches and Curlin. And late entrant Everfast is trained by Dale Romans, who won in 2011 with Shackleford. So, four trainers represent 16 wins of the race. And with three long shots combined with the favorite, this trifecta would pay off handsomely.
Preakness virgin trainers
On the other extreme, there are five horses representing four trainers who are appearing in the Preakness for the first time. Bodexpress is trained by Gustavo Delgado, who was the all-time winningest trainer in Venezuela, and four-time winner of their Triple Crown, before coming north five years ago. He has been in the Derby twice, but this is his first time here. The others - Kelly Rubley with Alwaysmining, Blaine Wright with Anothertwistafate, and Brad Cox with Owendale and Warrior's Charge - are all not only making their Preakness debut but their Triple Crown debut as well. There will be some seriously long prices among these five contenders. Therefore, if this ticket somehow cashed, you could start thinking about the house you were going to buy. It's not happening, though.
Triple Crown race winning blood
I'm a sucker for breeding, so I love this ticket. These are all horses that have a winner of a Triple Crown race in the first two generations of their pedigree. Alwaysmining is a grandson of Preakness winner Bernardini - a trait he shares with Owendale as well, though for the latter it is on the maternal side. Improbable has Belmont winner A.P. Indy as a damsire, as does Market King. Laughing Fox is a son of Belmont winner Union Rags. But the real standout in terms of connections to these races is Win Win Win. His damsire is Derby and Preakness winner Smarty Jones, and his grandsire is Derby and Preakness winner Sunday Silence.
Winners last time out
You might expect this to be a bigger group given the magnitude of this race, but only four horses - Alwaysmining, Laughing Fox, Owendale, and Warrior's Charge - come into the race having won their last outing.
Stakes winners in 2019
Again, you would expect most years for this to be a bigger group than it is, but it is an odd Preakness in so many ways. I was originally looking at graded stakes winners this year, but there are, strangely, only two - Owendale and War of Will, who has two graded stakes wins. Expanding it to just stakes in general we can add Win Win Win, Laughing Fox, Anothertwistafate and Alwaysmining. Notably absent from there is favorite Improbable, who was second in his only two pre-Derby starts this year.
The W's
As someone with a last name that starts with W, I know how hard it can be sometimes to be near the end of the alphabet. Always called last in roll call, and always waiting for so many people to go before you whenever alphabetical order is employed. Ours is a tough life. So, us W folks have to band together, and this year we can do so on a trifecta ticket featuring War of Will, Warrior's Charge, and Win Win Win.
The vowels
My middle name is Owen, so I have a little fondness for names starting with vowels. I never use the name Owen, though, and never think of it, so it was only just this moment that I realized that I should be rooting for Owendale this year. Owendale would be joined on a pretty big ticket by four other horses with names starting with vowels - Alwaysmining, Anothertwistafate, Everfast and Improbable.
Doc's Sports has been a leader in Triple Crown handicapping for more than four decades, and we have a great offer for new clients. Get $60 worth of Preakness Stakes picks free with no obligation to buy anything. Not credit card is needed, and you won't ever have to talk to a salesperson. Get $60 worth of premium members' picks free .
Read more articles by Trevor Whenham