2010 Preakness Stakes Jockeys
by Trevor Whenham - 5/13/2010


Get our 2021 Preakness Stakes coverage including, Picks and Odds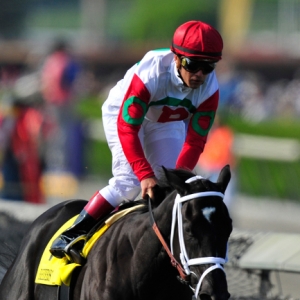 Jockeys - very little men with very big responsibilities. The horses that run in the Triple Crown are so young, and the races so intense, that the jockeys have more of a role here then they do in most races. A great ride can turn a contender into a winner - just ask Calvin Borel. On the other hand, a bad ride can turn a legitimate horse into an irrelevant one. Here's a look at the 12 little men who will be riding in Saturday's Preakness:

Calvin Borel, Super Saver - You know the story by now - he's won three of the last four editions of the Kentucky Derby, and he took last year's Preakness as well. He's obviously an asset in Triple Crown races. The question here, though, is if he's going to be able to get the most out of his horse in this particular race.
When Borel has been at the best in these big races he's either been on a truly special horse like Rachel Alexandra or he has had a pace scenario that he can exploit. either is the case here. Super Saver is a good horse, but he's hardly proven himself to be a truly great one. There isn't a speed horse in this race to set the pace, either, so Borel will likely find himself having to race from the front. It might not be fair to him, but I am not convinced that he's nearly as good when he can't run his ideal race.

Martin Garcia, Lookin at Lucky - Garcia made his Triple Crown debut on Conveyance in the Derby, and now he has been promoted onto Baffert's top horse. He's only 25 and is still learning the game, but he has ridiculous amounts of raw talent. He and Baffert are working together more and more lately, and the results have been impressive. Just last weekend they combined to win the Lone Star Derby. Garcia has another advantage with this mount - he has worked him in the morning several times, so he is comfortable with him. Garcia is a guy who is poised to make a breakthrough at any time, and a win here would count as one.

Kent Desormeaux, Paddy O'Prado - Desormeaux is no stranger to Triple Crown success - he has won six races, including the Belmont last year on Summer Bird, the 2008 Derby and Preakness on Big Brown, Real Quiet in the Derby and Preakness in 1998, and Fusaichi Pegasus in the 2000 Derby. This horse was very solid in the Derby, but he's not nearly the horse - at least not yet - that any of the others he has won on, so Desormeaux will have to be at his very best here.

Paul Atkinson, Caracortado - Atkinson is the definition of a journeyman jockey. He's talented, but this is definitely the biggest stage he has been on as a rider. He's been riding for more than 20 years, and he rides in one of the toughest jockey colonies in the country in California, but this is his first Triple Crown mount, and the first time that all but the most serious racing fans have ever heard of him. Whenever a guy is taking a big step up in class you have to be concerned, but Atkinson has been around long enough that there's a good chance that he'll handle it just fine. He's in a similar situation to what Stewart Elliott was in 2004 when he rode Smarty Jones to wins in the Derby and Preakness - no one outside of Pennsylvania knew who he was when he showed up at Churchill.

Garrett Gomez, Dublin - It's not often that the best jockey in the country has something to prove, but Gomez really does here. He got bounced out of Lookin at Lucky's saddle after two rough rides in a row, and despite all of his success - nine Breeders' Cup wins, and wins in most major stakes in the country - he has never won a Triple Crown race. Now would be a good time for him to break that streak.

Eibar Coa, Schoolyard Dreams - Coa has never ridden this horse before, but Schoolyard Dreams is used to new guys climbing aboard - he has had six different riders in his six races. Coa is a very strong rider - one of only four to win 300 races in a year in New York - so he's definitely not out of place here even if he hasn't won a Triple Crown race. He combined with the same trainer, Derek Ryan, to take third in the Derby and Preakness last year with Musket Man.

Mike Smith, Jackson Bend - Smith is an absolute legend who will ride his 5,000th winner in the next year, and whose 15 Breeders' Cup wins are more than anyone's. He's best known right now as the guy who rides Zenyatta. He won the Preakness in 1993 on Prairie Bayou, and finally got a Derby win on Giacomo in 2005. Last year he rode Mine That Bird in the Preakness and was masterful even though he finished second. Smith is the ultimate big game rider, so he'll get everything he can out of Jackson Bend here.

Javier Castellano, Aikenite - Castellano is a guy who doesn't get as much respect as he deserves. He's won both a Breeders' Cup Classic - Ghostzapper in 2004 - and a Triple Crown race - Bernardini in the 2006 Preakness. My concern here is that Castellano is better at keeping great horses out of trouble than he is at lifting the game of good horses, and Aikenite is a long way from great.

Julien Leparoux, Pleasant Prince - Leparoux doesn't have a Triple Crown win yet, but he's going to have several by the time he is done. He is only 27 and was an apprentice as recently as 2006. He led the nation in wins that year, though, and won the Eclipse Award for Outstanding Jockey last year. He has already won five Breeders' Cup races, so it's just a matter of time in the Triple Crown - though he would need a miracle to get his first on this horse.

Ramon Dominguez, First Dude - Dominguez is another guy that doesn't get enough respect. He led the country in wins in 2001 and 2003, and in win percentage in 2004, but that hasn't turned into success in the biggest races yet. He's come close, though - he was second in the 2006 Derby with Bluegrass Cat, and second behind Zenyatta on Gio Ponti in the Breeders' Cup Classic last year. He still doesn't always get top mounts, though, and this race is no exception.

Terry Thompson, Northern Giant - Thompson is a regional star looking to break through on the national stage.He's one of the more dominant riders at Oaklawn Park in Arkansas and Prairie Meadows in Iowa, but he has yet to win a major national race. He almost made his Derby debut in 2003, but Sir Cherokee scratched the day before the race. He had another live one last year in Old Fashioned, but he was injured before the Derby. He finally made it this year on Dublin, and he finished seventh. With Gomez available, Thompson was bumped down to D. Wayne Lukas' second stringer here.

Edgar Prado, Yawanna Twist - Prado must be haunted by this race. In 2006 he was aboard Barbaro in the Preakness when he broke down and suffered the injuries that eventually led to his death. He's on a massive longshot here, but longshots in the Triple Crown aren't bad news for him - he has won the Belmont aboard 70/1 Sarava in 2002, and on 36/1 Birdstone two years later.