2010 Preakness Stakes Post Positions
by Trevor Whenham - 5/13/2010


Get our 2021 Preakness Stakes coverage including, Picks and Odds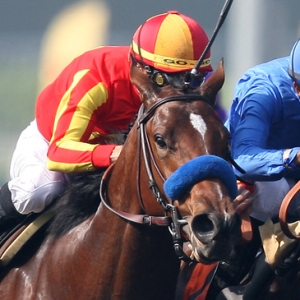 The draw has taken place for the 135th Preakness Stakes, which will be run on Saturday at 6:15 p.m. EST at Pimlico in Baltimore and on NBC. We now know where the horses will be at the start and what the odds are going to be, and we can start to get down to the serious business of picking a winner. Here's how the draw turned out, and the first thoughts that come about as a result of the Preakness Stakes post position draw:

1. Aikenite, Javier Castellano, 20/1

2. Schoolyard Dreams, Eibar Coa, 10/1

3. Pleasant Prince, Julien Leparoux, 20/1

4. Northern Giant, Terry Thompson, 30/1

5. Yawanna Twist, Edgar Prado, 30/1

6. Jackson Bend, Mike Smith, 12/1

7. Lookin at Lucky, Martin Garcia, 3/1

8. Super Saver, Calvin Borel, 5/2

9. Caracortado, Paul Atkinson, 10/1

10. Paddy O'Prado, Kent Desormeaux, 9/2

11. First Dude, Ramon Dominguez, 20/1

12. Dublin, Garrett Gomez, 10/1

The first thing that jumps out here is the fact that Super Saver and Lookin at Lucky are side by side in the gate. Lookin at Lucky is clearly the biggest threat to Super Saver's bid for a Triple Crown. The fact, then, that they can look into each others eyes as they are waiting in the gate and in those first few strides is pretty much perfect. They aren't likely to be side by side for long - Lookin at Lucky will be looking to settle in well off the pace, while Super Saver prefers being on the lead or close to it, and may be forced to lead all the way from the start because there isn't another obvious speed horse in the field. They'll be together at the start, though, and there's a good chance that they'll be able to look at each other again in the stretch.

This is a much better position for Lookin at Lucky than he had in the Derby. There he was stuck on the rail, which isn't a great spot for a closer, and struggled to find the room he needed. In this race he's in the middle of the pack, so he has a much better chance of settling into the position that makes him most comfortable and avoid getting boxed in.

In the last 15 years there hasn't been a horse that has won after starting in the first three gates. There's a good chance that that streak is going to continue again here. Aikenite was promising in the early spring, but just hasn't lived up to the expectations he earned, and can't be seen as a serious threat. Pleasant Prince seems out of his element - his owner has repeatedly said that his expectations are realistic. Schoolyard Dreams is the best of the group, and he looks like a horse that could be ready for his best race, but this is his seventh jockey in seven races. That's hardly a vote of confidence.

Other than the recent curse of the inside posts it really doesn't matter all that much where horses line up in this race. In the last 12 editions of the race there have been winners from the 4, 6, 7, 8, 9, 10, 11, 12, and 13 gates, and no post position has produced more than two winners. The lack of importance of the post position draw is likely even more significant this year than in most years - there aren't any horses that absolutely have to have the lead, so there aren't any horses that are going to be handicapped or particularly advantaged by where they are starting.

It's going to be very interesting to see which horse ends up being the post time favorite. I'm not a huge believer in Super Saver, and I'm not alone in my skepticism. He was installed as the 5/2 favorite by Pimlico linemaker Frank Carulli, but Lookin at Lucky is close behind at 3/1. Lookin at Lucky was the Derby favorite, and he has a boatload of excuses in that race, so he'll certainly draw public attention here. It was uncertain which of these two horses was going to be favored in the Derby until the end, and that could be the case again here.

Whether he is favored or not, Lookin at Lucky's jockey is going to be a story whether he wins or disappoints. After two rough rides in a row, Bob Baffert took Garrett Gomez off of the horse, and replaced him with Martin Garcia. Gomez is the best jockey in the country. Garcia is extremely talented, but at 25 he's still establishing himself among the elite jockeys in the country. He made his Triple Crown debut in the Derby, and won the Lone Star Derby with Baffert last weekend, so this has been a big month for him. Gomez will now be riding Dublin for D. Wayne Lukas. If Garcia falters, or Gomez wins, then Baffert will face more than his share of criticism.