2010 Preakness Stakes Predictions
by Trevor Whenham - 5/15/2010


Get our 2021 Kentucky Derby coverage including Picks and Odds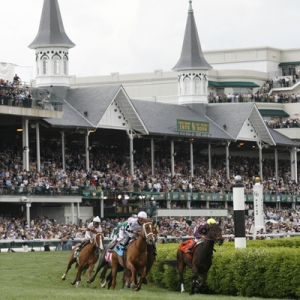 It's all over but the guessing at this point. The second jewel of the Triple Crown is just a day away, and I've looked at this race from a million different angles. I think I know what I think about it by now. Here are five predictions about how the race is going to play out with my 2010 Preakness Stakes predictions:

Super Saver isn't going to win - I normally make just one bet in the Preakness - the Derby winner to win. I just can't stick to that approach this time around - though it has been profitable. I just don't believe that this horse is good enough to win this race. He benefited from an absolutely perfect race in the Derby - the sloppy track suited him better than anyone else, he was able to stick the rail without anyone challenging him, and his strongest opponents had nightmare days. It was the definition of a dream trip.
It was also over the ideal track for the horse - he is 2-for-2 at Churchill, and just 1-for-5 elsewhere. This race isn't going to set up nearly as well for Super Saver, and there are going to be less chances for the other horses to get into trouble. Trainer Todd Pletcher also really doesn't like running horses back on short rest, and despite the Derby win he's still far from a great Triple Crown trainer. I just don't see it happening, and I certainly don't see any value in him at 5/2 or worse.

A longshot will go for the lead - There has been a lot of talk about how there isn't a clear speed horse in this race - one who will jump to the lead out of the gate and set the pace.
The closest thing to one is Super Saver. He won from the lead earlier in his career, though he has learned to settle just off of it recently. The lead isn't a great place to be at the Preakness - just once in the last 13 races has a horse led both at the half mile call and at the wire. I don't think that Super Saver is going to be moved to the lead if he can avoid it, and I don't think he'll have to.
There are a few longshots that don't have much of a chance of winning, so their best chance may be to take the lead early and try to run away from the crowd. The best bet is Northern Giant. He's run on the lead a couple of times, and he's unlikely to win the race any other way. He's also the second horse for D. Wayne Lukas, the trainer of Dublin. Dublin would prefer to make his move after settling off a good early pace, so Lukas could use Northern Giant as a rabbit to ensure a fair pace so his better horse has a chance.

Garrett Gomez is going to be a man possessed - Dublin had a rough start in the Derby and made a nice move at the top of the stretch before flattening out. He's a talented horse, but he hasn't won since September. He's going to enjoy a very significant upgrade in jockeys right now.
Garrett Gomez was taken off of Lookin at Lucky after two bad rides in a row, so he was a free agent, and Dublin's saddle is where he lands. Gomez is ridiculously talented, yet somehow he has never won a Triple Crown race. He'd badly like to get that monkey off his back. He'd also like to wash the bad taste of of his mouth that this three year old season has left because of the rides on Lookin at Lucky.
The Derby ride was just bad luck, but his ride in the Santa Anita Derby was one of the worst of his whole career. Gomez is on a live horse and he will be extremely motivated. That's a dangerous combination.

Yawanna Twist is the longshot to watch - This isn't an inspiring group of newcomers joining the Derby horses in this race - Super Saver is the only horse in the field who comes in off a win. Most of the new entrants have established patterns of mediocrity.
The exception is Yawanna Twist. He has run just four times in his career, so he's fresh. He has yet to run a bad race - two seconds and two firsts. He's trained well and is improving quickly. I don't think he's a potential winner, but he certainly has the ability to get up for a piece and create some exotics with some fat prices.

Lookin At Lucky will finally get lucky - I have backed Lookin at Lucky in his last two races and have been disappointed. I'm not going to give up just yet. The choice here ultimately comes down to one thing - in my eyes Lookin at Lucky is by far the classiest horse in this field, and in the absence of a lot of quality you have to go with the class.
He's had a horrific amount of bad luck and sooner or later that has to end. The change to Martin Garcia is a decent one - Garcia is hot when paired with Bob Baffert, and though he is young he's wildly talented. Lookin at Lucky is the best horse, and he's trained by the best Triple Crown trainer. I can't justify looking elsewhere.

Check out Doc's Sports homepage for the most updated Preakness Stakes post positions and field lineup, along with daily exclusive content, each day leading up to the second leg of the Triple Crown. We also offer our expert Preakness Stakes Picks for just $20! Call us toll-free at 1-866-238-6696 for more information.