2010-11 St. Louis Blues Predictions with NHL Futures Odds and Betting Picks
by Alan Matthews - 9/29/2010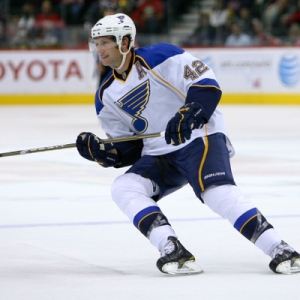 The St. Louis Blues were really two teams last season: The one that entered the season off a playoff berth from the year before but struggled under coach Andy Murray, and then the one that improved greatly when Davis Payne took over for the fired Murray. But even a late surge – St. Louis went 23-15-4 under Payne -- couldn't get in the Blues in the playoffs as they finished with 90 points (just two fewer than the year before), fourth in the Central Division and ninth in the West, five points out of the playoffs.
Because of the obvious improvement, the 'interim' label was taken off Payne this offseason. But by far the biggest news this offseason was the Blues' stunning trade for Montreal Canadiens playoff hero Jaroslav Halak for a pair of prospects, Lars Eller and Ian Schultz. Halak was 26-13-5 last season and ranked fourth in the NHL in save percentage (.940) and ninth in goals against average (2.40), and tied for fifth with five shutouts. Then he led stunning upsets of the Capitals and Penguins in the playoffs before fading in the East Finals against the Philadelphia Flyers.
He's an upgrade over Chris Mason and Ty Conklin, who shared duties in net last year (with Mason getting the majority of work; Conklin will remain No. 2). Halak should help the Blues improve on an 18-18-5 mark at home last year, which was among the worst home records in the NHL.
St. Louis needs bounce-back years from David Backes, who went from 31 goals in 2008-09 to just 17 last year, Brad Boyes, a former 40-goal scorer who had just 14 last season, and Patrik Berglund, who had 47 points as a rookie and just 26 last year. Will David Perron (career-high 20 goals) and Alex Steen (career-high 47 points) keep improving? How much does 33-year-old Andy McDonald, who led the Blues in goals (24) and points (57) last season, have left?
And the Blues need to stop taking penalties. The Blues finished 2009-10 with the league's best penalty kill (86.8 percent), but also led the NHL with 342 times short-handed. St. Louis does have some of the league's most impressive young defensemen, including finally-healthy Erik Johnson and highly-touted former first-round pick Alex Pietrangelo.
St. Louis Blues Offseason Moves
Halak is, of course, the big one. Center Vladimir Sobotka was acquired in a trade with Boston for David Warsofsky. Mason walked as an unrestricted free agent. Veterans Darryl Sydor and Keith Tkachuk announced their retirements at the end of last season and Paul Kariya will miss the entire season with post-concussion syndrome.
St. Louis Blues Predictions: Outlook
The Blues seem a little like the Blackhawks of about four years ago in that they are stockpiling some good young talent, although no one like Jonathan Toews or Patrick Kane, and are at least moving in the right direction now – especially on defense. Losing those three veterans could mean this team lacks some leadership, however. The Blues need more from the power play, which ranked just 20th in the league last year. Halak should be good for at least a few more wins. The St. Louis Blues schedule opens on Oct. 9 against defending East champion Philly.
St. Louis Blues Futures Odds
The Blues have an 'over/under' point total of 93.5 on Bodog with odds of 35/1 to win the Stanley Cup, +1000 to win the Central Division and 18/1 to win the West.
NHL Predictions for St. Louis Blues
The Blues have the misfortune of playing in the Central, meaning that third place is probably about the best they can hope for with Chicago and Detroit both certain to finish ahead of them. After having 92 points two seasons ago and 90 last year, a jump of at least four points this season with Halak – assuming he wasn't somewhat of a "one-hit wonder" – seems very doable. Take the 'over' there and expect the Blues to return to the playoffs.
Doc's Sports is geared up for another profitable NHL picks season. Picks will be available starting Oct. 7. We have an NHL handicapper based out of Canada and he knows the sport inside and out and has been betting the sport for years. Early Bird specials will be posted soon, so check our homepage regularly. Also, check our home page daily updated NHL odds, hockey betting articles and daily matchup reports.