Super Saver Chances for Triple Crown
by Trevor Whenham - 5/6/2010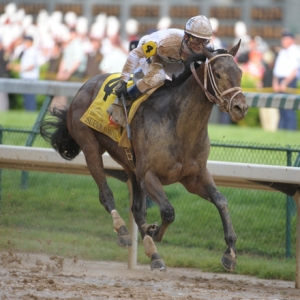 There is absolutely nothing more I want in sports than a Triple Crown. Not a Michigan National Championship, a Calgary Flames dynasty, or a return to pitching for Nolan Ryan. I have a poster on the wall of my office of the 11 Triple Crown winners, and every year I hope against hope that it will be made irrelevant and I will have to replace it with an updated version. All of that means that I have spent a whole lot of time thinking about whether Super Saver is going to win the Triple Crown this year. My conclusion - not very likely. Sadly. Here's a look at why:

Track condition - The track for the Kentucky Derby was sloppy. Super Saver was one of only three horses in the Kentucky Derby field that had won over a sloppy track in the past - Devil May Care and Backtalk were the others. He was clearly suited for the track conditions, and he adapted to the conditions better than any horse in the field. In other words, the track set up perfectly for him. It's not likely that the track will be similarly favorable for him at Pimlico. On fast tracks he's not nearly the horse he is in the slop - he has just one win in four tries on a fast track, and has been beaten by some horses that aren't exactly impressive, including potential Derby starter Schoolyard Dreams in the Tampa Bay Derby. Super Saver was the horse for the course on Derby day.

Split times - Super Saver was on or near the lead for much of the Derby, so the split times of the race - especially later on, are pretty close to what he was running. That's not good news because the times were pathetic. After setting fast early times, the field slowed to less than a crawl later on. The final time of 2:04.45 was extremely slow, and split times of 27.07 and 26.8 seconds for the last two quarter miles aren't exactly elite. Super Saver came out on top of a poorly-run race, but you can't bet that the next race will be as slow, and you can't be sure that he'll be as effective next time if it's faster - as it certainly will be if the track is in better condition. It's especially concerning because Super Saver stayed on the rail, so he ran pretty much the shortest possible race he could, and he had no issues along the way.

Not the best horse - Make no mistake - Super Saver was the winner, but Ice Box was the best horse in the Derby. He was charging very fast down the stretch, and he would have caught him in just a few more strides if he had had the chance. That was despite twice having to check his progress down the stretch. The second time he ran into a wall of horses and had to slow down significantly and then move far outside to find a lane to run in. Lookin at Lucky also encountered some real bad luck. He was run into twice in the opening furlongs - the kind of hits that can knock a horse off stride and cause him to check his breathing as well. It's a miracle that he finished as strong as he did given that - most horses would have quit. When I have believed that a horse has a good shot at the Triple Crown I have believed that he won the Derby because he was the best horse on that day. I'm not buying that here.

Calvin Borel - Borel deserves credit for winning three of the last four runnings of the Derby, and the last Preakness as well. That being said, I'm not sure he's an asset for this horse in the Preakness. Borel wins at Churchill by hugging the rail when no one else is willing to in a crowded field. I don't know how it keeps working in the Derby, and it will be harder to implement at the Preakness - the track is tighter, so there isn't likely to be as much room to run when he needs it. More significantly, Borel's ride in the Derby was not exactly a pretty one. If you watch the replay of the race you'll see Borel using his whip hard - excessively in my eyes. He hit Super Saver well over a dozen times in the closing furlong, and there was a whole lot of force behind it. It was a ride from the olden days of the sport. I don't like seeing that, but more significantly, it means that Borel knew that he didn't have a lot of horse under him - you don't beat on a horse that is going to cruise to a win. If the guy on the back doesn't have a lot of confidence in the horse - despite what he says - then it's hard for me to have much, either.

Check out Doc's Sports homepage for the most updated Preakness Stakes post positions and field lineup, along with daily exclusive content, each day leading up to the second leg of the Triple Crown. We also offer our expert Preakness Stakes Picks for just $20! Call us toll-free at 1-866-238-6696 for more information.