TicketCity Bowl Predictions: Northwestern vs. Texas Tech Odds and Picks
by Nicholas Tolomeo - 12/29/2010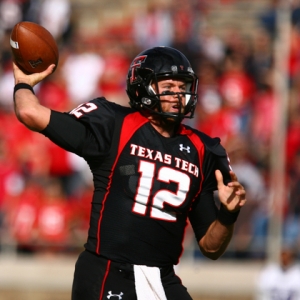 Northwestern and Texas Tech have the same New Year's plans and the same record, but the similarities end there. Both 7-5 teams meet in the inaugural Ticket City Bowl on New Year's Day at noon EST.
Northwestern will be looking for its inaugural bowl win. Texas Tech is shooting for its 12th bowl win and seventh since 2002.
The Texas Tech offense is firing on all cylinders, while the wheels are falling off the Northwestern offense. The Wildcats will be without All-Big Ten quarterback Dan Persa (Achilles' tendon), third-leading rusher Arby Fields (transfer) and they will likely be without leading rusher Mike Trumpy (wrist). Combined the three players account for more than 1,200 rushing yards, 2,581 passing yards and 29 touchdowns.
Texas Tech quarterback Taylor Potts is almost single-handily responsible for even more offense. He has thrown for 3,357 yards and 31 touchdowns this season. Former offensive guru Mike Leach is no longer with the Red Raiders, but the run-and-gun offense remains in Lubbock, Texas, with coach Tommy Tuberville and Potts and an arsenal of big-time wide receivers.
Northwestern fans got a preview of what their offense looks like without Persa under center and it was not pretty. Persa helped lead the Wildcats to a huge 21-17 upset over Iowa, but that was the game he was injured in. The following two weeks redshirt freshman Evan Watkins filled in. He was 23-of-42 for 258 yards with a touchdown and four interceptions.
The Wildcats regressed big time in a 48-27 loss to Illinois at Wrigley Field and an embarrassing 70-23 thrashing to Wisconsin in the regular-season finale. Behind Watkins is true freshman Kain Colter so it looks like the Wildcats will have to lean on a struggling Watkins to try and pull off the upset.
It has been the tale of two seasons for Northwestern this year. For the second time in three years the Wildcats came out of the gates on fire, winning five straight. However, they were suspect wins, including one over Division I-AA Illinois State and three wins over Vanderbilt, Central Michigan and Minnesota by a combined eight points. Then things started to fall apart. Back-to-back home losses to Purdue and Michigan State began a 2-5 slide to close the regular season. Northwestern is 1-8 ATS in its last nine games.
The Red Raiders had struggles of their own this season. They were on the business end of bad losses to Oklahoma (45-7) and Oklahoma State (34-17). Their only wins over bowl-bound teams were against Missouri, Baylor and Southern Methodist.
Quarterback is obvious a major area of concern for Northwestern with a freshman taking the snaps, but he will be going up against the worst pass defense in the country. Texas Tech is allowing an average of 306 yards per game. If Persa was under center for Northwestern, that pass defense could be the downfall of Texas Tech. However, a backup quarterback will have a much harder time taking advantage of the horrible Texas Tech pass defense.
Northwestern vs. Texas Tech Odds
Texas Tech opened as 9.5-point favorites, according to college bowl odds, and the line has remained there throughout the month of December. The opening total of 59.5 has risen a full point to 60.5.
TicketCity Bowl Predictions and Betting Picks
Last season in the Alamo Bowl Texas Tech defeated Michigan State of the Big Ten, 41-31, and in 2006 it defeated Minnesota, 44-41, in the Insight Bowl. The Red Raiders offense is incredibly difficult to prepare for even with a month to do so. Their offense has proven to be a mismatch for Big Ten teams and that will never be more evident than on New Year's Day against a shorthanded Northwestern team.
If Wisconsin can rack up 70 points imagine what Texas Tech can do. This game had the potential to be a back-and-forth shootout, but with the Northwestern injuries and transfers it will end up being a one-way shootout. The play is Texas Tech giving the points.