Week 11 College Football Picks and Odds
by Trevor Whenham - 11/10/2010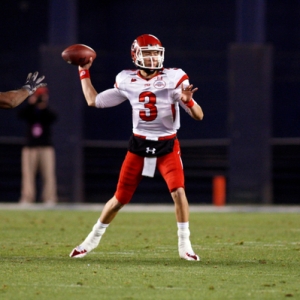 I try not to let the games I pick in any given week bother me - you win some and you lose some, so as long as you are making good decisions you're fine. Some weeks, though, the fates conspire to annoy me. Last week was one of those weeks.
Iowa was clearly the better team against Indiana, and was coming off a wildly impressive performance, but they barely even tried and squeaked out a narrow win that wasn't nearly good enough to cover.
USC opened up a 15-point lead over Arizona State and should have been able to cruise to an easy win, but they let Arizona State score the last three touchdowns of the game, only answered with a field goal, and won by two as 5.5-point favorites. Very frustrating.
Hopefully these week 11 college football picks and odds don't offer the same level of frustration:

Iowa State (-2.5) at Colorado (Saturday, November 13, 1:30 pm ET) - In hockey and baseball I am a big believer that a coaching change create a temporary boost to the team. I don't think that that is nearly as much of a factor in football, and especially not in college football.
Football players are so used to routine and repetition that a mid-season coaching change disrupts more than it energizes. When you add Colorado's ugly coaching change with the hangover from a near-impossible collapse last week against Kansas you get a Colorado squad that is very vulnerable - especially because their starting QB last week is the son of the former coach.
Iowa State not a perfect team by any means, but they are good enough to exploit those vulnerabilities. The Cyclones have only one road win this year, but it was a quality one - at Austin against Texas. The atmosphere won't be nearly as charged here because the fans can't help but be disillusioned.
Iowa State has won two of their last three, and the one loss was only by one point in overtime against Nebraska. That shows that they are in solid form. With five straight losses Colorado is certainly not in any form. Iowa State is in a very good spot to cover a spread here.
Utah (-5.5) at Notre Dame (Saturday, November 13, 2:30 pm ET) - Notre Dame hasn't been a very good team this year, and with Kyle Rudolph, Dayne Crist, and Armando Allen all out for the year it's not likely that they are going to get any better. The transition to Brian Kelly has not been smooth, and Kelly is realizing the hard way how inadequate Charlie Weis' recruiting was.
They also have the distraction of a very unfortunate and avoidable death hanging around the program. In the last two games they have been beaten by Navy and Tulsa. That's ugly.
Notre Dame does not have an impressive win on their schedule - Purdue, Pitt, Boston College, and Western Michigan are not exactly a murderer's row. They have lost when they have played very good squads and they have lost to inferior competition.
Utah, despite their humiliation last week, is a very good team. They learned the hard way that TCU is a very special team. They weren't good enough in that contest, but they have been more than good enough the rest of the way. Add in the fact that they will be out to redeem themselves after that big setback last week and you have a game that won't be very competitive - at least not if Utah plays like they can.
I like the Utes here a lot.
Doc's Sports has become known in nearly four decades in the sports handicapping business as one of the brightest and most successful college football handicappers in the nation and Doc has his biggest play of the season, an 8-Unit Big Ten Game of the Year, on tap for Saturday. Doc has won in five of six weeks for football picks. Here ay Doc's Sports we provide both college football picks and NFL picks in one package so you can get the best of both worlds for all your football betting needs. Check our homepage for up-to-the-minute college football odds and daily exclusive college football betting articles.