Week 13 College Football Picks and Odds
by Trevor Whenham - 11/24/2010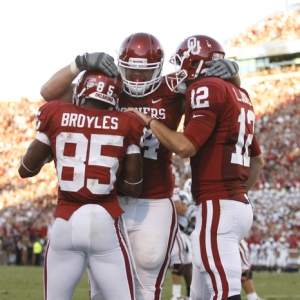 It's the 13th week of the college football season. Hopefully 13 isn't unlucky for us here with these week 13 college football picks and odds. Last week's picks were split - Michigan was even worse than I could have imagined (and I was very pessimistic), so Wisconsin easily covered for us, but Michigan State took the first 50 minutes of their game against Purdue off and made what should have been a blowout ridiculously close.
We'll look to double the number of games in the win column this week:
Michigan State (-1.5) at Penn State (Saturday, Nov. 27, 12 pm ET) - The Spartans were a frustrating disappointment for me last week, but I expect much more from them this week.
This game is packed with conference championship and BCS implications for them - if they win this game they are guaranteed at least a share of the Big Ten Championship, though they almost certainly need either Wisconsin or Ohio State to lose to make it into the BCS since they are behind both teams in the BCS standings.
Last week was a huge wake up call for this team, and since they don't enjoy a lot of success in this program, the chance to win a conference title will be a massive motivator here.
I would be much less willing to bet against Penn State if there were any uncertainty about what Joe Paterno were doing next year. If there were a chance that this was the last home game of his career, then I would expect an extra effort from his Lions. As it is, though, he has eased any drama by already saying he plans to return, so this becomes just another game.
Penn State has serious questions (to be kind) at quarterback, and doesn't have a clear edge over the Spartans in any particular segment of this game. They could keep it close, and the massive blowout they delivered to the Spartans last year showed that they play well against Michigan State. However, ultimately I think that the Spartans are just more talented, much deeper, more experienced, and much more motivated. That makes them an attractive pick here.
Oklahoma State (-2.5) vs. Oklahoma (Saturday, Nov. 27, 8 pm ET) - Bedlam is one of the great rivalries in the country, and this year it is as significant as it has ever been - the winner wins the division and is in the driver's seat to win the conference championship game and head to the BCS.
This is only the fourth time in the 104-year history of the series that Oklahoma State enters as the higher ranked team. Oklahoma has dominated the series in almost embarrassingly one-sided fashion - they have won 80 of 104, including the last seven.
Oklahoma State will be hungry to add another win, and will also be hungry to play in their first conference championship game. I think they can do it.
The biggest matchup I look at here is the Oklahoma State running game against the Oklahoma defense. The Cowboys are going to be able to run the ball effectively, and that is going to take some pressure off the passing game, and allow the Cowboys and their impressive offense to settle in and make a statement.
On the flip side, Oklahoma will continue to struggle to run the ball. Oklahoma State will struggle to contain their passing game entirely, but they should be able to do enough to gain an edge.
I think that this is going to be a close, high-scoring contest, but the Cowboys should be able to ride their home crowd to a win - one which truly will create Bedlam in Stillwater - so this price works for me. I'll take the Cowboys.
Doc's Sports has become known in nearly four decades in the sports handicapping business as one of the brightest and most successful college football handicappers in the nation. Doc has shown a profit in six of seven weeks for football picks ($100 bettors have made nearly $9,000) and he has a 6-Unit Senior Day Game of the Year coming this weekend. Here ay Doc's Sports we provide both college football picks and NFL picks in one package so you can get the best of both worlds for all your football betting needs. Check our homepage for up-to-the-minute college football odds and daily exclusive college football betting articles.