Week 8 College Football Picks and Odds
by Trevor Whenham - 10/22/2010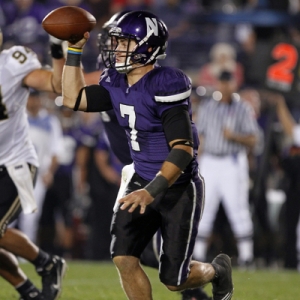 Last week was a split week with these picks. On one hand Utah did what I thought they would do - looked very impressive in beating up on a totally outmatched Wyoming team. That big gain was offset by a tough and surprising loss - I was seduced by Nevada and their pistol offense, but they were outplayed by a Hawaii team that continues to surprise this year - and to reward those bettors who back them. With these Week 8 college football picks and odds I'll look to replicate the success of the Utah pick while avoiding the frustration of the Nevada one.
Michigan State (-5) at Northwestern (Saturday, Oct. 23, 12 pm ET) - The Wildcats have gained a fair bit of respect because of their five wins, but I am not buying into it. They have feasted on a weak schedule, and this is a massive step up. Just look at their record - they beat Vanderbilt by two, Central Michigan by five, and Minnesota by a single point. None of those are good teams.
Last game they lost by a field goal to a pretty lousy Purdue team. This is not a great team, and even a week off to prepare for the Spartans won't be enough for them to overcome that. Northwestern QB Dan Persa has put up some nice numbers so far this year, but this is by far the best defense he has seen, and I expect him to have troubles at times as a result.
Michigan State has played a much tougher schedule than Northwestern, and they have looked better doing it. The last three weeks - against Wisconsin, Michigan and Illinois - they have looked very strong and are still improving. The team knows that they have a very good look at winning the conference, and they are going to be motivated by that here.
There is a risk that they will be looking past this game to their contest against Iowa, but I trust the coaching staff to keep them on task - they have up until this point. Kirk Cousins is nursing a sore ankle, but he is expected to be fine, and he leads an offense that has been efficient and effective.
This is a big step up in class for Northwestern, and I'm just not convinced that they will be up to the task. Michigan State is the pick here.
San Diego State (-23.5) at New Mexico (Saturday, Oct. 23, 10 pm ET) - These teams couldn't be in more different places. Thanks to Brady Hoke, San Diego State is on a rapid rise - they have improved dramatically, and are a much better team this year than they were last year.
New Mexico, on the other hand, is a disaster. They are probably the worst team in the FBS this year, and there is really no relief in sight.
San Diego State has a big advantage on offense, and an overwhelming one on defense - simply put, San Diego State plays defense, and New Mexico can't or won't.
The Aztecs are coming off an impressive win over Air Force last week, and have covered five of six games so far. They have done a good job of beating up on weaklings this year, and I expect them to do the same here.
New Mexico has covered just once, and have only finished within fewer than 18 points once this year - a two point loss two weeks ago to a New Mexico State team that is almost as bad. Four of their losses have been by 35, 35, 42, and 72 points. San Diego State has the ability to add another lopsided loss to New Mexico's record. The Aztecs are the pick.
Strike Point Sports has been destroying the bookies with his football picks and he is on a 10-3 college football run! Find out why SPS is considered one of the best college football handicappers in the nation with one of his many profit-building football packages. He will have a Big 12 Game of the Year on tap for this weekend. And be sure to check out Doc's Sports homepage daily for updated football betting content, matchup reports and up-to-the-minute college football lines.